Q2 Holdings, Inc. (NYSE:QTWO) - Sell Recommendation - PT $13.75
September 15 will conclude the 180-day lockup period on the sale of outstanding shares of Q2 Holdings, Inc. held by the firm's pre-IPO shareholders as well as its directors and executives; the lockup period began with the firm's March 19, 2014 IPO.
With the expiration of the lockup period, those shares - approximately 24.2 million - will be eligible for sale on the market for the first time since the IPO, and the resulting influx of QTWO shares into the market may cause a brief decline in the price of shares in the provider of cloud-based virtual banking services.
Business Summary: Solutions For Regional and Community Financial Institutions
QTWO offers regional and community financial institutions (RCFIs) with solutions for secure, cloud-based virtual banking, allowing those institutions to provide consumers as well as commercial and retail account holders with a suite of virtual banking services accessible across multiple devices.
The firm builds its solutions around a platform that integrates the solutions with one another and with each customer's internal systems in order to produce a unified, consistent virtual banking system for account holders.
QTWO is attempting to capitalize on RCFIs' emerging needs for online banking solutions, driven primarily by the increasing willingness of banking customers to use online banking services to find the most competitive banks. RCFIs often lack the technical resources required to cost-efficiently create and manage their own virtual banking services, making it difficult for them to compete with national-scale banks. QTWO's solutions let RCFIs deploy the online services they need to attract and maintain their customer bases.
See our prior article on QTWO for more information.
Large Competition
QTWO faces competition from other firms seeking to provide similar solutions as well as from core processing vendors, some of which have access to greater technical and financial resources than QTWO.
Competitors include NCR Corporation (NYSE:NCR), ACI Worldwide Inc (NASDAQ:ACIW), Bottomline Technologies (NASDAQ:EPAY), Jack Henry and Associates Inc (NASDAQ:JKHY), Fiserv Inc (NASDAQ:FISV), and Fidelity National Information Services, Inc. (NYSE:FIS).
Management - 6+ Years With QTWO
Matthew P. Flake has served as the President of Q2 Holdings since 2008, as the firm's CEO since October 2013, and previously as the firm's Vice President of Sales. Mr. Flake also serves as the CEO of QTWO's sole operating subsidiary, Q2 Software, Inc. He previously served as a Regional Sales Director with S1 Corporation and as a Regional Sales Manager with Q-Up Systems, Inc. Mr. Flake received a B.A. in Business from Baylor University.
Strong First-Day Returns, A Rocky Road Since
QTWO's IPO priced at the high end of the range at $13 per share and turned in a healthy first day return of 16.7%. The firm has since had a rocky performance, plunging to close at $10.03 per share on May 9 before recovering through late June. The stock has performed well in August, spiking to close as high as $16.62 per share on August 13; QTWO closed at $14.67 on September 3rd.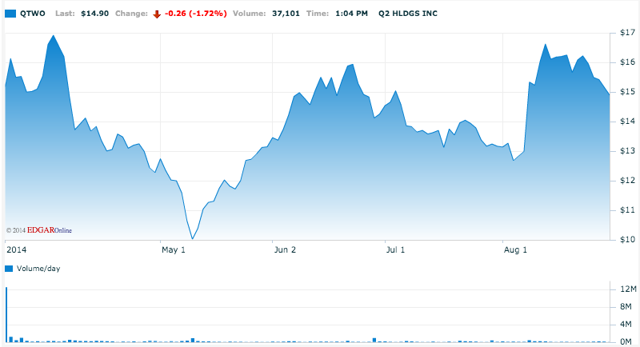 Source: Nasdaq.com
24,189,031 Shares To Be Unlocked
With the expiration of the lockup period, 24,189,031 shares of QTWO will become available for sale on the market - over three times the number of shares offered in the firm's IPO.
Some of these shareholders, particularly the venture investors, may wish to sell off some of their shares in the interest of recovering capital to back new projects. Major shareholders include Adams Street Partners with 9.8 million shares, R.H. Seale III, the firm's founder and Chairman, with 7.6 million shares, and Battery Ventures with 4.8 million shares.
Evidence That Lockup Expirations Offer Short Opportunities
Professors at the University of South Florida, University of Kentucky, and other academic institutions (Bradley, Jordan, Roten, and Ha-Chin Yi) have found that, on average, lockup expirations are associated with negative, significant abnormal returns; the sudden rise of publicly available shares (a potential tripling, according to a 2001 NYU study) typically leads to a decrease in prices. A joint study by Duke's Fuqua School of Business and Harvard Business School finds a price drop of 2%. Losses are often concentrated in firms with venture capital (VC) backing. In the Journal of Finance (2001), Professors Laura Casares Field and Gordon Hanka find the losses described above to be three times greater in VC-backed firms.
Our own research, performed on a sample of 242 companies with lockup expirations in 2013 and in the first half of 2014, suggests that the most significant negative returns (-5.5%) occur during the Day (-11, +9) window surrounding the lockup event (Day 0). These negative returns occur for tech firms which have not completed a secondary offering and whose share prices have increased from IPO to Day (-11) from the lockup expiration.
Thus, the lockup expiration event can often create a short opportunity for aggressive investors.
Conclusion: Early Volatility Could Open Doors To Short Opportunity
We believe that the upcoming QTWO lockup period expiration may present a significant short opportunity for aggressive investors.
QTWO has already shown a penchant for volatility on the market, and while the firm has continued to expand its revenues, its mounting losses are also apparent.
However, we do believe that QTWO provides a valuable service to its customers, especially in an era in which increasing numbers of bank customers demand online banking.
If the firm can withstand its significant competitors, it may be able to perform well in the long term.
We encourage readers wishing to join the discussion on IPO lockup expirations to click +FOLLOW above the title of this article - and those wishing for the latest updates to click +Get real time alerts.
Disclosure: The author has no positions in any stocks mentioned, and no plans to initiate any positions within the next 72 hours.
The author wrote this article themselves, and it expresses their own opinions. The author is not receiving compensation for it (other than from Seeking Alpha). The author has no business relationship with any company whose stock is mentioned in this article.