I am bullish on The Hershey Company (NYSE:HSY); the company has a strong product portfolio, which has helped the company maintain a solid position in the industry and consistently grow its top-line numbers. Moreover, the company has been targeting product innovation to address competition and fuel its top and bottom-line growths. Also, the company recently announced price increases across its product portfolio, which will positively affect its top-line and margins in coming quarters. Furthermore, the company's strong cash flow generation ability highlights that HSY will keep on sharing its success with investors through share buybacks and dividend payments; currently, the company offers a sustainable dividend yield of 2.4%.
Strong Top-Line = Product Innovation is key to growth
HSY is among the leading confectionery companies in the industry and has been delivering a satisfactory financial performance in the recent past. Product innovation for HSY, and the industry, remains critical to fuel top-line growth. As far as HSY is concerned, the company's management should be accredited for ongoing innovations in its product line. Backed by product innovation, the company has been consistently reporting decent top-line growth in recent quarters; in 2Q14, HSY's revenue base grew 4.6% as compared to the same quarter the previous year. The healthy revenue growth in the recent quarter was largely due to volume increase, driven by product innovation; HSY's sales volume for the quarter was up 5.3% year-on-year in 2Q14. The company's new product launches during the first half of 2014 drove 60% of the volume increase experienced by the company.
The successful innovations in newly-launched chocolate products, such as HSY's chocolate spreads and York Minis, largely contributed to the volume growth and fueled its top-line growth. Furthermore, HSY has new chocolate category product innovations in the pipeline, including Reese's spread, a peanut butter chocolate spread, which is expected to be launched in 4Q14. I believe the ongoing innovations will remain the key revenue driver for HSY in coming quarters.
The company's candy and mint category is challenged due to tough competition from established market players in the industry. According to a report, HSY has been listed as the 5th among its peers in the Candy Industry. To address competition and strengthen its position, the company has ramped up its candy category innovative product launches. HSY has plans to launch new candies, including Ice Breakers Cool Blasts Chews and Brookside Crunchy Clusters, later this year. I believe the newly-launched candies will not only post healthy candy category growth for HSY, but will also position it well among its peers in the quarters ahead.
Price Increase = Wait for Recovery of Margins
An increase in the prices of key manufacturing ingredients of the company has been challenging the company's margins in recent quarters. Due to commodity cost inflation, HSY's gross margins for 2Q14 shrunk to 45.5%, as compared to 47.6% in the same quarter the previous year. Recently, in its attempt to deal with this ongoing pressure on margins, the company raised prices for its products by 8%. I believe these increased commodity costs will keep margins pressurized in the near term, but in the long run, pricing increases will offset the increase in commodity costs and portend well for margins. Also, as the company offers confectionery products, which are considered to have low demand elasticity, I believe HSY's sales volume will not be adversely affected due to price increases. The following chart shows the gross margin change (year-on-year) for HSY for 2Q13 and 2Q14.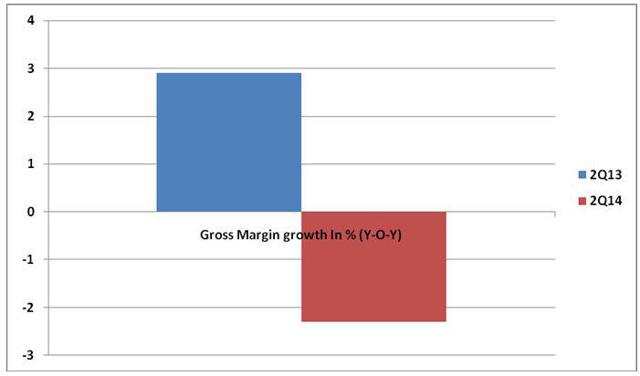 Source: Company's Quarterly Earnings Report
Earnings base
HSY's healthy revenue growth has been fueling its earnings base. In 2Q14, healthy revenue generation and reduced advertisement spending helped HSY increase net income by 5.4% year-over-year. Also, the company's reported EPS was well in-line with analyst expectations. The company is likely to keep its advertisement spending low in 2H14, which will support its bottom-line growth. Advertisement spending growth for the company is likely to slow down to a low single-digit in 2014, as compared to approximately 20% growth in 2013; the company's advertisement spending dropped by 3% and 5% in 1Q14 and 2Q14, respectively. Also, going forward, the company's innovative product launches will keep on fueling its earnings base. Based on HSY's growth potential, analysts expect a healthy earnings growth rate for HSY for the next five years, well above Kraft Foods (KRFT), as shown in the table below.
| | |
| --- | --- |
| Companies | Earnings growth rate |
| HSY | |
| Mondelez (NASDAQ:MDLZ) | |
| KRFT | |
Source: Nasdaq.com
Value Creation
HSY has a history of generating strong cash flows, which have long helped the company in creating value for its investors through share buybacks and dividend payments. Also, the company has been consistently increasing dividends over the years. HSY recently announced a quarterly dividend payment of $0.535, up 10% quarter-over-quarter. Furthermore, the company's strong dividend yield of 2.4% is well covered by its strong FCF yield of 31%. I believe the dividends offered by the company are completely secure and sustainable.
Other than consistent dividends, the company has been undertaking share repurchasing. The company repurchased $125 million worth of shares in 2Q14. Furthermore, the company has authorization for a further $250 million in share repurchases in the coming quarters. I believe the ongoing share repurchases will help the company grow its EPS and magnify its ROE in the future.
Conclusion
The company's strong product portfolio and ongoing innovations offer long-term growth opportunities for the company. In the near term, HSY's margins are exposed to commodity price increases, but I expect the recent price increases by HSY will offset the commodity price increases and support its margins. Also, the company has been consistently sharing success, through dividends and share repurchases, which makes it a good investment for dividend investors. Due to the aforementioned factors, I am bullish on HSY.
Disclosure: The author has no positions in any stocks mentioned, and no plans to initiate any positions within the next 72 hours.
The author wrote this article themselves, and it expresses their own opinions. The author is not receiving compensation for it (other than from Seeking Alpha). The author has no business relationship with any company whose stock is mentioned in this article.