Yesterday's news about Sino Agro Food's (OTCQB:SIAF) funding is a positive sign that could take away some concerns raised by investors. The alternative financing already mentioned in my article Sino Agro Food: Take Action While You Are Waiting is now in place.
The company announced that it has closed a net $24,975,000 convertible note funding with Euro China Capital AB ("ECAB"), a Nordic investment house, on August 29, 2014.
The convertible note carries an interest rate of 10.5% p.a. fixed, a term of 5½ years, and a conversion price of $1.00. The principal amount of the note is $33.3 million. Proceeds of the note will be used to complete the company's existing 5-year plan. Sino Agro Food will meet with Euro China Capital in Stockholm this month to agree on a plan on how to best create shareholder value.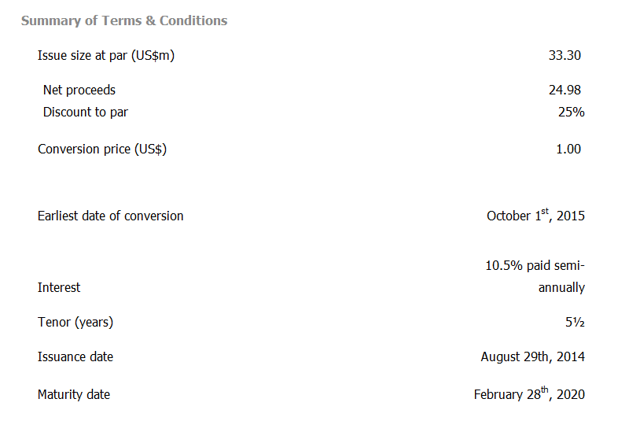 The note is junior to any existing or new debt and does not restrict Sino Agro Food from adding any amount of new debt regardless of form, and neither does the note restrict the company from any cash nor non-cash dividends to shareholders. The basis for any subsidiary spin-off is set out in detail in the agreement.
The take away from the press release is quoted below:
Euro China Capital AB's Managing Partner Fredrik Danielsson commented, "We have conducted extensive due diligence on Sino Agro Food over the past two years and are impressed by the operations that Mr. Lee and his team have managed to develop. However, it is also fair to say that we have been less impressed by the Company's ability to cost efficiently fund its impressive growth with the help of capital markets. I believe shareholders of the Company have found it painfully frustrating to see a constant dilution of the share count at ever more depressed valuation multiples as a means of financing the Company's growth ambitions. As part of this convertible bond, Sino Agro Food has undertaken a commitment to cease the issuance of new shares as a means to pay suppliers and similar. Our ambition is that the equity will never again be used as currency until it has reached a value that to some degree reflects the fundamental value of the Company. With this foundation and Mr. Lee's commitment to work with Euro China Capital now in place, we are confident that we have established a platform from which Sino Agro Food has the ability to transform its operational success into value for all its shareholders. We are excited to get involved and hope to be able to present our first initiatives already before the announcement of the Company's next quarterly report."
Final Note
Due diligence is done by several parties, including Euro China Capital AB. I think this deal is an important milestone for the company and its investors. A confirmation of a value play that is still misunderstood and mispriced.
Disclosure: The author is long SIAF.
The author wrote this article themselves, and it expresses their own opinions. The author is not receiving compensation for it (other than from Seeking Alpha). The author has no business relationship with any company whose stock is mentioned in this article.
Editor's Note: This article covers one or more stocks trading at less than $1 per share and/or with less than a $100 million market cap. Please be aware of the risks associated with these stocks.