By Chris McKhann
Option traders are selling upside in Charles Schwab (NYSE:SCHW) as the stock returns to its April highs.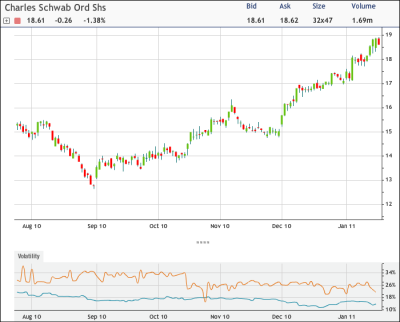 SCHW trades at $18.61, down 1.38 percent on the day. The discount brokerage has climbed 50 percent from the 52-week low hit on the last day of August.
There hasn't been much options interest in the name, which has a daily average of 1,140 contracts. But today 3,000 contracts have traded, all but 69 of them calls.
The bulk of that activity is in the June 19 strike, where 2,500 calls sold for $1.03 near the bid on a wide spread. The volume was twice the previous open interest, so this was a new opening position.
This call selling is very likely done against long stock, either as a covered call or a hedged short volatility position. In either case, the best case scenario is if SCHW is up around $19 at expiration, so it is a neutral to slightly bullish position.
Disclosure: Charles Schwab is a competitor of optionMONSTER's sister company, tradeMONSTER.