Las Vegas Sands (NYSE:LVS) is one of the top casino operators around. It runs casinos in the United States, Singapore and Macau. The beauty of Las Vegas Sands is that it's a large-cap company, with a $50 billion market cap, but it also has the ability to surprise the market with its aggressive earnings growth. Part of this comes from its exposure to the fast growing Chinese economy. Shares are up nicely over the last three years, advancing 58%.
However, Las Vegas Sands has still underperformed the likes of MGM (NYSE:MGM), and it only marginally beat out Wynn (NASDAQ:WYNN), over that three year period.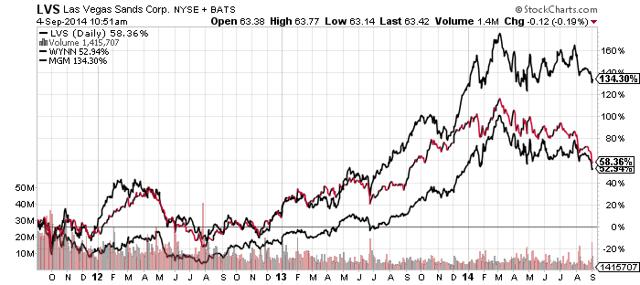 Even so, from a valuation perspective, Las Vegas Sands is appealing. Shares trade at 15x forward earnings, well below MGM's 34x and Wynn's 23x.
Granted, Las Vegas Sands has recovered nicely through the years, with its profits growing from $540 million in 2009 to $2.36 billion in 2013, the best could be ahead.
This comes despite the fact that gaming along the Vegas strip has been in decline. But despite Las Vegas Sands' name, you're not investing in the company for its exposure to the Vegas strip. Rather, China (and possibly Japan) are the real growth drivers.
The Vegas strip appears to be recovering to some degree, in part, driven by an improvement in the business convention market. More companies are booking events in Vegas. This is good news for the companies with exposure to this part of the market (think: MGM).
As mentioned, China (specifically Macau) is where the majority of Las Vegas Sands' revenues are derived. Macau accounts for around 65% of revenues (the U.S. accounts for 15% and Singapore 20%). Macau has become a top tourist destination, but it's also attracting more gamers from the China mainland. The rising middle class in China means more money for gambling. Macau is the only place in China that gambling is allowed.
However, there is a fear that Macau's gaming market is slowing.
The recent weakness is creating a buying opportunity
Shares of Las Vegas Sands is down close to 20% YTD.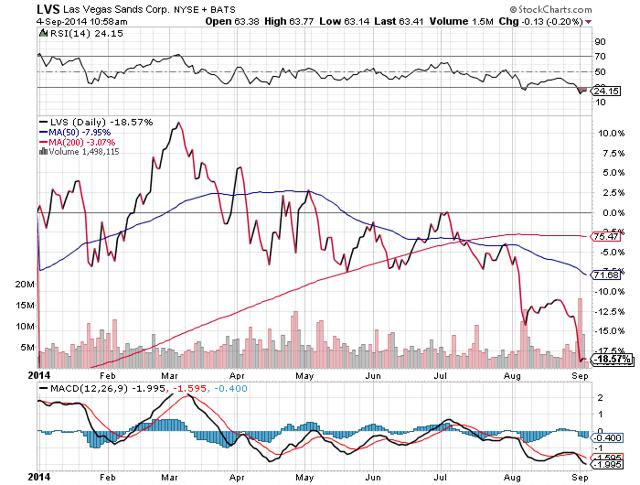 But the Market Vectors Gaming ETF (NYSEARCA:BJK) is down only 12%. The recent selloff in Las Vegas Sands comes as the company missed 2Q earnings expectations, but also due to the fears that Macau is slowing.
Las Vegas Sands' 2Q revenues and earnings missed consensus expectations. The company did buy up $320 million in stock for 2Q, well above its $75 million target. But the worries over Macau is the big overhang. August marked the third month in a row that Macau gaming revenues were down. For August, revenues were down 6.1% y/y.
However, Las Vegas Sands' Sands China casino became the number one casino in Macau by market share in August, owning 24.6% of the market. Compare that to Wynn Macau's 10.1% market share and MGM China's 8.9%.
But the weakness in Macau could continue, as China cuts down on corruption. It's thought that Macau casinos are being used by Chinese officials to launder money. What's more is that tighter restrictions on travel visas are cutting down travel to Macau and straining revenues. Regardless, Macau is still the world's largest gaming market and Las Vegas Sands has a stronghold there. The other part of the Las Vegas Sands story is future growth in other parts of Asia.
More growth ahead
Beyond Macau, Las Vegas Sands has a large opportunity in the untapped Japanese gaming market. We believe that Las Vegas Sands could be the frontrunner here, where the market could be just as big as Macau.
Gambling is illegal in Japan, but the country is considering opening up the market and allowing casinos to operate there. Assuming gaming comes to Japan, it's believed the market could be worth as much as $40 billion by 2025. Compare that to the fact that Macau gaming revenues was $45 billion last year.
Japan's legislative activity continues to push for legalizing gambling. This comes as the casinos would draw tourists to the country but also potentially make the 2020 Olympics a big success in Japan by attracting even more people.
It'll be up to Japan to decide which major casino company gets to break ground in the country first. However, if Las Vegas Sands' success in working with the Singapore government is any indication, then Las Vegas Sands could well be the frontrunner in Japan.
The major competitor for embarking on the Japan casino market, Wynn, hasn't had success with working with overbearing governments like that of Japan (this judging by Wynn's issues in Singapore).
Bottom line
Las Vegas Sands has some of biggest exposure to Asia of all publicly traded companies. What's more is that exposure is levered to China's fast growing middle class. It also offers one of the best dividends in the industry, yielding 3.1%. The pullback looks to be a great buying opportunity.
Disclosure: The author has no positions in any stocks mentioned, and no plans to initiate any positions within the next 72 hours.
The author wrote this article themselves, and it expresses their own opinions. The author is not receiving compensation for it (other than from Seeking Alpha). The author has no business relationship with any company whose stock is mentioned in this article.