With the dollar (NYSEARCA:UUP) making new highs as European economic woes continue and U.S. interest rates may rise in future months, we have continued to see the Goldman Sachs Commodity Index collapse. Record U.S. and world grain crops have also contributed to the fall in commodity prices with natural gas (NYSEARCA:UNG) declining on a lack of hurricanes and a cool end to the summer. However, a weak hurricane season that we predicted once again, could portend a cold U.S. winter, especially with stratospheric winds (some 20-30 miles up) changing from west to east, and warm waters in the eastern North Pacific.
While I have remained bearish corn (NYSEARCA:CORN) and soybeans (NYSEARCA:SOYB) all summer on ideal weather, farmers in northern Iowa, Minnesota and South Dakota could get zapped with some readings in the 26-32 degree range around September 13th. This will not change the fact, however, that the world is awash in grains, so any major, long term sustained rally in grain prices is unlikely anytime soon. Nevertheless, damage could be worse than expected in the NW belt and those traders with big profits in short corn and soybeans this summer may want to take some off the table for now.
EL Nino Can Bring Drought to N. Brazil, But Not Necessarily When East Based Warming Occurs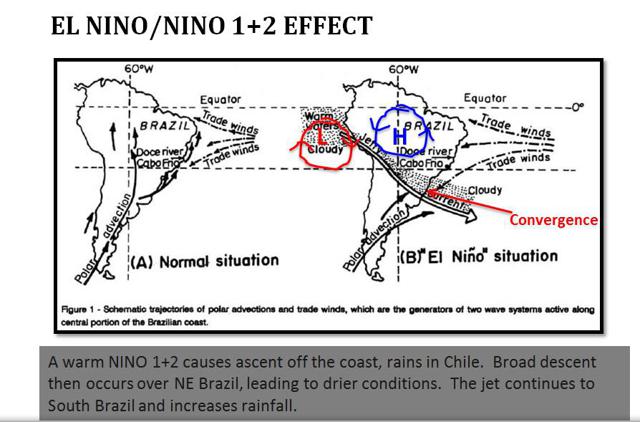 There has been much "hype" over El Nino and the implications on global weather patterns, crops and the need for the California drought to break, soon. The map above shows the typical effect of EL Nino (right) in South America. High-dry Pressure tends to park its head over the Amazon resulting in fall and winter problems to northern and central Brazil's coffee and soybean crops. However, this season, the greatest of ocean warming occurring over Nino 1+2 (see maps below). Also warming in the tropical north Atlantic and changes in stratospheric winds, plus colder weather over Antarctica (negative AAO index), are all signs pointing to an easing in the Brazil drought for this fall and early winter.
If the drought continues, it would probably only be due to climate change and the incredible deforestation occurring over the Amazon. The destruction of the Brazil rain forest, by over- development and the need to expand agricultural practices, is just another sad example of man's ability to reap big financial rewards at the expense of the environment.
In the meantime, traders will be watching very closely the weather for Brazil coffee in coming weeks. While we have been mostly in the bullish camp in coffee since last January's drought, we do not advise at this point being long coffee (NYSEARCA:JO); (NYSEARCA:CAFE) due to the heavy net long spec position in the market and the odds of the drought to ease in Brazil the next 1-2 months. No question trees were stressed from last year's late winter drought and there are some bullish fundamentals with regards to tight stocks and a dry late summer dry in Central America, but Vietnam's crop appears to be healthy again, once again illustrating the point we made 4 months ago-- that "El Nino" would NOT be as strong, nor develop as early, as many other forecasters predicted.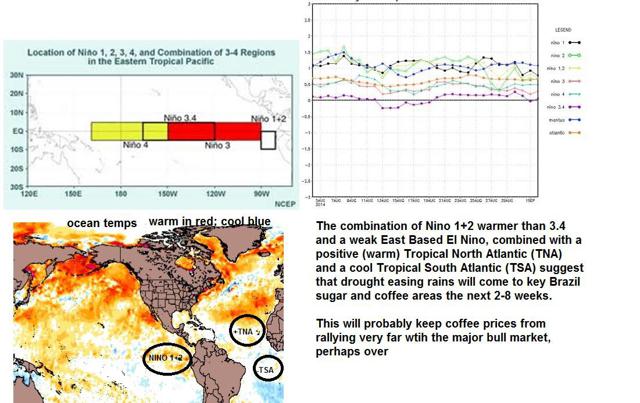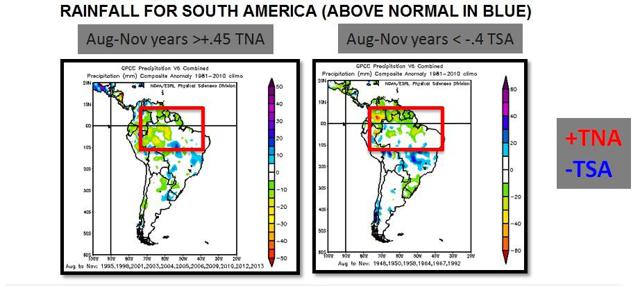 The warming in the TNA region and neutral to cooling in the TSA region suggest normal to above normal rainfall in central and northern Brazil this fall. Areas in yellow would be the driest.
Disclosure: The author has no positions in any stocks mentioned, and no plans to initiate any positions within the next 72 hours.
The author wrote this article themselves, and it expresses their own opinions. The author is not receiving compensation for it (other than from Seeking Alpha). The author has no business relationship with any company whose stock is mentioned in this article.