Gilead Sciences (NASDAQ:GILD) has been one of the best-performing stocks in the S&P 500 over the last year, having gained more than 80% in the last 12 months. It has become a darling of numerous investors and analysts with its stunning share performance, but has also garnered negative headlines for the incredibly high cost of its star drug, Sovaldi. At first glance, it is difficult to make a case that Gilead shares are overvalued, but I will illustrate why I believe that investors in this company should remain cautious.
For those unfamiliar with Gilead, it was founded in Foster City, California in 1987, and now employs nearly 7,000 people worldwide. Gilead's website describes the company in the following way:
Gilead Sciences, Inc. is a research-based biopharmaceutical company that discovers, develops and commercializes innovative medicines in areas of unmet medical need. We strive to transform and simplify care for people with life-threatening illnesses around the world. Gilead's portfolio of products and pipeline of investigational drugs includes treatments for HIV/AIDS, liver diseases, cancer and inflammation, and serious respiratory and cardiovascular conditions.
Antiviral drug sales made up more than 90% of the firm's revenue in the second quarter of 2014. Its hepatitis C treatment, Sovaldi, was launched in December 2013, and accounted for more than 50% of Gilead's revenues last quarter. It has already been prescribed to more than 80,000 patients in the United States and Europe since its launch less than a year ago, despite costing approximately $1,000 per pill ($84,000 for an entire treatment), according to the New York Times. Gilead is also active in the HIV/AIDS arena, and generated $266 million in revenue last quarter from the sale of cardiovascular products.
The three-year stock chart is a thing of beauty, and the shares have seen their gains accelerate this year: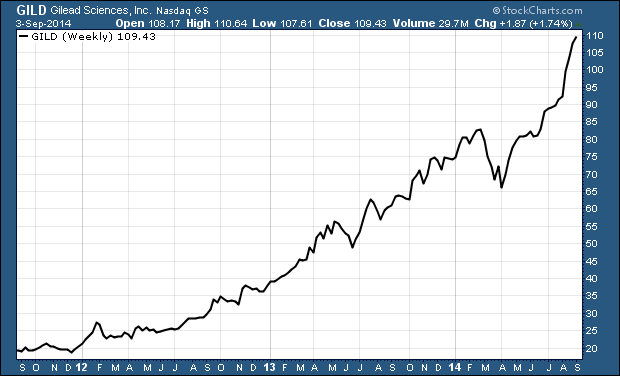 The one-year chart is just as impressive. After correcting during March and April (like many biotechnology stocks), the shares spiked higher after better-than-expected second-quarter results and positive news on Sovaldi from the UK's health regulatory agency. Gilead has continued to reach new all-time highs over the last two months: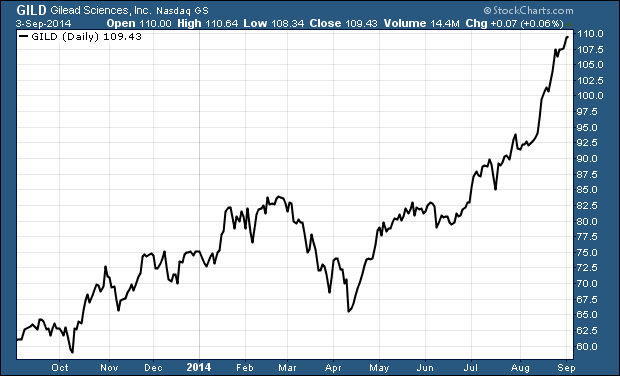 The bull case for Gilead is surprisingly easy to put together. Sovaldi is a revolutionary drug that is literally a life-saver for patients with hepatitis C. The fact that Gilead is able to sell the drug for $1,000 per pill speaks to how valuable it is. The profit margins are monumental - the firm as a whole has a gross profit margin of 86% over the past four quarters and a net profit margin of 56% during this time. These exceptional margins could even inch higher in coming quarters given Sovaldi's selling price. Return on equity is 55%. Nearly every ratio one can find on Gilead is terrific, and has the potential to improve further once Sovaldi has been on the market for an entire year. If you are an investor who looks favorably on stocks which have outperformed their peers over recent weeks or months, Gilead also meets that criterion: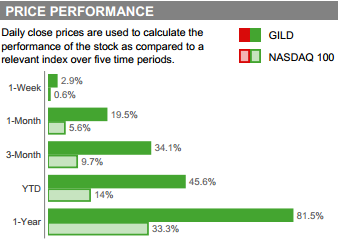 (Source: Thomson Reuters)
Last, but certainly not least, Gilead bulls correctly point out that despite the stock's incredible performance, it still trades at only 12 times the analyst consensus 2015 earnings forecast of $9.36 per share. If the analysts are correct and Sovaldi performs as well as expected in the coming years, Gilead shares are a relative bargain trading at 12 times forward earnings. This helps explain why the street is so bullish. However, I contend that these analysts are not sufficiently discounting the risks associated with one (albeit mighty) drug having such a significant impact on the firm's top and bottom line growth.
Before Sovaldi came along, Gilead's sales growth was somewhat pedestrian: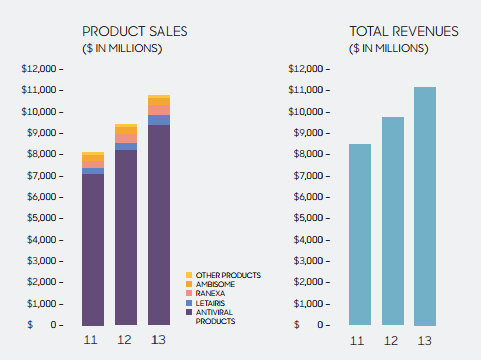 (Source: Gilead 2013 Annual Report)
In fact, Gilead's profit growth (from $1.66 per share in 2010 to $1.81 in 2013) was rather anemic before Sovaldi came along. It seems clear that a majority of the share price gains that have occurred in the last two or three years have been caused by the success of just one product.
Gilead should, therefore, trade at a discounted P/E ratio (offset by its strong growth potential) because of the risk caused by one drug accounting for more than 50% of its projected revenue. While more established (and much lower-growth) pharma stocks such as GlaxoSmithKline (NYSE:GSK) and Novartis (NYSE:NVS) trade at similar forward multiples, the diversification of revenue streams within these companies make them significantly lower-risk investments.
Sovaldi has attracted negative headlines for its prohibitive cost, and there was talk in the spring that the U.S. Congress might get involved in an attempt to reduce its cost (not surprisingly, Congress has done nothing). To help quiet this PR problem, Gilead has announced that it will charge $900 per Sovaldi treatment in India (as opposed to $84,000 in the US). What happens to the company's growth projections and stock price if this type of pricing structure was put in place in the United States, the UK and or Europe? It's an unlikely scenario, but something every investor in Gilead needs to consider.
Gilead's stock does not look expensive if everything goes as planned for the company in the coming years. However, due to its reliance on one relatively new drug, Gilead might be the riskiest $100+ billion business in the world. If you are a Gilead investor, just remember that even a small issue with Sovaldi could knock this popular stock back in a hurry.
Disclosure: The author has no positions in any stocks mentioned, and no plans to initiate any positions within the next 72 hours.
The author wrote this article themselves, and it expresses their own opinions. The author is not receiving compensation for it (other than from Seeking Alpha). The author has no business relationship with any company whose stock is mentioned in this article.