Here are the breakeven points of different natural gas locations across the US for 15% after-tax rate of return (data from Credit Suisse).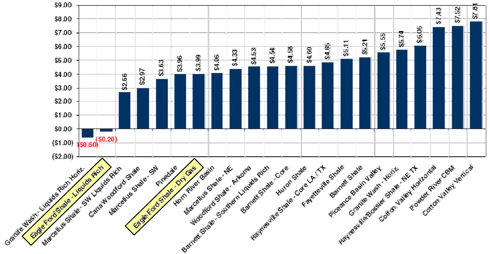 click to enlarge
Many people's claims saying that natural gas prices will continue to be depressed cite all the new supply due to shale gas discoveries. Because of this, they say, natural gas prices are forced to stay depressed. The one mistake in this argument is that it assumes all supply sources are equal. Judging from the chart above, this is hardly the case.
Simply put, there are low-cost gas fields and high-cost gas fields. As you can see from the data, cost structures of different gas fields vary wildly.
Currently, natural gas prices sit just above $4. According to the above data, many gas fields have breakeven levels much higher than this to achieve the industry standard 15% after-tax rate of return. A good number of these gas fields even range from $5.11 to $7.81.
These breakeven economics leave companies with only high-cost gas fields in the uncomfortable situation of having to purchase lower cost acreage to push their average breakeven points lower, or keep producing at a loss.
It's doubtful that all the current gas-producing companies in the US will be able to buy up acreage in the cheaper gas fields such as the Marcellus, Eagle Ford, and Woodford shale plays. It's also doubtful that most companies will continue to operate loss-producing fields, so this will be an interesting dynamic to watch.
As to profiting from this view, there are multiple ways to gain exposure with ETFs. Depending upon how strongly you feel about increasing natural gas prices, you can either invest in a pure play like FCG or a broader play such as XES:
Pure Play: FCG
This is one of the better alternatives to investing in natural gas commodity ETFs that suffer from contango. Provided the market as a whole holds up (which it should in the long term), this ETF should do well as natural gas is a much more easily realized alternative to crude oil.
Commodities: UNG
Although I'm bullish long-term on nat gas, I'd stay away from this ETF. Even if natural gas suddenly does a u-turn and starts heading back upwards, UNG will only follow in the short term. Eventually, the faulty tracking ability of this vehicle will resume and continue its decline.
Oil & Gas Exploration & Production: XOP
The SPDR Standard and Poor Oil & Gas Exploration & Production Select Industry Index is an equally weighted index that represents the oil and gas exploration and production sub-industry portion of the Standard and Poor's Total Market Index. Great recovery play. Excellent long-term outlook doesn't hurt as emerging economies will continue to rely heavily on fossil fuels across the board. Decent exposure to nat gas.
Oil & Gas Equipment & Services: XES
Most of the new opportunities for oil production are to be found in difficult spots and under challenging conditions. The highest margins in the oil and gas sector are in the services as oil gets more expensive to extract. This is a strong performer in the services industry.
Leveraged Oil & Gas Industry: DUG, DIG
These investments seek daily investment results, before fees and expenses, that correspond to twice (200%) the daily performance of the Dow Jones U.S. Oil & Gas Index (DUG being the inverse ETF). Unless you are day trading or know how the effects of compounding affect your overall return day to day, I'd stay away from these leveraged ETFs and stick with the pure plays.
Disclosure: I have no positions in any stocks mentioned, and no plans to initiate any positions within the next 72 hours.