QR Energy (NYSE:QRE) is engaged in acquisition, exploration, development and production of oil and natural gas properties located in the U.S. The partnership is focused on the low-risk development of mature, conventional assets and has developed impressive acreage located in the Permian Basin, Ark-La-Tex, Mid-continent, Gulf Coast and Central Michigan areas. These acreages have enabled the partnership to report increasing revenues over the last few years, with impressive distribution yield of around 8.2%. Moreover, the partnership has also simplified its capital structure by acquiring its general partner, which will increase its cash distributions in the coming quarters.
Partnership Structure
QR Energy is one of the best upstream master limited partnerships, which is well known for its impressive asset acreage, increasing cash distributions and enormous reserves in the highest yielding areas in the U.S. The partnership's general partner, commonly referred to as "The Fund", was a collection of limited partnerships managed by Quantum Resources Management, a full service management company formed to manage the oil and natural gas interests of the Fund. The image below describes the partnership structure of QR Energy: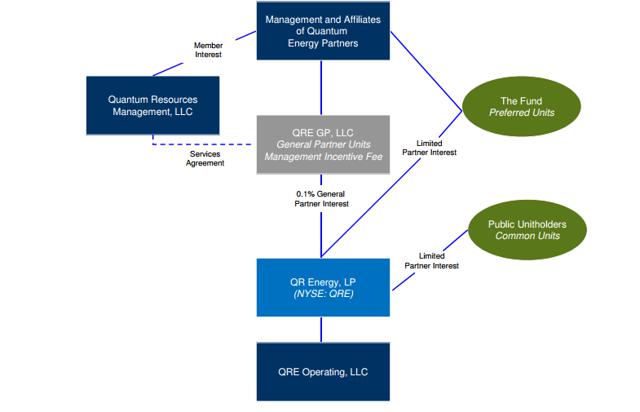 Click to enlarge
Source: General Partner Buy-out Presentation, March 2014.
QR Energy has simplified its capital structure by purchasing its general partner in a 100% conditional unit exchange. This decision demonstrated the partnership's commitment to long term value creation and growth prospects for the partnership. The simplified capital structure will bring in considerable benefits to the partnership in terms of increased distributable cash flows by removing Management Incentive Fee [MIF] and accelerated future growth given enhanced competitive position in the industry. The image below shows the new partnership structure of QR Energy: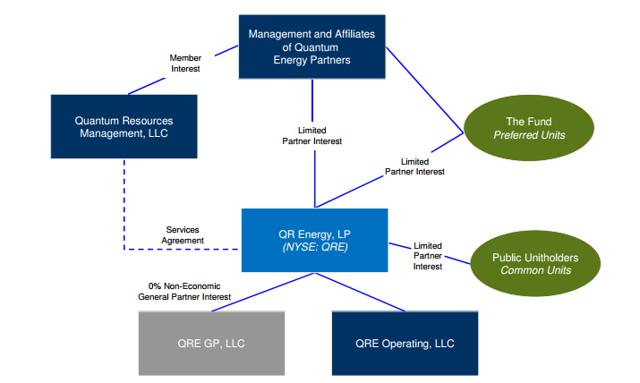 Click to enlarge
Source: General Partner Buy-out Presentation, March 2014.
Revenue and Business Performance
Over the last few years, oil and gas companies in the U.S. have changed their strategy by moving away from natural gas and focus on oil producing acreages due to stable returns. QR Energy has the ideal oil-weighted asset portfolio with shallow decline rates and long-lived maturity with ample growth opportunities in the future. The partnership has total proved reserves of around 109 MMboe as of the last year, of which approximately 77% were liquids and 85% were classified as proved developed reserves. The daily production of these proved developed resources accounted for 18,900 Boed with proved reserves life of around 16 years. Moreover, the partnership holds assets in some of the highest yielding acreages in the U.S., which enabled it to produce 17,904 Boe/d in the last year.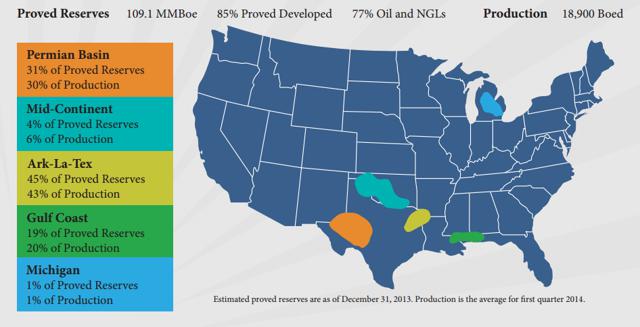 Click to enlarge
Source: QR Energy Factsheet First Quarter, 2014.
The partnership has reported the second highest oil weighted commodity mix of 73% in the industry, with a peer average of around 51%. This has also enabled the partnership to produce industry leading margins per barrels of oil equivalent as compared to other peers in the industry.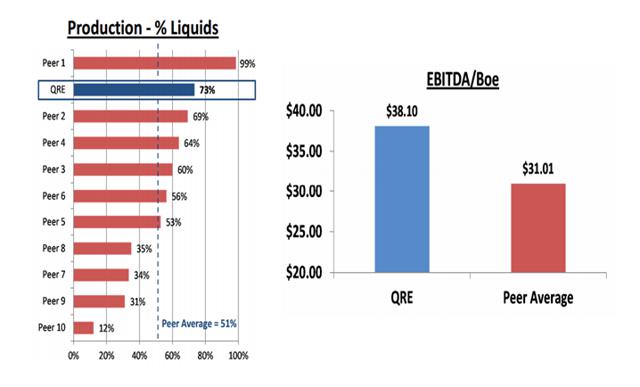 Click to enlarge
Source: Investor Presentation, June 2014.
Reducing commodity exposure is a key element to maintain cash flow stability and predictability in the long-run. QR Energy has also managed a robust hedge portfolio in order to mitigate the risk against increased commodity price fluctuations in the last few years. The partnership has more production hedged through 2017 than peers, which should result in better cash flow stability than its peers.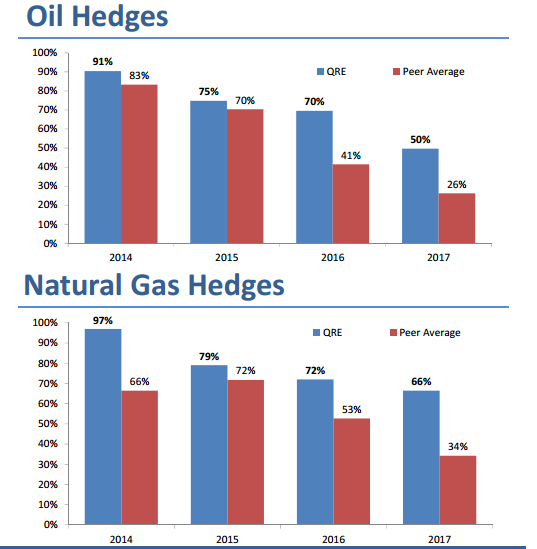 Source: Investor Presentation, June 2014.
BreitBurn Energy Merger
QR Energy recently announced to merge with BreitBurn Energy Partners (BBEP), which will acquire QR Energy in a unit-for-unit exchange - the transaction value will be approximately $3.0 billion - it also includes its existing net debt and preferred units. The merger is intended to produce the largest, oil-weighted upstream oil and natural gas master limited partnership in the U.S. with a pro forma enterprise value of approximately $7.8 billion and current average daily production of approximately 57,300 Boe/d.
BreitBurn Energy Partners is an independent oil and natural gas partnership focused on the acquisition, exploration and development of oil and gas properties. Its assets mainly consist of crude oil and natural gas reserves, located primarily in the Antrim Shale and several non-Antrim formations in the U.S. The proposed merger will substantially benefit both partnerships as the collective entity will have better access to assets in different regions, enhanced growth in cash flows, and increased distributable cash flows for the unit holders. Moreover, the QR Energy unit holders will receive a 19% premium to QRE's closing price of 23rd July, 2014.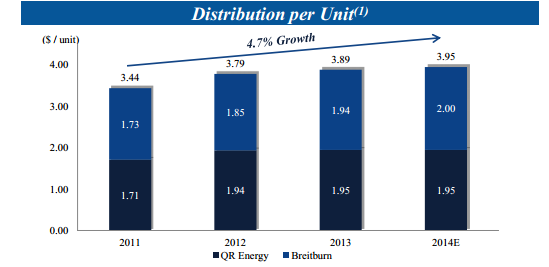 Source: Investor Presentation, BreitBurn Energy Partners LP.
Distributable Cash Flows
One of the most important parts of evaluating the performance of any partnership is to gauge the sustainability of its distributable cash flows. QR Energy initially distributed quarterly cash distributions to its common unit holders; however, it changed the payment schedule to monthly payments this year. The partnership pays monthly cash distributions of $0.1625, and $1.95 on annualized basis, which resulted in a distribution yield of around 8.2% in the last year. The combined entity should be able to grow distributions at an impressive rate as the larger scale will allow this entity to reduce costs. Furthermore, the oil-heavy asset mix will result in stable revenues and cash flows.
Conclusion
QR Energy has been doing well since the start of the year and this merger will further result in a better entity. The scale and the oil-heavy portfolio of the joint entity will position it well for the future growth. Larger scale will also result in cost savings, which will allow the partnership to enhance its margins. We believe QR Energy is a good investment and its unitholders will benefit from the merger as the combined entity will grow at an impressive rate.
Additional Disclosure: This article is for educational purposes only and it should not be taken as an investment recommendation. Investing in stock markets involves a number of risks and readers/investors are encouraged to do their own due diligence and familiarize themselves with the risks involved.
You can subscribe for real time alerts by clicking on the button at the bottom of this article, and you can also follow us on twitter here: twitter.com/IAEResearch
Disclosure: The author has no positions in any stocks mentioned, and no plans to initiate any positions within the next 72 hours.
The author wrote this article themselves, and it expresses their own opinions. The author is not receiving compensation for it (other than from Seeking Alpha). The author has no business relationship with any company whose stock is mentioned in this article.