By Mike Yamamoto
Option traders are making a long-term upside bet on Foster Wheeler (FWLT) as the oil-services company continues to reach levels not seen since the depths of the financial crisis.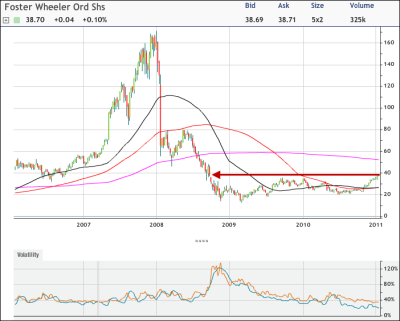 FWLT options were activity right out of the gate this morning, starting with a block of 5,680 January 2012 45 calls bought for $3.75. That dwarfs both the strike's average daily call of just 4 contracts and the open interest of 300, indicating that this is a new position.
Shares are trading slightly higher this morning at $38.70, up more than 13 percent since the beginning of last week. Traders may be looking for the stock to break a key resistance level around $40 and fill a gap that opened in October 2008 (red arrow on chart) as energy demands increase.
For the calls purchased today to turn a profit, FWLT shares would need to gain roughly 26 percent by the time the options expire 12 months from now.
The Switzerland-based company, which provides construction services to the oil and natural-gas industry, won contracts in Spain and Vietnam this month. The firm also underwent a high-level management shakeup in recent weeks ahead of its next earnings report, which is scheduled for Feb. 24.

Disclosure: No position