It seems to us that the economic data today is an outlier and shall be revised next month and most likely higher. The market took the news better than we would have expected which is a good thing, especially with the weakness we have seen in various sessions this week. Also helping markets today is that the Ukrainians and Russian separatists appear to have made a deal for a cease fire which could lead to the cooling of one of the worlds reddest hot spots. It probably will not end this issue, but will at least put it on the back burner for a month or two.
Chart of the Day:
The six month chart below certainly appears to indicate that something has been going on with European buyers and the US Treasury market. We are hearing more and more of the talking heads discuss the recent purchases by Belgium, which gives more credibility to the thesis that the ECB has been actively trying to devalue the euro versus the US dollar.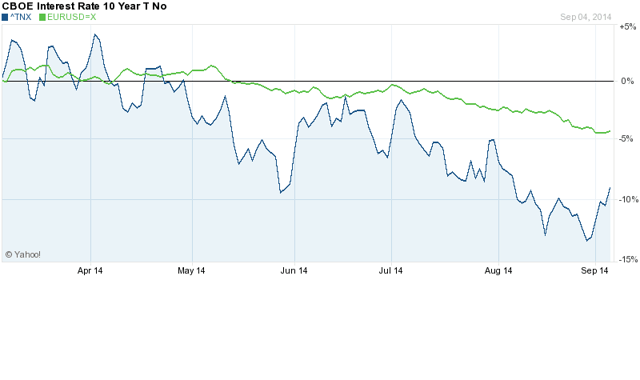 Click to enlarge
Source: Yahoo Finance
Commodity prices are as follows (at time of submission):
Gold: $1,266.70/ounce, up by $0.20/ounce
Silver: $19.125/ounce, down by $0.013/ounce
Oil: $93.54/barrel, down by $0.91/barrel
RBOB Gas: $2.5848/gallon, down by $0.0151/gallon
Natural Gas: $3.801/MMbtu, down by $0.018/MMbtu
Copper: $3.153/pound, up by $0.002/pound
Platinum: $1,411.20/ounce, up by $2.90/ounce
Coal & Iron Ore Asset Sales
It seems that there are quite a few people who have an optimistic outlook for the planned asset sales from Cliffs Natural Resources (NYSE:CLF) and the total amount that the company will receive from those divestitures. The company faces multiple issues in trying to sell the assets for top dollar because the iron ore properties in Australia have dwindling production lives (roughly five years) and the US coal properties are high cost and currently unprofitable.
There will be those who want to argue this point and back it up with facts such as the sales will bring in a lot of cash and improve cash flows for the company moving forward. Our argument is that the amount of cash Cliffs Natural Resources brings in will be lower than some investors are expecting, although we agree that cash flows will improve for the company as they offload properties which lose money.
If an asset sale is announced soon, look for Cliffs shares to possibly trade at fresh 52-week lows if the company is unable to attract significant offers.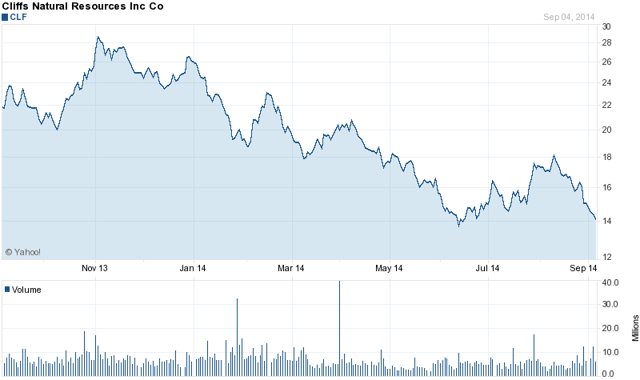 Click to enlarge
Source: Yahoo Finance
For those not convinced, look no further than the recent agreement between Cloud Peak Energy (NYSE:CLD) and its Australian partner in the Decker Mine in Montana, Ambre Energy. Cloud Peak essentially handed over the keys to the mine for the right to export out of a port not yet completed. The goal for Cloud Peak was to save the $2-5 million annually that the mine was losing as the production costs at the mine are much higher than comparable mines. The market has deteriorated so much that when negotiations initially started Cloud Peak believed they would receive up to $64 million in cash for their 50% stake in the Decker Mine. Cliffs shareholders might want to take this under consideration when making projections.
India Facing Power Outages
With Asian economies starting to ramp up growth again and the economic reformist Modi elected to power in India, the continent is in a very precarious position where the economic recovery could be ended by power outages before it even has the chance to take place. India always leaves us scratching our heads as the country has so much going for it but is held back by certain socialist policies and out-of-date economic reforms that do more harm than good.
Now the country is facing the prospect of rolling blackouts as electricity generators have around 6 days of coal on hand to fuel their plants; even though the country has plenty of coal production to meet demand. The regulations on what electricity can be sold for in the country are not working and the government is forced with the task of either bailing out the generators with cash and/or subsidies or allowing prices to rise in order to cover the costs to produce power. Economies do not work properly when governments legislate away profits, so look for something out of India sooner rather than later.
New Shale Boom In South America?
Well George Soros thinks so. He has been increasing his bet on YPF, S.A. (NYSE:YPF) which is developing large shale plays in Argentina. YPF's partner on one of the projects is Chevron (NYSE:CVX) and the two companies are in the process of drilling 300 wells in Vaca Muerta where oil is already being produced.
Even with Argentina's recent issues, foreign companies are being attracted to the shale plays, including the Vaca Muerta and the new Agrio, as well as the chemicals business as very attractive tax breaks are being offered. While this is a speculative area, we are looking for attractive spec plays for the portfolios.
Disclosure: The author has no positions in any stocks mentioned, and no plans to initiate any positions within the next 72 hours.
The author wrote this article themselves, and it expresses their own opinions. The author is not receiving compensation for it (other than from Seeking Alpha). The author has no business relationship with any company whose stock is mentioned in this article.