Introduction: Where is the Market Headed and What to Do?
Recently, there has been a large influx of articles both on Seeking Alpha and on numerous other popular financial websites proclaiming that markets are overvalued, and we should therefore expect either a large correction, or full on bear-market in the imminent future. Indeed, from the perspective of pure historical valuation, the market is likely overvalued, with the S&P 500 consistently reaching new highs, being up for six consecutive quarters, and over 1000 days without a 10% correction. This would be the longest period without a 10% correction since 1987. The popular Shiller P/E ratio, which takes the current S&P 500 price and divides it by the previous 10 years' inflation adjusted earnings, is currently sitting at 26.38, 58% above the historical mean of 16.55. In addition, many previous market corrections and crashes, such as Black Tuesday and the 2007 crash have occurred in the 25-30 Shiller P/E range, which seems to function as a sort of resistance-zone, as seen in this chart: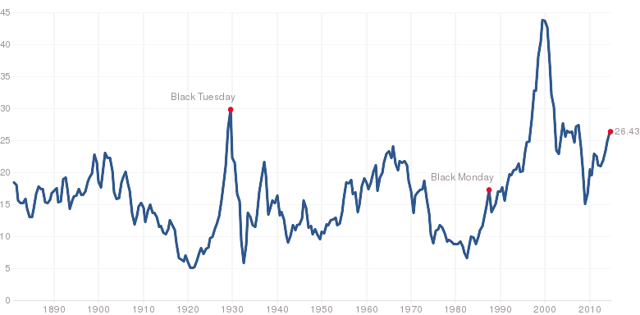 Click to enlarge
Despite this, with bond yields being unattractive, cash yielding nothing, and the S&P 500 returning an impressive 25.26% over the last 12 months, and 9.68% YTD, there exists minimal economic incentive for investors to move away from equities in the quantities necessary to produce a bear market.
In addition, economic and business indicators have been largely positive, providing little in the way of macroeconomic catalysts for downward price movement. For example, according to Kiplinger's Economic Outlooks, GDP growth is expected to exceed 3% into 2015, consumer confidence has reached its highest point since pre-recession, disposable income grew 4.3% since December 2013, and motor vehicle sales hit an 8 year peak.
What's more, a strong uptrend in job growth has been established with six consecutive months of > 200,000 jobs per month being created (although the September 5th jobs report marked an end to this streak), and wage growth is expected to be up this year, increasing 2.3% over the past 12 months, and rising to 2.5% by year end, driving consumer spending.
With low interest rates expected to stay until at least 2015, it is clear an economic recovery is under way, which may provide further fuel to the bull market despite stretched valuations. There seems to be a thesis for both the continuation of the bull market (good economic conditions), and an impending bear market (stretched valuations approaching critical pivot points for previous bull markets). The question then becomes, how does this information influence market participants' approach to investing and portfolio allocation/management over the coming months?
Market timing is ultimately a futile activity, and nobody knows if the market will crash in a week, or if this bull run will continue for another three years, albeit interspersed with more frequent corrections. One fact is known though, bull-markets do not last forever, and based on the current Shiller P/E ratio being significantly above the mean, and approaching previous pivot points, it is important to be cautious, as markets have a clear tendency to revert towards the mean. It is unlikely and would be nearly unprecedented for the market to remain overvalued for the next five years, and based on this, it is wise to begin making sensible changes to both the structure and content of your portfolio to reflect current overvalued conditions and ensure optimal performance in a correction/bear market. Through this, it is possible to see minimized declines and possibly gains in these conditions.
Four Strategies Minimizing Declines and Maximizing Returns in a correction or Bear-Market
1. Buy High Quality, Undervalued Stocks with a History of Strong Recession Performance
When market conditions are overvalued, it is important to adjust your investing strategy and portfolio allocation to match conditions, and this holds true for fairly valued and undervalued markets. Many fund managers and analysts recommend holding higher percentages of cash in overvalued conditions (Hedge Fund manager Seth Klarman for example, recently moved 50% into cash due to overvalued conditions). Although I would certainly recommend increasing cash allocation in overvalued conditions simply so there are adequate funds on hand to take advantage of attractive pricing in the event of a correction, one alternative to allocating large portions of a portfolio to cash, while still maintaining downside protection, is investing in high quality, blue-chip undervalued stocks with a strong history of moving inversely to the market in recession conditions.
The Dividend Aristocrats are an excellent starting point for locating these equities. The S&P 500 dividend aristocrats are businesses that have increased their dividend payouts for 25 consecutive years. These businesses are largely high quality names with large, stable cash flows, strong brand identity/economic moat, solid return on equity, and often sell products and services for which demand remains stable or even grows in recessionary environments. As a result, the dividend aristocrat index suffered significantly less drawdown during the 2007-2008 crash relative to the S&P 500 index (-22% vs -37%). Interestingly however, some dividend aristocrats posted positive, significant gains in both 2007 and 2008, and others posted drawdown's substantially less than the market. For example, McDonalds (NYSE: MCD) posted a gain of 37% during 2007, and a gain of 10% during 2008, despite the fact the S&P 500 lost 37% that year. This gain would've been compounded by their solid dividend yield. Similarly, Wal-Mart (NYSE:WMT) posted gains of 21.59% during 2008. Abbott Labs (NYSE: ABT), another aristocrat, lost only 1.98% in 2008, a loss that was likely offset by its dividend during that year.
These companies were safe havens for investors due to the fact that they offer low-price alternatives which consumers flock to during recessionary periods, and offer stable cash flows and healthy dividends for further downside protection. In the case of Wal-Mart and McDonalds, they are both also trading at fair valuations, which further insulates investors. During overvalued market periods, it is wise to allocate away from higher risk, overvalued equities into the quality, solid businesses that would be found in the Dividend Aristocrats list.
2. Inverse Index ETFs.
Inverse ETF's are a relatively new product that aim, through the use of derivative instruments, to move inversely to the index being tracked. Most inverse ETFs move -1x the movement of the underlying index (If the S&P 500 is up 1% the ETF will move down roughly -1%), but there also exist leveraged inverse ETFs with -2x or even -3x the price movement of the index. I believe these instruments can serve as an extremely effective hedging tool if the right ETF is selected, and if used conservatively and in the context of a broader portfolio strategy.
When markets are overvalued as they are now, holding a position in an inverse ETF can offset losses in a market downturn, and when sold, can serve as cash to be used to buy equities when they are more attractively priced. If the market rises, the inverse ETF will lose money, but in these market conditions, it is inevitable the ETF will produce positive returns within a reasonable time frame. With Inverse ETFs it is important to select the correct type. I personally stay away from leveraged inverse ETFs as they tend to not track the market well over long time periods and tend to be more volatile, not to mention substantially more risky in the event of upward market movement. The 1x Inverse ETFs typically track better, and before selecting an ETF , it is essential to compare returns to underlying index being tracked to ensure a strong correlation. For example, the ProShares Short S&P 500 ETF is a -1x ETF that has a fairly impressive record of matching the index:
Month-End Total Returns as of 7/31/14
| | | | | | | | | | | | |
| --- | --- | --- | --- | --- | --- | --- | --- | --- | --- | --- | --- |
| | 1 mo | 3 mo | 6 mo | YTD | 1 yr | 3 yr | 5 yr | Inception† | Inception Date | Exp. Ratio | Net Exp.1 |
| NAV | 1.25% | -3.24% | -9.36% | -6.27% | -15.87% | -17.19% | -17.20% | -10.18% | 6/19/06 | 0.90% | 0.90% |
| Market Price | 1.24% | -3.23% | -9.39% | -6.26% | -15.87% | -17.20% | -17.21% | -10.19% | 6/19/06 | 0.90% | 0.90% |
- See more at: www.proshares.com/funds/sh_quote_perform...
Compare this to the UltraShort Russell 1000 Value ETF, which is a -2x ETF that tracks the Russell 1000 Value Index:
Month-End Total Returns as of 7/31/14
| | | | | | | | | | | | |
| --- | --- | --- | --- | --- | --- | --- | --- | --- | --- | --- | --- |
| | 1 mo | 3 mo | 6 mo | YTD | 1 yr | 3 yr | 5 yr | Inception† | Inception Date | Exp. Ratio | Net Exp.1 |
| NAV | 3.13% | -5.26% | -19.52% | -13.90% | -28.21% | -34.42% | -34.05% | -22.96% | 2/20/07 | 6.63% | 0.95% |
| Market Price | 0.00% | -3.82% | -17.68% | -14.03% | -25.79% | -33.87% | -33.80% | -22.76% | 2/20/07 | 6.63% | 0.95% |
- See more at: www.proshares.com/funds/sjf_quote_perfor...
As one can also see here, expense ratios are also higher for inverse ETFs which are leveraged. Overall though, Inverse ETF's , if used conservatively can be an effective hedge against a market downturn. To determine the percentage allocation, I typically look and my portfolio to determine the percentage of equities I have which are overvalued, have riskier profiles (such as small caps), and would likely react poorly in a correction. I would likely purchase Inverse ETFs equal to 15%-25% of the value of these equities to provide some downside protection for them.
3. Purchasing Protective Puts on Index ETF's as a hedge against riskier and/or overvalued portfolio positions.
Another strategy which can be valuable if used very prudently is buying protective put options on Index ETFs, and buying enough contracts of these options to effectively equal the value of any positions which you may want to hold, but are concerned about in the event of a downturn. I personally use this strategy on some of my small-cap junior oil and gas company shares that I own.
If you are not familiar with protective puts for hedging purposes, here is an excellent article explaining the basics. This is a strategy that should only be used for investors familiar with options, although it is a fairly conservative strategy since downside risk is strictly limited to the premium paid for the option. The basic principle is purchasing a put option gives the buyer the right but not the obligation to sell a particular amount of shares, at a particular price, at an agreed upon date. For example, for an Index ETF trading at $22.62, you may purchase an October 22.50 Put option for a premium of 0.33 cents a share. Since one options contract equals 100 shares, the contract would cost $33. This $33 contract would give the buyer the right to sell shares at $22.50 before the third week of October 2014. If the value of the ETF drops to $15, you can sell the shares for $22.50. If you do not own shares in the underlying ETF, the value of the option (which is purchased at $33), will increase as the price of the ETF drops below $22.50, for close to a dollar for dollar amount, thereby offsetting losses in the Index (the degree to which the option price tracks the movement of the underlying security is known as the options delta).
In this example, one contract was purchased on an Index ETF valued at $22.62 a share, which means the contract applies to $2262 of the index ETF. The basic idea here is to purchase enough contracts to cover or insure any risky assets in your portfolio, or, depending on your risk profile, your entire portfolio. This way, these assets would be protected against losses caused by a bearish broader market. In the event of a correction, my put option would increase and protect my portfolio.For example, if I had $6000 invested in a junior oil company which I deem to be high risk, I may buy three contracts of the Index ETF at $0.33, which would cost me $99 (3 contracts = 300 shares, 1 contract = $0.33 cents, 3 contracts = (0.33 X 300 or $99). This would allow me control $6786 of the Index ETF (22.62 X 300), for $99, and my options contract would increase in value for a nearly dollar for dollar amount as the Index ETF decreases (depending on the delta of the option). This would effectively provide protection against my risky $6000 position, and the maximum I could lose would be $99.
In this case, since it is August and I purchased an October contract, this provides me with two months of coverage. I can choose to purchase longer term contracts (1 year or 6 months), or shorter depending on my forecast for the market. I personally prefer longer term contracts which I would initiate when the market breaks below a key moving average such as the 50 day or 200 day moving average. There is a risk of the market rising and losing the $99 investment in this case, but since put options function essentially as an insurance policy, this provides peace of mind. Once again, this is a strategy that should only be used once options are properly understood, but it is a fairly conservative strategy since risk is limited entirely to the premium.
4. Holding higher than average cash positions and dollar cost averaging.
The final strategy is to ensure a larger than average cash position is held, which can then be used to average down costs for positions as they become more attractively valued with a declining broader market. A decline provides an opportunity to buy excellent companies for affordable prices, and this is not possible without adequate cash reserves. The prior three strategies facilitate this goal. Holding quality dividend payers provide cash flow, and inverse ETFs and protective put options can be sold after a predetermined gain has occurred to provide cash. Cash reserves at Berkshire Hathaway have recently reached an all time high of 55 billion as of June 30th, and it is possible Buffett is choosing to keep high reserves in the event of a decline. Cash , of course, serves as "dry powder", which gives the investor an option to purchase investments at any price he or she deems fit.
The Bottom Line.
Markets may or may not be due for a correction and/or bear market, but at current valuation levels, it is wise to prepare your portfolio and strategy. By holding quality companies with a history of moving inverse to the market in recessions, higher than average allocations of cash, and considering alternative strategies such as Inverse ETFs and protective puts, it is possible to hedge against any downside.
Disclosure: The author has no positions in any stocks mentioned, and no plans to initiate any positions within the next 72 hours.
The author wrote this article themselves, and it expresses their own opinions. The author is not receiving compensation for it (other than from Seeking Alpha). The author has no business relationship with any company whose stock is mentioned in this article.