The rise in obesity, an aging population, longer life spans of Americans—these and other factors might indicate the home health care industry has good long-term prospects for investment. Using our software we analyzed four home healthcare providers to determine which would be the best investment based on their fundamentals. We looked at the following four stocks: Amedisys Inc. (NASDAQ:AMED), Almost Family Inc. (NASDAQ:AFAM), LHC Group Inc (NASDAQ:LHCG), and Gentiva Health Services Inc. (NASDAQ:GTIV), to find out which of these would give the long-term investor the best combination of value and growth.
Using analysts' projected 5-year growth rates, the intrinsic value analysis shows the following: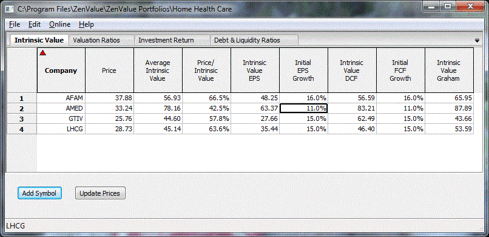 (Click to enlarge)
For reference, the previous 5-years' growth rates for each company are: AFAM 31%, AMED 52%, GTIV 22%, LHCG 40%.
From an intrinsic value standpoint, AMED seems to be trading at a huge discount to intrinsic value. While all companies are expected to have slow or declining growth over the next year, AMED's projected decline in EPS to $3.40 is the largest. We suppose that leads to the lower 5-year projected growth rate.
For the valuation page, AMED seems to be the standout, with the lowest of all ratios anlayzed.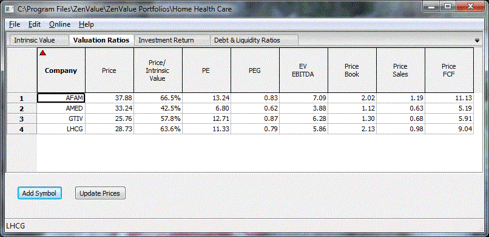 (Click to enlarge)
The investment return page shows the following.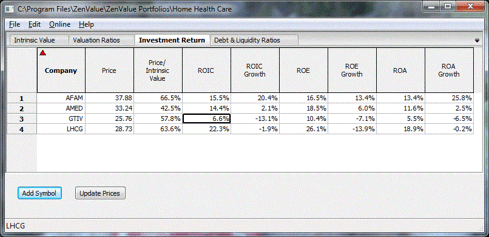 (Click to enlarge)
GTIV seems to have trouble keeping their ROIC above the single digits. AFAM and LHCG seem to be doing a good job either growing their ROIC or at least keeping it above 15%.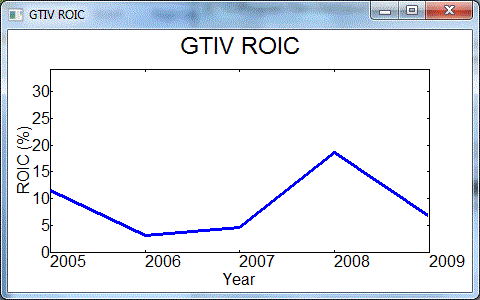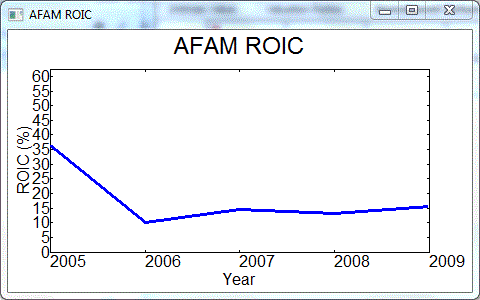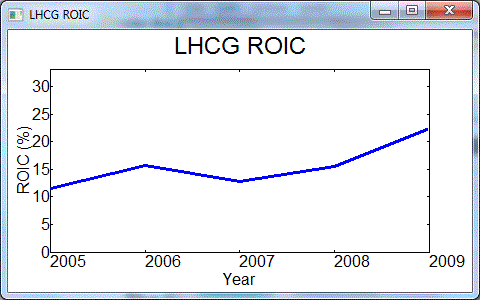 The debt to liquidity page shows the following: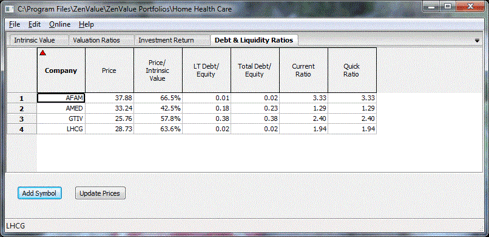 (Click to enlarge)
LHCG seems to be the only company that has not taken on significant debt in the last 5 years. That said, all companies have reduced their debt, and seem to have good liquidity to cover their obligations.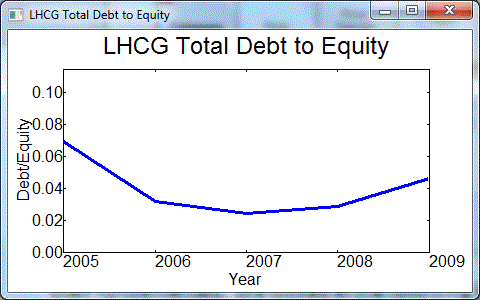 In summary, assuming we believe analysts' projected growth rates, analysis of the company fundamentals shows AMED to be the pure value pick out of this bunch.

Disclosure: I am long LHCG.