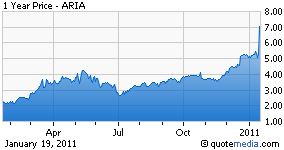 Ariad Pharmaceuticals Inc.'s (ARIA) pipeline received a boost when its lead cancer candidate ridaforolimus fared well in a late-stage study, SUCCEED. Ridaforolimus has been licensed to Merck & Co. (MRK) and is being developed as a treatment for cancer.
The study evaluated the candidate in patients suffering from metastatic soft-tissue or bone sarcomas under the US Food and Drug Administration's (FDA) Special Protocol Assessment (SPA) program. The patients had favorably responded to chemotherapy. Sarcomas, which refer to a group of cancers, can affect any body part primarily in any of the two forms - bone tumors and soft-tissue sarcomas.
Top line data from the randomized, placebo-controlled, double-blind study revealed that treatment with ridaforolimus prolonged survival without the disease progressing compared to those in the placebo arm. Patients in the study are still being evaluated to garner more data regarding the overall survival and safety profile of the cancer candidate.
We remind investors that Ariad granted Merck exclusive rights to develop, manufacture and commercialize ridaforolimus for treating various forms of cancer under the amended agreement of May 2010. Ariad is eligible to receive milestone and royalty payments under the amended agreement. The exclusive rights to Merck replaced the co-exclusive rights shared by the companies under the original agreement of 2007.
Merck, which has the right to file for marketing approval of ridaforolimus, intends to do so later in the year. We believe that if ridaforolimus manages to hit the market then it would boost revenues at Ariad, since the market for metastatic sarcoma has a huge unmet need as patients suffering from the fatal disease have limited treatment options.
Our Recommendation
Currently we are 'Neutral' on both Ariad and Merck in the long-term. The stance is supported by the Zacks #3 Rank (short-term "Hold" rating) assigned to the companies.
Disclosure: No position