The news could not be worse. Even homebuilders cannot come up with a positive assessment for their industry.
"The HMI and its subcomponent indexes are holding steady following a below-expectations finish in 2010," noted NAHB Chief Economist David Crowe. "At this point, housing remains on the sidelines of a weak economic recovery as consumers and builders wait for clear and consistent indications that jobs and economic output are reviving. Meanwhile, the problems that builders continue to confront in obtaining production financing, and in maintaining performing lines of credit, threaten to significantly slow the onset of a housing recovery."
Click to enlarge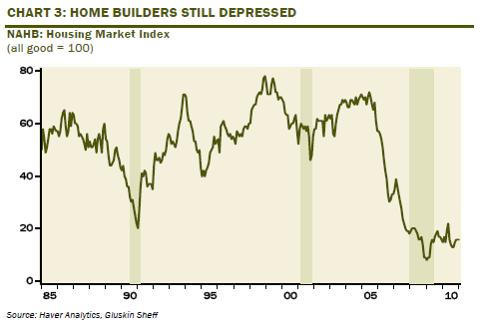 The recently released new home construction permits and completions paint a picture of an industry still in decline. But this may be about to change if the trend lines remain.
Click to enlarge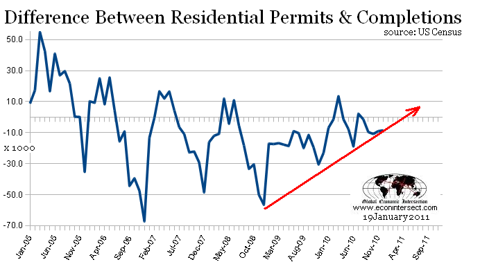 While new homes completed exceed the amount of permits issued for construction of new homes - the new home market remains in decline. But if the current trend lines hold, within six months there should start to be more permits then completions.
In the next six months, the worst for the homebuilders should be over. That is not to say new home construction will boom - the dynamics with consumer credit, and the downward spiral in home prices say otherwise.
Existing home prices in some cases are lower than replacement costs. This is a substantial headwind to "recovery" of the new housing market. For good reason, homebuilders and their suppliers have not enjoyed the bull equity market underway.
Click to enlarge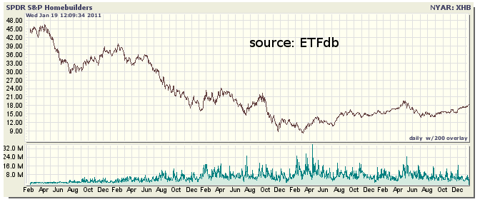 Residential housing permits have already stablized (see analysis here). We are only waiting for completions to work off. Homebuilding should become stable by mid-year 2011 allowing profit optimization to occur.
Homebuilders as group represented by the ETF XHB are sitting at less than half of the pre-housing crisis levels. There is a lot of room available for a run up. This is a sector analysis, not a specific analysis of any particular equity.
However, Bloomberg reports that D.R. Horton Inc. (NYSE:DHI), Lennar Corp. (NYSE:LEN) and Toll Brothers Inc. (NYSE:TOL) are planning for a 10% growth in 2011. Residential construction likely will end up being the surprise growth of 2011.
Disclosure: I have no positions in any stocks mentioned, and no plans to initiate any positions within the next 72 hours.