It has been well reported that the U.S. national debt has surpassed $14 trillion. Some noteworthy facts about just how large of a national burden that represents is listed concisely on Dr. James M. Lindsay's blog called The Water's Edge, found on the Council on Foreign Relations website. I couldn't agree more with Dr. Lindsay when he refers to the numbers as "ugly." Ugly is a good word to describe it, and there's more to the story that might link this newsworthy headline to some actionable investment ideas.
To start, let me repeat the comments that I posted on that site with regard to distinctions between "ugly" and "pain":
"Ugly" is an understatement, though I suspect that for most Americans, if the analysis even goes that far, that's where it ends. Why? Not because Americans don't genuinely care about bad situations ... to the contrary, Americans have a proven track record of responding to all kinds of national challenges. Rather, no matter how many analogies are offered up as to what it would be like for a common household to out-borrow its payback capacity, at the end of the day, until Americans feel the pinch of the ramifications of a $14 trillion national debt, it will remain elusive and ethereal. Most contemporaries of mine (mid-lifers, as we reluctantly say, "on the back nine"), have grown up hearing of the dreadful deficits and national debt of our country, but somehow, we move on through daily life and participate in the U.S. standard of living which remains high relative to most places on Earth. It's only when people feel pain that they truly understand the reality of flawed economic policies ... just ask the nearly 10% unemployed and the other nearly 8% under-employed Americans.

Today's headlines regarding New York State's new governor, Cuomo, citing his remarkably high approval ratings even in the face of his plan to tackle the state's $10 billion-plus deficit, might just be a case in point. Presumably, the citizenry is pleased with the plan because the governor has promised no taxes and no new borrowing.

Sounds like a good plan?

Let's just say that there are, indeed, no new taxes. How about if the state cuts subsidies for all kinds of services ... highway maintenance, police, fire, waste management, etc. ... and people have to contract privately for those things? The governor would remain true to his word about "no new taxes," but the higher costs of services borne by citizens sure will feel like a tax.

Bottom line ... debt that can't be easily covered by sources of income creates a stressful situation, and Americans won't truly feel the pain of the $14 trillion national debt until they start experiencing the Federal version of "no new taxes!" Ugly indeed!
More and more states find themselves in budget deficit tackling positions, with some, like Illinois, choosing to raise income taxes by 67% as a way of filling the gap. Others, like NY's Cuomo, will attempt focusing on efficiency in state operations and eliminating wasteful spending. But it isn't too much of a stretch, if one at all, to anticipate that more and more services currently provided by state and local municipalities might just have to be cut, thereby leaving citizens on their own to "outsource" services that were heretofore an assumed quid pro quo for paying one's taxes.
One company that could stand to benefit from this likely trend might be Waste Management (WM). Morningstar.com's research summarizes WM's business as follows:
Founded in 1894, Waste Management is the nation's largest provider of collection, transfer, recycling, disposal, and waste-to-energy services. The firm serves nearly 20 million customers in the commercial, industrial, municipal, and residential markets. It has 268 landfills that receive 115 million tons of waste per year. Waste Management is the largest provider of domestic recycling services and generates roughly 56% of its revenue from its waste collection business.
Morningstar.com's Bradley Meeks further notes:
Despite a slowdown in waste volumes from residential and industrial construction, we think Waste Management, the nation's largest trash disposal firm, will continue to provide increased profitability via higher prices and its asset optimization program.
Meeks goes on to note that WM has a big competitive advantage by owning the nation's largest network of landfills into which waste is deposited. Landfills, he points out:
... are tough to come by due to the time-consuming nature of acquiring zoning approvals or permits. Zoning permits can take anywhere from three to seven years to obtain, and are costly. Second, new landfill construction is typically greeted with "NIMBY" (Not In My Back Yard) opposition from communities and political groups.
In Meeks' well-balanced assessment, he notes that there are risks, including the possibility of competitive pricing and higher fuel costs, both that could squeeze margins. In addition, he notes that much of the labor force is unionized which leaves the company vulnerable should there be any type of job action.
Given that WM's business is both residential and industrial, if one has the view that the U.S. economy is starting to turn positive, that could also argue for WM being a valuable add to the portfolio. While it's not the place of this article to offer investment advice, and each investor is obligated to opine and decide for themselves as to the relevance of anything stated in this article to their own financial profile, risk tolerances and portfolio goals, I have written quite a bit in many recent articles about my personal view that there are signs the U.S. economy is in fact starting to turn.
In many of those same articles, I've noted that while I continue to maintain positions in many emerging markets countries and still believe that companies doing business in those countries will benefit from the global growth and infrastructure buildup that is ongoing, I do believe that shifting some assets into a "U.S. growth" story is consistent with a rebounding U.S. economy view.
WM deserves a close look especially for investors who view the U.S. economy as turning positive, and state and local municipalities as likely to force "outsourcing" of various services. Regarding the former, WM, like most companies, faced challenges due to the U.S. recession.
Click to enlarge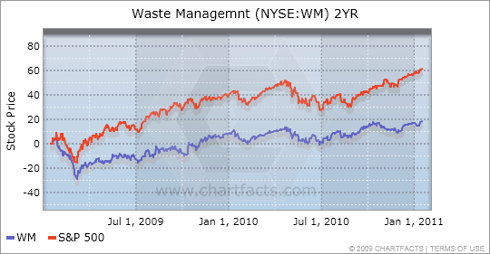 Over the past 12 months, however, WM has pretty much kept up inline with the S&P, though it's lagged in recent weeks:
Click to enlarge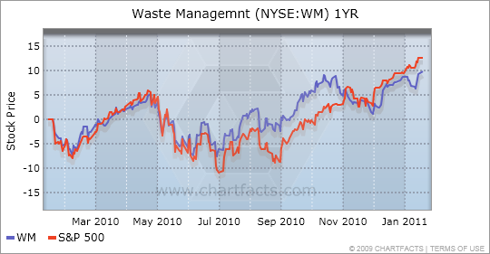 WM will report Q4 and full year 2010 earnings on February 17, 2011. It should be particularly noteworthy how management views the U.S. economic recovery and prospects for pickups in both their industrial and residential businesses. While shareholders wait for that, the company continues to pay a handsome dividend, currently close to 3.4%. On December 16, 2010, the company announced plans to hike the dividend:
Waste Management, Inc. today announced that its Board of Directors has approved an 8% increase in the planned quarterly dividend rate, from $0.315 to $0.34 per share. This marks the seventh consecutive year that the Company has increased its quarterly dividend. Actual future quarterly dividends must first be declared by its Board of Directors prior to payment.
"This announcement reflects our continued commitment to returning cash to our shareholders," said David P. Steiner, Chief Executive Officer of Waste Management, Inc. "Waste Management continues to produce consistent and strong cash flows, as evidenced by the dividend increase. The Board of Directors and management remain focused on being prudent and disciplined stewards of the Company's capital."
In sum, WM is worthy of consideration and may find itself to be in a unique position to benefit from fiscal discipline that is likely to hit states across the country. With regard to possible municipal outsourcing, as municipalities at all levels are looking for ways to cut "waste" in their budgets, citizens may just be forced to manage their own waste with a company like WM.


(Please note: This article is solely meant to be thought provoking and is not in any way meant to be personal investment advice. Each investor is obligated to opine and decide for themselves as to the appropriateness of anything said in this article to their unique financial profile, risk tolerances and portfolio goals).


Additional disclosure: Long various stocks in SPX, QQQQ, VWO. Positions may change at any time without notice.

Disclaimer: Please read and consider important information related to all communication made by Soos Global on this site by clicking here.