The Egypt equity Index has dropped 7% in the last few days, over worries of political contagion from Tunisia. This was exacerbated by the reports of men setting themselves alight outside the parliament and attacks on police stations. The credit default spread for Egypt shot up by 33% to 307 bps. The equity market sell-off started with early retail panic selling culminating into a wholesale foreigner's sell off. Egypt CDS spiked from 200 bps to +300 bps as the cost to insure sovereign debt skyrocketed.
The sell-off was indiscriminate and spanned all sectors. Most of the blue chips were hit quite hard. Names like Commercial International Bank (OTC:CMGGF), Ezz Steel (OTC:ALZJF) and Orascom Construction (OTC:ORSDF) all were down in the range of 10%. This provides a compelling buying opportunity for Alpha seekers as we believe that contagion is unlikely to spread to Egypt and the market will rebound. We expect the political risk perception to decrease in the coming few days and CDS to slide back to a more normal level. Egypt's equity market presents a unique buying opportunity for brave investors, as it is now lagging global equity markets and the emerging markets index.
(Click charts to expand)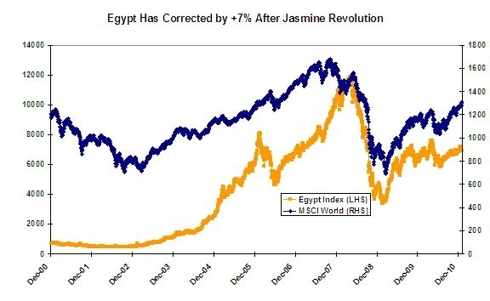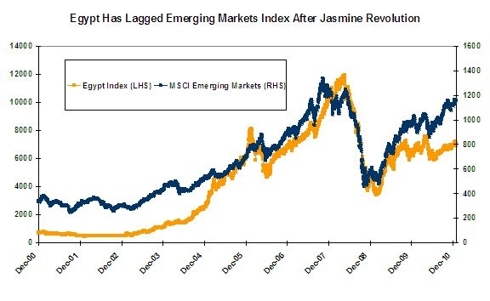 Egypt is more liberal compared with Algeria & Tunisia and has posted a healthy GDP growth rate. The IMF estimates a 2011 growth rate of 6% - with job creation, which makes it distinct from Tunisia and Algeria.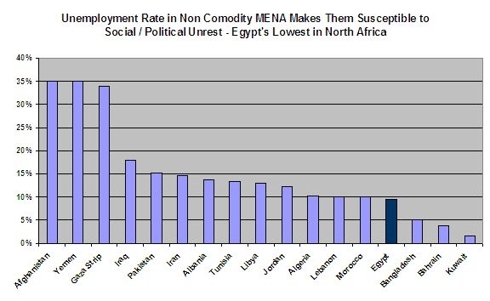 Spill over fears will cool down in coming days. Weakness provides good entry points to what remains a solid EM story due to:
Relatively liberal society
Lack of a credible mass movement in Egypt a la Tunisia.
Strong economic growth
Acceleration in Egypt Industrial Production to boost cyclical earnings
Accommodative monetary policy
Robust recovery in credit growth
Earnings revision recovery
Superior long-term trends in demographics and urbanization
Confidence indicators in government economic policy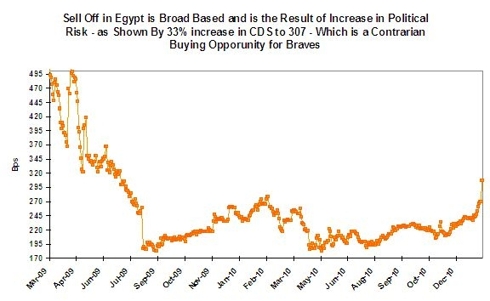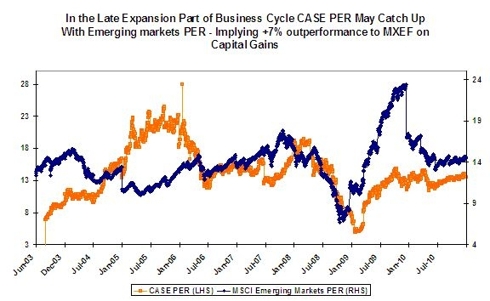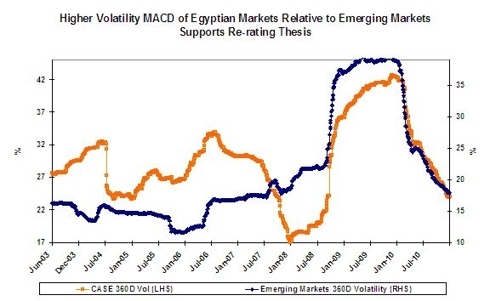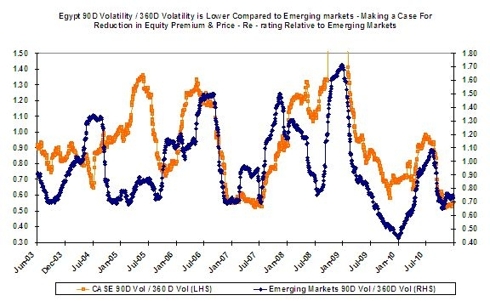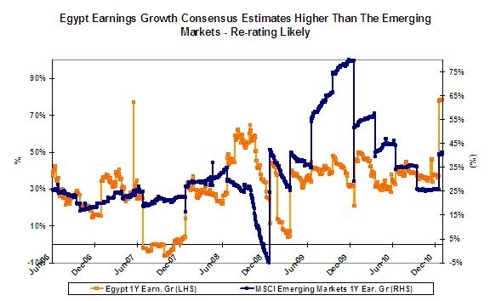 Tunisia
has been drawn into a spiral of violence over the last three weeks. The unrest originally started in the central governorate of Bou Zid, when a young graduate set himself on fire after authorities seized the fruit and vegetables he was selling without a permit. The highly symbolic and desperate suicide attempt triggered an unprecedented wave of demonstrations and social unrest in the central parts of the country; regions that have not enjoyed Tunisian economic prosperity. Unemployment rates are 14 percent in
Tunisia
--double that among young graduates, especially those graduating from universities in remote areas. Demonstrations were organized and supported by the UGTT (General Union of Tunisian Workers), which forced President Zine al-Abidine Ben Ali's to quit after 24 years.
North Africa
: Political Landscape
Ben Ali ruled for 23 years

Libya

's Muammar Gadhafi, in power since 1969

Egypt

's Hosni Mubarak, in office since 1981

Yemen

's Ali Abdullah Saleh has ruled the last 30 years.
Contagion Fears
The stunning collapse of the Tunisian leader encouraged mobs elsewhere in the Arab world. The GCC states and
Libya
have seen no protests, but the latter nonetheless announced the elimination of all taxes on key staples.
Algeria
has seen widespread protests in recent weeks, but the unrest has died down since the government announced plans to cut taxes on basic foodstuffs.
Morocco
loses from rising commodity prices, but has seen no protests. As a significant agricultural producer, imported food price pressures are less marked and occur against a broadly positive economic backdrop.
Jordan has a history of public protest triggered by rising food prices and has announced fiscal measures in recent days to curb higher commodity costs. Public finances are more strained than in other parts of MENA, but a January US decision to disburse additional grants to
Jordan
points to an ability to access short-term funding support if required.
Lebanon
is likely to have less room to maneuver given both its chronic fiscal imbalances and recent government collapse. There were also protests in
Mauritania
in apparent attempts to copycat the fatal self-immolation of a Tunisian man. And lastly, three Egyptian men set themselves alight to spark uproar in
Egypt
. In
Egypt
and most other MENA countries protests are unlikely to succeed because of organized and armed security forces and lack of organization among protestors. Contagion fears are overdone.
Commodity Prices & Food Inflation -
Food forms around 30% of Egyptian inflation basket
A recent poll of economists by Reuters indicated that
Egypt
inflation will accelerate to an average of 11.4 per cent in the 2011, before falling to 10 per cent the next year. The Central Bank of
Egypt
held its benchmark overnight lending rate steady at 8.25 per cent at its last meeting on December 16, saying inflation was contained but that limited investment and concerns over the global recovery could weigh on the economy. Egypt Food price inflation will remain the main driver of headline inflation in the next several quarters, in our view. We expect headline inflation to rise to 11.2 per cent year-on-ear by the end of June 2011, from 10.1 per cent at end of June 2010. The government may try to control the effect through fiscal measures.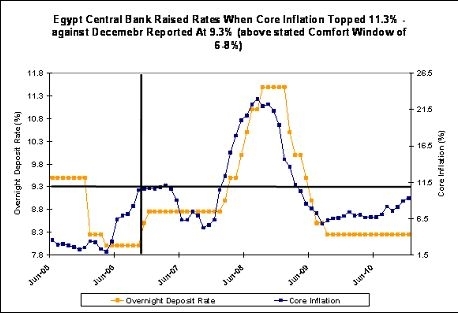 Egypt
is prone to food inflation and social unrest. Frustration over high unemployment, soaring food prices and a lack of democratic reform has echoed in
Egypt
and elsewhere in the region, where governments face similar complaints. However, unemployment in
Egypt
is lower than rest of the region and government tries to insulate the common people from the effect of food inflation through a system of subsidies. FA deficit may be some cause of concern - mainly on subsidies and the government's non development expenses - but the government is unlikely to tighten the belt in H1 2011. Investment may not be a major growth driver. The government's latest initiative of offering public sector loans to buy consumer goods will continue. The domestic consumption theme may be intact but exports to
Europe
will affect the producers of consumer goods. Strong canal revenues, tourism and remittances will keep supporting the CA balance.
Egypt
has posted impressive economic growth rates over the past few years, in part fueled by a host of ambitious reforms. But the growth has failed to filter down to many of the estimated 80 million Egyptians. Despite that, it is unlikely that a similar mass movement will spread to
Egypt
.
Egyptian Government Anticipated Economic Steps
While we doubt the Egyptian government will take hasty measures on democratization in a year of presidential elections, it is likely to address the public's discontent on economics in five areas:
Higher subsidies for consumers to limit the impact of commodity prices;

Increased public investment spending to create jobs;

Delaying privatization;

Fiscal policy will bear the load as policymakers are sensitive to inflation by riots in

Tunisia
It is unlikely that CBE will revise its monetary stance in H1 2011. The CBE's Monetary Policy Committee left the overnight deposit rate constant at 8.25 per cent. Partially thanks to the CBE's actions, loans were up by 8 per cent in 2010. Current inflation is not credit driven and is because of higher global prices and weakening EGP, action may not be warranted. Proactive policy responses and key reforms drove an economic expansion of 5.1 per cent in the financial year 2010 (ended June 2010). The government is targeting growth of 6 per cent in 2011 as trade and investment flows recover. Even in the case of an interest rate hike, there is no immediate impact on the Equity market's performance.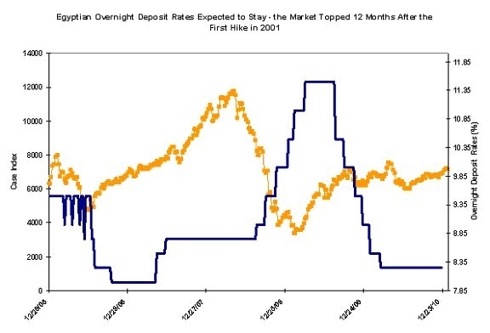 Loan growth in
Egypt
last year was largely driven by syndicated loans to the corporate sector. Analysts expect improving loan demand from small and medium enterprises (SME), and growth opportunities in retail consumer loans. Mortgage loans are expected to drive credit growth and consequently the interest margins of local banks. According to a recent report by Alembic HC about 80 per cent of Egyptian population still does not hold bank accounts and such low banking penetration holds huge opportunities for retail banking. The growing emphasis on SMEs, which account for more than 70 per cent of the country's GDP, is also expected to boost retail commercial lending. As part of boosting credit to the SME sector, The Central Bank of Egypt (CBE) has exempted banks from the 14 per cent reserve requirement against such loans, which will help generate more jobs.
F
ood price inflation is rising in Egypt and the political scene is unsettled. The government is likely to add to subsidy spending if required, but outlays are already very high and the budget is stretched, putting limits on how much could be done and for how long. Unlike its neighbors,
Egypt
's more flexible currency regime gives it scope to allow its currency to appreciate. It seems increasingly likely to us that the recent downward trend in EGP will abate, and could even reverse to combat higher import costs. In
Egypt
, the inflationary environment may mean a pause in EGP decline, but it will also add to the budget burden. However, weakening EGP is needed to support exporters for job creation purposes. On the balance we consider that EGP can strengthen to 5.65 levels to combat food inflation.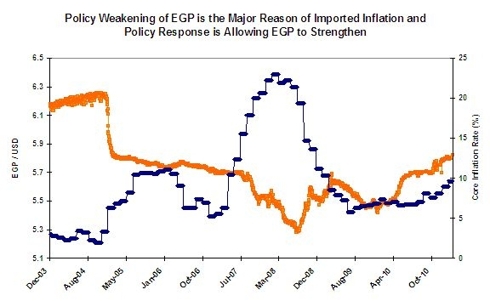 Disclosure: I have no positions in any stocks mentioned, and no plans to initiate any positions within the next 72 hours.