This is part 2 of my sitting down to price the Dow Jones Industrial Average. See part 1 here. In a nutshell, I have the Dow Jones Industrial Average fairly valued between $11,000 and $14,000.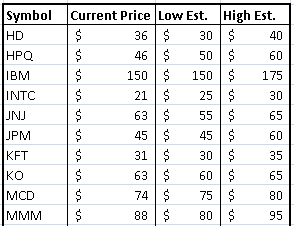 11. Home Depot (NYSE:HD): The housing market has bottomed, but Home Depot stock already reflects this, as it is trading at a premium to where it usually traded over the last 10 years. Worth between $30 and $40.
12. Hewlett-Packard (NYSE:HPQ): It is implied to grow at 6% based on the current price, but is growing at 8-14%. Probably worth $50-$60. Analysts appear to have gotten ahead of themselves and the company's stock price is suffering mostly due to their overconfidence. Take advantage of their overzealousness and buy.
13. International Business Machines (NYSE:IBM): IBM is worth $150-$175. It's also the largest component in the Dow. On Mad Money Tuesday night, Jim Cramer was not willing to make the call that it was worth over $200. I am not either.
14. Intel (NASDAQ:INTC): Their new Sandy Bridge processor for my 3D multi-screen computer is in the mail. It just came out this month. They are probably worth over $25. Lucky you, who gets to buy them at this price.
15. Johnson & Johnson (NYSE:JNJ): We are again at the point where there isn't much upside left in stock price. It's worth at most $65. So far, if there was a stock I'd sell short to hedge my portfolio, this is it.
16. JPMorgan (NYSE:JPM): JPMorgan Chase is worth between $45-$60. I figure that the Fed has put in a bottom in a lot of things. JPMorgan never did get very cheap during the crisis. I think that once inflation starts to rear its ugly head, banks are going to become more willing to lend out their capital than they are now. You'd think that this will be good for the yield curve and that JPMorgan could take advantage of it.
17. Kraft (KFT): It's what I'll be eating for lunch. They really like to emphasize "Power Brands." I think that it's going to be interesting to see if they are going to be able to pass on the additional input costs to customers that I see coming in the next 1-2 years. That said, they say they are going to have midteen EPS growth. I figure Kraft is worth between $30 and $35.
18. The Coca-Cola Company (NYSE:KO): It's what I'll be drinking for lunch. Worth between $60 and $65, they've at least got the right idea: invest abroad. Liquids are fairly dense and I'm curious to see how higher transportation costs affect their margins in the next 1-2 years.
19. McDonald's (NYSE:MCD): It's what I had for breakfast. I used to live at a location where my living room floor would bask in the glow of the neon arches. I lived 26 leaps from the busiest McDonald's in the state of Indiana for 2 years. I've even eaten McDonald's in Africa. Sadly, I am going to have to agree with Eric Cota. McDonald's is worth somewhere between $75 and $80.
20. 3M Company (NYSE:MMM): 3M is doing an incredible job of growing internationally. But, bouncing back from a recession shouldn't be that impressive if you ask me. Do note that they are setting all time record earnings. That's the kicker. I figure it's worth $80-$95.
Disclosure: I have no positions in any stocks mentioned, and no plans to initiate any positions within the next 72 hours. I don't own anything mentioned, except lots of products that these companies make. It's impossible not to.