Plexus Corp. (NASDAQ:PLXS) reported first quarter 2011 diluted earnings per share of 61 cents, a penny more than Zacks Consensus Estimate and up 38.6% from the year-ago quarter. However, on a sequential basis, earnings decreased 6.2%. The earnings was within the range of 56 cents to 62 cents that was estimated by the management.
Quarter in Detail
Revenue of $566.0 million for the quarter failed to surpass the Zacks Consensus Estimate of $574.0 million but was within the management's guidance range of $550 million to $580 million. The revenue for the quarter increased 1.9% sequentially and 31.6% on a year-over-year basis.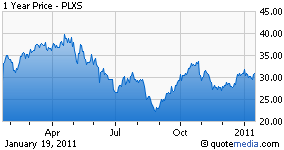 On a market sector basis, Wireline/ Networking (41.0% of total revenue) increased 5.4% sequentially. The Medical sector (21.0% of total revenue) remained flat sequentially while the Industrial/Commercial sector (21.0% of total revenue) and Defense/Security/Aerospace sector (7.0% of total revenue) were up 1.7% and 5.1% respectively. However on a sequential basis the Wireless Infrastructure sector (10.0% of total revenue) decreased 9.5%.
The company won 24 new manufacturing programs during the quarter, which is likely to generate $130 million in annualized revenue. The engineering solutions group also had a robust quarter of new program wins of $17.0 million.
Gross profit decreased 2.7% sequentially but increased 23.4% from the prior-year quarter to $54.9 million and gross margin for the quarter was 9.7%.
Operating profit decreased 4.1% sequentially but increased 37.6% from the prior-year quarter to $27.8 million and operating margin for the quarter was 4.9%.
Quarter Ahead
For the forthcoming quarter, management expects revenue to be in the range of $540 million to $570 million and diluted EPS to be in between 53 cents and 58 cents, excluding any restructuring charges and including approximately $0.08 per share of stock-based compensation expense.
Conclusion
Analyst estimates remained unchanged in the run-up to the earnings release. The average estimate was 60 cents when the company reported earnings. We note that Plexus Corp. has consistently exceeded estimates over the past year or so. The average surprise in the preceding 4 quarters is a positive 7.66%, and another positive surprise was therefore expected.
Plexus Corp. faces competition from Jabil Circuit (NYSE:JBL) and Flextronics International (NASDAQ:FLEX).
We currently have a Zacks #3 Rank for Plexus Corp on a short-term basis. We have a Neutral recommendation on a long-term basis.