Low interest-rates, an improving economy and low to reasonable valuations are leading companies to restructure their balance sheets. Not just bad companies in need of restructuring, but also really good companies. In a perfectly efficient market, this wouldn't happen. The fact is that "perfectly efficient" exists only in the textbooks. In the real world, investors sometimes arrive en masse at the wrong conclusions.
Just this week, Copart (NASDAQ:CPRT), a company I consider extremely high-quality for many reasons, announced the results of its tender offer that expired on Friday (1/14). For those not familiar with the company, it is a car auction company with a broad physical presence combined with a powerful internet presence. The company has historically eschewed debt, has high insider ownership, is known to think very long-term (and isn't afraid to invest in the business) and generates significant cash and a high return on capital.
In December, the company announced a major transaction, tapping its line-of-credit to repurchases approximately 13% of its stock at $38. As you can see in the chart below, they announced their intention when the stock was about 35, a price that is mid-point of a tight range for the past 18 months. The stock immediately gapped up and gravitated towards the tender price. The results indicated a much smaller-than-expected number of shares tendered, and the company actually decided to increase the purchase to 15% of its outstanding shares. The stock actually jumped above the tender price on the results.
click to enlarge images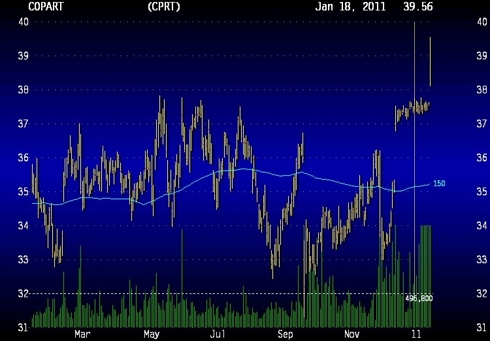 Click to enlarge
Efficient market? I don't think so, as absolutely nothing has transpired except for the announcement of the tender offer, the analyst revisions to estimates (major accretion) and the tender results. The stock was too cheap before in my view - investors weren't properly adjusting the PE for the large cash balance. The spent $463mm but now have just $200 mm roughly in net debt compared to over $1 billion in equity. Additionally, there was a minimal short-interest, so this is all about long investors paying up for higher earnings potential.
Another example is C.R. Bard (NYSE:BCR), which began December 9th with cash in excess of debt of about $300mm. It announced that day that it was going to offer $750mm in debt to repurchase stock. The book value of its equity was $2.2 billion, so the move will leave it still with below average leverage given net debt of $450mm. The company also announced a restructuring, which muddies my analysis, but the clear driver is that EPS estimates immediately went up due to the lower sharecount. $750mm, if it is fully used to repurchase stock, is about 9% of the company. It worked like a charm: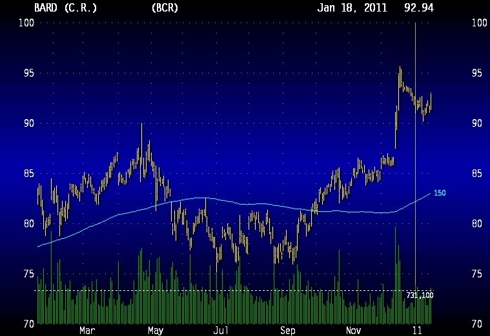 Click to enlarge
So, you are probably asking yourself, "Why is this guy telling me NOW. This is the type of thing I want to hear BEFORE it happens", and that's very fair. Investors in my models don't have that issue, as we own CPRT in the Top 20 and BCR in Conservative Growth/Balanced. With a look to the future rather than a celebration of recent events, I will share some recapitalization candidates that exist just among my watchlist. One of the reasons I have liked stocks since the summer and continue to do so is that there are lots of opportunities well beyond just my focus.
Consider these, though:
Applied Materials (NASDAQ:AMAT): >10% of market cap in cash net of debt and deferred revenue, PE <13X
Franklin Resources (NYSE:BEN): 17% of market cap in cash net of debt, PE = 15X
Chico's FAS (NYSE:CHS): 25% of market cap in cash net of debt, PE = 14X
I will stop here, with three names from three different economic sectors. It's not hard to find many other examples of high-quality companies loaded to the gills with cash and low to reasonable valuations. These companies exist among the smallest to among the largest companies. Some may go the route of the LBO or acquisition, others may choose to be more aggressive on their capital structure on their own. I believe all of these companies I cited are moving in that direction, though not particularly aggressively at this point.
Disclosure: I am long AMAT, BCR, BEN, CHS and CPRT in one or more investment models at Invest By Model.