Delta Air Lines (NYSE:DAL), the second largest U.S. airline, reported its fourth quarter adjusted earnings of 19 cents missing the Zacks Consensus Estimate of 25 cents on higher fuel price, which may adversely affect the ongoing recovery of the airline industry. The company's profitability was also affected by the cancellation of several flights due to severe snowfall in December across the U.S. and Western Europe.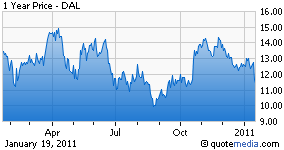 The shares of Delta Air Lines fell approximately 8.2% yesterday. The share price plummeted the most among its largest rivals since October 2009. Fourth quarter earnings were hit by a one-time expense of $88 million related to the Northwest merger as well as $51 million in costs related to extinguishing debt and consolidating operations at the Cincinnati/Northern Kentucky International Airport.
Including special items, net income increased to $19 million or 2 cents per share in the fourth quarter from a net loss of $25 million or 3 cents in the year-ago quarter. Net income, including special items, rose to $593 million or 70 cents per share in fiscal 2010 from a loss of $1,237 million or $1.50 per share last year.
Revenue
Revenue climbed 14% year over year to $7.8 billion and was marginally ahead of the Zacks Consensus Estimate of $7.7 billion. Passenger revenue per available seat mile (PRASM) rose 8% year over year, led by a 24% PRASM jump in the Pacific and a 19% increase in Latin America.
Airline traffic, measured in billions of revenue passenger miles, upped 6% year over year. Capacity or available seat miles grew 7% and load factor (percentage of seats filled with passengers) inched down 60 basis points year over year.
On an annualized basis, Passenger and Other revenues increased 15% and 14%, respectively, while Cargo revenue decreased 7% in the reported quarter.
Revenue rose 13% year over year to $31.8 billion in fiscal 2010 on capacity and load factor increases of 1% and 100 bps, respectively.
Operating Expenses
The company's total operating expenses grew 9% year over year in the fourth quarter due to higher fuel price and profit sharing expense, which were partially offset by incremental merger cost synergies from the acquisition of Northwest in 2008. In fiscal 2010, total operating expenses upped 4% year over year.
Consolidated unit cost or cost per available seat mile (NASDAQ:CASM), excluding fuel and special items, declined 2% in the fourth quarter and remained flat with 2009 for the full year. CASM, including fuel, increased 2% and 3% year over year in the reported quarter and full year, respectively.
Liquidity
Delta Air Lines continues to enjoy a solid balance sheet. At the end of the fourth quarter, the company had $5.2 billion in unrestricted liquidity including $3.6 billion of cash and $1.6 billion in undrawn revolving credit facilities. The company reduced its adjusted net debt to $15 billion from $15.2 billion at the end of the third quarter.
The company generated operating cash flow and free cash flow of $318 million and $52 million, respectively, in the reported quarter.
Guidance
For the first quarter of 2011, Delta Air Lines expects an operating margin in the range of 1–3% and consolidated unit cost, excluding fuel, to be flat to up 2% from the year-ago level. Fuel price is expected to be approximately $2.60 per gallon and total liquidity to be $5.3 billion.
Our Analysis
We are mainly concerned with the higher fuel price in 2011 that will affect the overall profitability of the company. Further, unionized labor, leveraged balance sheet and competitive threats from its largest peers such as United Continental Holdings (NYSE:UAL)and Southwest Airlines Co.(NYSE:LUV) make us cautious on the stock.
Despite higher fuel prices, 2011 seems to be profitable as the company will increase its fares to pass higher costs to customers, maintaining the capacity as well as generating revenue through higher ancillary services such as baggage fees.
We believe the successful integration of the Northwest merger, investments in new products and network, competitive cost structure, and an effort to strengthen balance sheet will position Delta Air Lines to take advantage of the economic recovery.
Hence, we are currently maintaining our long-term Neutral rating, supported by the Zacks #3 (Hold) Rank.