As we continue to explore the large cap theme for 2011, we screened for stocks with a bullish rating which are selling at a discount to intrinsic value. Since we are not experts in Buffett style analysis we have used the Intrinsic Value Analysis developed by WikiWealth, which tries to mimic the Value Investing Approach used by Warren Buffett.
Here are four large cap stocks that passed the Warren Buffet Intrinsic Value Analysis test (developed by WikiWealth) and have a bullish rating.
Our rating is based on a 20-factor model incorporating financial metrics, earnings performance, price/volume activity and expert opinions to determine a stock's potential over the next 3-6 months.
These four companies have generated positive EPS for the last 5 years at a growth rate that is in the top 25% compare to their industry peers, Return-on-equity that is in the top 25% in their industry and a PEG ratio < 1.5.
| | | | | | |
| --- | --- | --- | --- | --- | --- |
| Company (Ticker) | Market Cap | ROE | PEG Ratio | Current Price | Buffett Potential Price ** |
| Amgen Inc (NASDAQ:AMGN) | 50B | 19% | 1.34 | $56.96 | $110 |
| Humana Inc (NYSE:HUM) | 10B | 19% | 1.08 | $58.20 | $119 |
| SAIC Inc (SAI) | 6B | 23% | 1.32 | $16.37 | $29 |
| The TJX Companies Inc (NYSE:TJX) | 18B | 46% | 0.91 | $46.90 | $93 |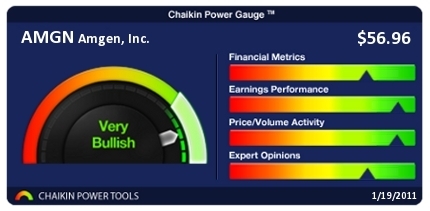 Amgen Inc: 56.96
With very high profit margins and ROE, strong cash flows and a positive business value*, the world's largest biotechnology company is an attractive large cap growth investment.
Strong and consistent earnings growth and low P/E ratio on projected 2011 earnings contribute to a very bullish earnings performance metric. Increasingly bullish analyst opinions reflect Wall Street's faith in Amgen's management.
Although many of the company's top drugs have matured, Amgen continues to aggressively invest in new product development to drive future revenue, with Denosumab , the bone-strengthening medicine that won FDA. approval last year to treat osteoporosis leading the way.
We believe based on past performance that AMGN will continue to develop promising new drugs, and make intelligent acquisitions to strengthen their product portfolio. With management retiring shares every year the stock price should reward investors in 2011.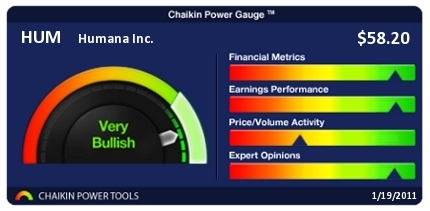 Humana Inc: 58.20
Humana is rallying toward its 52-week high of 61.33. Consistent earnings growth contributes to a very bullish earnings performance metric while a high ROE, strong balance sheet and a very positive business value* contribute to very strong financial metrics.
Analysts have become increasingly bullish on the company's future earnings prospects and have raised their estimates for next year contributing to a bullish expert opinions ranking. Positive money flow activity and favorable price strength vs the broader market bolster an already very bullish rating.
Management expects the company's prescription drug home delivery service, RightSourceRx, to generate more than $1 billion in 2010 revenue, and to continue growing in future years. Following the recent acquisition of privately held healthcare company Concentra, Humana has raised its 2011 earnings guidance.
We believe that these two factors will continue to help bolster the nation's fifth largest publicly traded health insurer's bottom line which will continue to drive the stock price higher in 2011.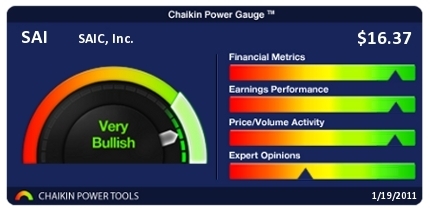 SAIC Inc: 16.37
SAIC provides IT services to the US Department of Defense and Homeland Security. The company saw its shares shed 7% in early December driven by lowered revenue expectations for the full year. Since then shares have rallied back to their levels before the announcement but are still 16% off their 52-week highs.
Positive business value* and a high ROE contribute to bullish financial metrics. The company continues to generate consistent earnings and has a low P/E ratio on projected 2011 earnings adding up to a very bullish earnings performance metric. Recent insider buying reflects management confidence for future growth. Positive money flow activity and relative price strength vs. the broader market contribute to bullish price/volume activity.
The company's fundamentals are strong as it continues to sign contracts with the US Department of Defense at healthy profit margins. We believe the current momentum has legs and SAIC will continue its upward trend in 2011 and exceed the 52-week highs it posted in March 2010.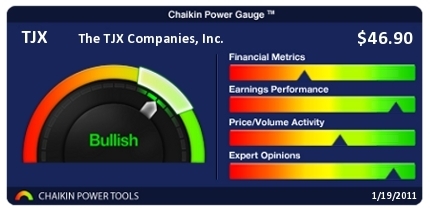 The TJX Companies Inc: 46.90
TJX boasts a solid balance sheet with strong cash flows, very high ROE and healthy operating margins. Shares have rebounded more than 9% since selling off heavily at the start of the year and are back on the way to post higher 52-week highs.
We believe this rebound was driven by better-than-expected same store sales in December reported on January 6th along with increased earnings guidance for 2011 provided by management. Analysts, impressed with this positive surprise, have unanimously turned bullish and have revised earnings estimates upwards leading to a bullish expert opinions metric.
Consistent earnings growth combined with a low P/E ratio on projected 2011 earnings contribute to a very positive earnings performance metric. Given the uncertain economic climate, consumers continue to turn to discount retailers where they can buy quality products at bargain prices.
Operating under the names T.J. Maxx, Marshalls and HomeGoods, TJX leads this segment. With bullish financial metrics and an even more bullish earnings performance rating, we believe TJX is poised for continued growth.
* Business Value - the most heavily weighted factor in the 20 factor rating, business value measures free cash flow per share on a relative basis vs. 3000 stocks and is similar to EV/FCF calculations.
** Buffett Potential Price – this price is derived from the intrinsic value calculations developed by WikiWealth.
Disclosure: I have no positions in any stocks mentioned, and no plans to initiate any positions within the next 72 hours.