I have long been an advocate of writing deep in-the-money covered calls on high implied volatility stocks. The benefit is that you have the potential to earn fairly large gains even if the stock tanks.
Back in early July 2010 I wrote an article on the controversial weight-loss drug company Arena Pharmaceuticals (NASDAQ:ARNA). Instead of buying shares for the $4 price tag at the time, it made more sense to sell $2.50 strike covered calls (actually LEAPS) for a net cost of $1.16 per share. Thus, even at today's "fallen from grace" share price of $2, the trader would still be in a very healthy profit position. I feel sick for those traders who bought in at $7.50 and saw prices plummet to $1.50 in a short period of time.
However, this same practice can be used on blue chip stocks for a more stable investing approach. But first, do the blue chips titans of the S&P 500 index earn the title of being "safe"?
Is the Large-cap S&P 500 Really That Safe?
In today's volatile market, many are turning to investment products that they view as "safer". The S&P 500 index tries to capture a cross-section of that higher quality market by tracking 500 of the leading large-cap companies in leading industries within the USA.
Blue chips are thought to have a more stable climb than their high-growth counterparts. Let's look at a few numbers to compare since 2003.
S&P 500 has rose over 40% since 2003
NASDAQ jumped almost 100% in same period of time
NASDAQ dropped over 50% its value from 2007-2009
S&P 500 dropped well over 50% from 2007-2009
Of course, the NASDAQ had the whole dot-com boom to bust disaster. Still, the S&P 500 as an index has not lived up to its full potential in many investors' minds. According to Standard and Poor's own report, the 10 year return from 2001 – 2011 is a measly 1.414%. Is there a more profitable way to trade this index?
Covered Calls on S&P 500 Stocks
Our process will be quite simple. We will run a covered call scan on all stocks within the S&P 500 index. We want our options in-the-money, and with a high static return. We will consider two examples.
Eastman Kodak (EK), is a company that saw a low of around $2.00 in early 2009. It is trading over $5.00 per share less than 2 years later. With over 24% short ratio, it will be interesting to see how this one plays out. Whether the adage of "buying when everyone is scared and selling when everyone is greedy" is true or not remains to be seen.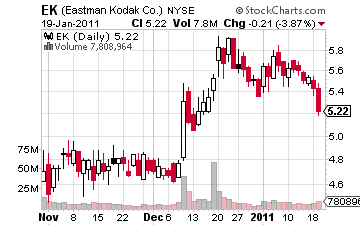 Still, one way to manage risk on this is to buy shares at $5.20 and sell covered calls with a $4.00 strike price expiring in 12 months. Your net cost on this position is $3.40 (prices based on bid/ask as of Jan.19th 2011).
Share prices can fall over one-third this next year and you will break even.
If prices stay above $4.00 per share, or only fall up to 23%, your net profit will be 17.6% (based on net cost of $3.40 per share and return of $4.00 per share which is the strike price).
This may not sound like much, but if you gained this amount every year, you would have a compounded a $50,000 investment into just under $253,000 in 10 years time. Compare that to the S&P 500 of a 1.414% total in 10 years and 17.6% annually looks pretty good. The downside is that EK could double in a year and you'd still only capture 17.6% of that price move.
The Effect of Covered Calls on Dividend Paying Shares
This can also be performed with dividend paying blue chip stocks for an interesting result.
H&R Block (NYSE:HRB) has been taking a beating in its share price and not everyone is convinced it will bounce back. With a covered call strategy, you need not worry as much about further accumulation of price. If HRB can even stay static in price, or drop only up to 4%, a large reward awaits in 12 months time.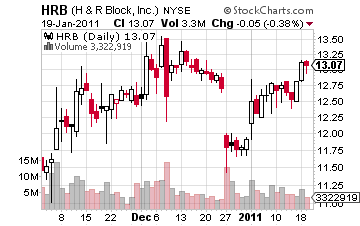 Share price is around $13.00 as of time of writing. One year call options with a strike of $12.50 sell for $2.30. Using a covered call strategy, this lowers your net cost per share to $10.70. What are your potential upside gains?
0.60 dividend payout
Max gain of $1.80 share price gain (from 10.70 up to strike price)
Combined total profit of $2.40 per share on $10.70 net cost
A net invested cost of $10.70 and a potential gain of $2.40 per share is a whopping 22.4% profit. Because you lowered your net cost by selling options, your dividend yield jumps when compared to your risk capital.

Of course, the assumption is that you stay invested and are not selling early which will require buying back the call option; doing so will greatly eat up your potential profit. Having your options called away early is fine since it means a quick and easy payout of 17% profit. Call options can only be exercised when they are in-the-money, which means your gain the full extrinsic value from the sold contracts.
Downsides and the BXM Covered Call Index
There are downsides to covered call writing on blue chip stocks and income shares in the S&P 500 index. Namely, if the company makes a large jump, you will only partially benefit from this gain. As well, even though you are somewhat hedged by a falling market with in-the-money call options, you may not have an easy time liquidating if shares fall fast and furiously past your strike price or your net purchase price. Still, for the benefits of effectively boosting dividends, creating a hedge, while simultaneously adding an options income stream, covered calls are a great way to go.
In fact, even writing monthly covered calls on the S&P 500 index as tracked by the Buywrite Monthly Index by the CBOE has outperformed the S&P 500 by more than double the net gains since January 2005 until today.
Still, I recommend longer option contracts since a whipsaw market can reduce profits quickly when dealing with such short-term contracts.

If you are absolutely dead-set against picking your own stocks, you can go with a variety of covered call funds such as the BEP, DPD, FFA, MCN, among others. If that is up your alley, look at this other article by a great Seeking Alpha author, Richard Shaw, and make up your own mind whether the time is right for these covered call funds.
Disclosure: I have no positions in any stocks mentioned, and no plans to initiate any positions within the next 72 hours.