The central tenent of value investing is to purchase great businesses at bargain prices. Successful implementation of the strategy requires consideration of both sides of the equation - not only does an investor need to determine the underlying business's ability to sustain and grow economic profits, he also needs to understand IF and WHY the business is being offered at a bargain. The last point is often overlooked - it is very crucial to identify WHY a business is available for cheap, so that we can distinguish whether the price depression is due to short-term superficial reasons or true long term deterioration in business prospects, in order to avoid falling into so-called "value traps". In this article, I will look to analyse both the business and the price of China Sun Group High Tech Co (OTCPK:CSGH).
Great Business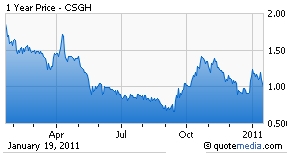 The fundamentals of CSGH's business are actually a rather straight-forward analysis. CSGH is a China Dalian based maker of battery materials. Revenues were 12.6M in the latest quarter, a 25% growth from the same quarter last year, mostly due to their new lithium iron phosphate (LIP) product line becoming fully active. Management's mid-point guidance is 57M of sales for the full year, or about $1.04 per share.
Comprehensive income fell slightly to 1.9M in the latest quarter (Q2 2011), a drop of 9.5% YOY. However, this number included a foreign currency translation gain and a large one-time non-cash consultancy fee. Excluding both, this quarter they had 36% growth with non-GAAP income at 2.7M. Full year guidance is 33% growth at 10.5M income, or $0.19 per share.
CSGH has a pristine balance sheet with no long-term debt, and significant working capital. At a current ratio of 13 times, they have essentially no risk of not meeting their ongoing funding obligations. Shareholder's equity stands at 46.7M, or $0.85 book value per share.
The company's growth is supported by strong macroeconomic tail-wind. Their core products are cabaltosic oxide and LIP, both materials used in the production of lithium ion batteries. LIP is a higher margin product and it is a recent addition to their offering, so its potential has yet been fully realized.
The demand for these materials are expected to grow significantly as mobile devices such as laptops and cell phones become more prevalent, as well as electric/hybrid vehicles become increasingly adopted. Also, being a primary supplier of such materials in China, the company will benefit from increased Chinese domestic consumptions of the end-products that require these types of batteries.
With healthy operating cash flows and balance sheet, we can expect CSGH to fund much of their growth internally or qualify for bank loans/line-of-credit when needed. Management should be in no imminent need to raise additional cash via share offerings at depressed levels.
Bargain Price
Despite the growth prospects, CSGH is trading at a very attractive valuation even if we assume zero growth, which means any growth that does happen will be a welcome bonus. With a stock price of around $1.00 at the time of writing, CSGH has an absurdly low P/E of 5 based on this year's expected earnings. It is trading at less than 1x revenues and about 1.2x book value.
If CSGH were to trade at the more reasonable valuation of 10x earnings, investors can potentially capture a 100% gain before factoring in any earnings growth at all. It is evident that the market is currently offering CSGH shares with a significant margin of safety.
One obvious reason for the low valuation is a lack of analyst coverage, which is a typical problem for small caps. However, this lack of coverage is compounded by the management's general lack of interaction with investors, perhaps due to language and geographical barriers. An investor relations firm was appointed in early 2010, but significant improvements in the company's IR remain to be seen.
For readers who are fluent in Chinese (or have friends who are), I suggest visiting the Simplified Chinese version of CSGH's website. While the English version of their website targets US investors, the Chinese website is more candid and updated more frequently, as it appears to focus on communicating to customers and prospective employees rather than investors. One can get a better feel of their on-going operations from the Chinese site.
Another reason for the short-term earnings and price dip is the large dilutive share-based compensation paid to consultants recently. A quick search indicates that they are members of law firms stationed in Hong Kong and Los Angeles. Rumors abound about the ultimate purpose - perhaps it was preparation leading to uplisting to a major stock exchange. However, given the lack of additional disclosure, not much has been confirmed.
Last but not least, every Chinese stock that went public in the US via a RTO (reverse-take-over) has been severely punished recently due to several high profile allegations of fraud in a handful of companies. Some of these companies did turn out to be bad apples, but perhaps it's unfair to assume it applies for the entire space. Although it is difficult to prove beyond a doubt that CSGH is not a fraud, one can try to gauge its likelihood based on some circumstantial evidence:
Incidentally, a lack of hype and fanfare from management makes it less likely that they are using the RTO as a conduit to raise a quick buck and then "hit-and-run". This, combined with the recent award of shares rather than cash to top management, indicates management's intention to build long-term shareholder value.
Rick Pearson from TheStreet.com visited the company's facilities in 2009. While this does not say anything concrete about the company's financials, it does provide comfort in that they have an operating business, unlike some of the outright frauds. Although, one cannot dismiss the possibility that the entire thing is an elaborate front.
Their operating website, done purely in Simplified Chinese (thus not expected to be read by western investors), shows a lot of hiring activities consistent with a growing company, a product line-up more diverse than what is shown on the English website, and more frequent news releases.
Their auditor is ZYCPA Company Limited - a small Hong Kong auditor. Although allegations from short-sellers have implicated basically every auditor of RTO, ZYCPA have not been proven to be connected to a confirmed fraud case.
Of course, none of the above observations are in any way conclusive, so investors need to use their own judgment. If any readers are physically in Dalian or have any connection with the company, feel free to share your thoughts.
Recommendations to Investors
In summary, China Sun Group High Tech is a debt-free, steadily growing, profitable company in an expanding industry. The company's stock is trading at extremely attractive valuation, "pricing in" a very pessimistic view.
Most of the causes for the low valuation are transient and superficial in nature. A lack of investor communication causes temporary disfavor but ultimately does not affect the economics of the underlying business. As the company matures, one can expect investor relations to improve as most small caps do, but the timeline is uncertain so it will require patience.
The dilutive compensation for outside consultancy appears to be a one-time event, and there is a high probability of a positive catalysis coming out of this, such as uplisting to an exchange. Since the consultants were paid in shares, they have vested interest in seeing the share price reach its potential.
The integrity of the company's financial reporting became a concern mainly due to some of their less honest peers in the sector. Although I personally do not believe that the risk of fraud is high, one must account for the probability and only invest what one can afford to lose.
For the above reasons, investors who commit a small portion of their long-term capital to CSGH and have no immediate need for cashflow will likely be rewarded handsomely in the long run.
Recommendations to Management
Finally, I would also like to suggest a few actions that management can take to catalyze the stock's value:
- Upgrade to a Big 4 or at least a Top 10 auditor: this could greatly soothe investors' fears of fraudulent activities and inaccurate financial reporting.
- Change the name: aside from "China Sun Group High Tech Co" being a mouthful, having a "China" prefix associates the company with all the hype and doom of the entire Chinese RTO sector, similar to the ".com" suffix back in the tech bubble days. CSGH can stand on its own merits, but it can also use a shorter and more distinctive brand name.
- Uplist: listing on a major exchange will enhance liquidity and analyst coverage, as well as bringing in institutional buying.
- Increase frequency and substance of disclosure to investors: I believe this is self-evident.