Was last week a false alarm?
A week ago, this weekly ETF Pullback strategy (see Appendix below for explanation and performance data), after having bounced back and forth between precious metal and developing nation exposure, actually featured two U.S. sector ETFs, leading me to wonder about a potential return to some sort of normalcy.
No such luck. This week, precious metals dominate once again. Here's the current list:
The Metal & Mining SPDR isn't a pure precious metal play, but these are well represented in the context of this general mining ETF.
Here's last week's list:
After yesterday's selloff, I suppose I shouldn't be surprised to see the current list dominated by ETFs that are most desirable when fear is high.
I'm not sure I agree with the basis for the fear. Commentators attribute the decline to disappointment over earnings reported by some large financial firms. But such daily analysis isn't always right. The bigger factor may be much simpler. We've had a long run with the market charting a more-or-less 45 degree upward slope. How long does anyone think this sort of thing can continue? Forget about financial earnings. Forget about housing. Forget about politics. Forget about employment data. No matter what we see, or don't see, it can't be buy-buy-buy-buy-buy-and then buy some more when it comes to stocks. Sooner or later, prices outrun even the best-case fundamentals. If anything falls short of best case, as with the financials, then we're really in for it.
I hesitate to draw any real conclusion based on where we are right now. I understand the inflation fears, stoked by QE II, possible sequels on the QE front, and inflationary pressure from the Chinese economy which continues to defy government efforts to cool it down. I'm therefore not bothered by the continuing precious metals exposure, although I might be less sanguine if this were a long term portfolio, as opposed to a set of one-week positions. Another factor: If we really are in for a correction in stock prices, I'm not sure fixed income, a useful hiding place in the past, is all that desirable right now considering that the liquidity being pumped into the economy seems likely to push interest rates higher. So I suppose precious metals will have to do, at least for this week.
Figure 1, a screen shot from the FolioInvesting.com account I use to trade the model, shows its real-money performance. I evaluated it in depth at the start of 2011 and explained why I can live with its recent failure to beat the market. I don't expect that to change until we see a bit more consistency, in one direction or another.

click to enlarge images
Figure 1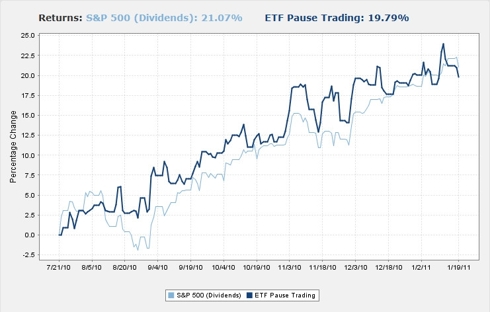 Click to enlarge
APPENDIX
To create this model, I started with a very broad-based ETF screen I created in StockScreen123.com.
Eliminate ETFs for which volume averaged less than 10,000 shares over the past five trading days

Eliminate HOLDRs (I don't want to be bothered with the need to trade in multiples of 100 shares)

Eliminate leveraged and short ETFs (I think of these as hedging tools rather than standard ETF investments of even trading vehicles)
Then I sorted the results and select the top 5 ETFs based on the StockScreen123 ETF Rotation - Basic ranking system, which is based on the following factors:
120-day share price percent change - higher is better (15%)

1-Year Sharpe Ratio - higher is better (15%)

5-day share price percent change - lower is better (70%)
The idea of using weakness as a bullish indicator is certainly not new. But often, it's an add-on to other factors that, on the whole, emphasize strength. Here, the weakness factor is dominant, with a 70 percent weighting.
This model is designed to be re-run every week with the list being refreshed accordingly. I trade through FolioInvesting.com, where I pay a flat annual fee rather than a per-trade commission, so I don't care about the fact that turnover form week to week is often 80%-100%. If you want to follow an approach like this but do have to worry about commissions, the strategy tests reasonably well with three ETFs, or even with one. (Cutting the number of ETFs is far preferable to extending the holding period.)
Figure 2 shows the result of a StockScreen123 backtest of the strategy from 3/31/01 through 12/30/10.
Figure 2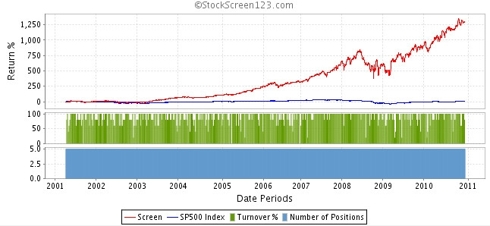 Click to enlarge
Figure 3 covers the past five years, a very challenging market environment that witnessed the fizzling of many strategies that had succeeded for a long time.
Figure 3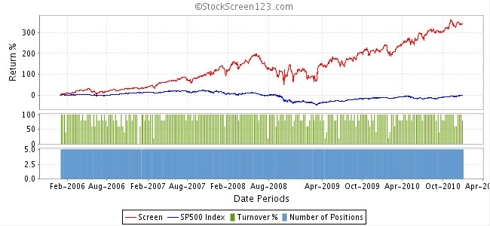 Click to enlarge