Fifth Third Bancorp (NASDAQ:
FITB
) late Wednesday reported better-than-expected fourth quarter 2010 earnings and announced its plan to repay the bailout money received under the Treasury's Troubled Asset Relief Program (TARP).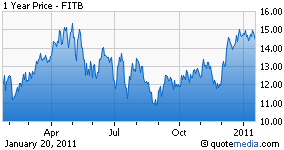 Fifth Third reported fourth quarter net income available to common shareholders of $270 million or 33 cents per share, ahead of the Zacks Consensus Estimate of 25 cents. Results also compared favorably with net income of $175 million or 22 cents per share in the prior quarter and a net loss of $160 million or 20 cents in the prior-year quarter.
Results were primarily driven by better-than-expected improvement in credit metrics. The company reported a drop in delinquencies and provisions for loan losses. Revenue numbers also came in satisfactorily.
For full year 2010, the company reported net income available to common shareholders of $503 million or 63 cents per share, ahead of the Zacks Consensus Estimate of 53 cents. However, results came in slightly below the prior year's net income of $511 million or 67 cents per share.
Total revenue at Fifth Third was $1.6 billion in the fourth quarter, in line with the Zacks Consensus Estimate, but down 10% sequentially. However, revenue came in 3% ahead of the prior-year quarter's figure. The sequential decrease in revenues primarily reflects the significant drop in non-interest income.
However, Fifth Third's results in the reported quarter included a $17 million charge related to the early extinguishment of $1.0 billion in Federal Home Loan Banks (FHLB) borrowings and $21 million of investment portfolio securities gains.
TARP Repayment
Fifth Third announced the commencement of a public offering of $1.7 billion of its common stock. The company intends to use the proceeds along with that of a planned senior debt offering and other available funds to repurchase $3.4 billion worth of TARP preferred shares. The repayment is subject to the approval of the U.S. Treasury.
Behind the Headline Numbers
Fifth Third's net interest income was up $3 million from the prior quarter to $919 million. Net interest margin advanced 5 basis points (bps) sequentially to 3.75%.This improvement was driven by the ongoing CD repricing and deposit mix shift out of CDs, as well as higher average loan balances and continued deposit pricing discipline, particularly in savings rates.
Though average portfolio loan and lease balances were flat sequentially and declined 2% year over year, average core deposits increased 2% sequentially and 6% year over year. The company reported growth across all transaction deposit account categories, which offset both sequential and year-over-year declines in consumer CDs.
On the flip side, Fifth Third's non-interest income decreased a whopping 21% sequentially to $656 million due to the $152 million benefit realized in the prior quarter from the settlement of litigation related to one of Fifth Third's bank-owned life insurance (BOLI) policies. Additionally, mortgage banking revenue also reported a significant 36% sequential drop. Nevertheless, the increase in corporate banking revenue and securities gains partially offset the decline.
Fifth Third's non-interest expense upped 1% sequentially to $987 million. The figure includes $17 million of expenses associated with the termination of $1 billion in FHLB funding. Excluding one-time items, Fifth Third's non-interest expense came in at $970 million in the reported quarter, up from $954 million in the prior quarter. The escalation in expenses primarily stemmed from higher compensation expense mainly due to revenue-based incentives, as well as investment in sales force expansion, partially offset by lower credit-related expenses.
Credit Quality
Credit metrics showed significant improvement in the reported quarter as a result of the strategic credit risk reducing initiatives implemented by the company during third quarter 2010.
Fifth Third's net charge-offs were $356 million or 186 bps of average loans and leases, compared with charge-offs of $956 million or 495 bps of average loans and leases in the prior quarter. Provision for loans and leases plunged 64% sequentially and 79% year over year to $166 million. Total nonperforming assets, including loans held-for-sale, were $2.5 billion, a decline of 11% from the prior quarter and reflected sales of commercial nonperforming loans moved to held-for-sale in the prior quarter.
Fifth Third non-accrual inflows continue to be at much lower levels than earlier in 2010 and in 2009 and management expects the trend to persist. Currently, first quarter net charge-offs are anticipated to be in line with the fourth quarter levels while nonperforming assets and nonperforming loans are projected to decline. Provision expenses are expected to be lower than charge-offs and for reserve levels to continue to trend down. These expectations are primarily based on management's anticipation of a stable to improving economic environment and credit trends.
Capital Ratio
Fifth Third's capital ratio improved in the quarter. On a sequential basis, the Tier 1 common equity ratio advanced 16 bps to 7.50%, while Tier 1 capital ratio grew 9 bps to 13.94%. As of December 30, 2010, both book value per share and tangible book value per share increased to $13.06 and $9.94 from $12.86 and $9.74 per share, respectively, reported in the prior quarter.
Fifth Third's return on assets (ROA) was 1.18% and return on average common equity (ROE) was 10.4%, up from 0.84% and 6.8%, respectively, in the prior quarter. While management expects returns to drop in the first quarter of 2011, the levels are then expected to meet or exceed approximately 1% next quarter, with second quarter ROA similar to the reported quarter's levels. Over the long term, ROE and ROA are expected to improve on balance sheet growth, related efficiencies, lower credit costs, and overall economic environment.
Our Take
Fifth Third was significantly under pressure following the recent repayment of the TARP loan by Huntington Bancshares Inc. (NASDAQ:HBAN) and First Horizon National Corp. (NYSE:FHN)). Hence, this TARP repayment news along with an earnings beat is definitely positive for the stock. However, the overall market remains in a somewhat gloomy mood following not-so-impressive results from the Wall Street biggies except for JPMorgan Chase & Co. (NYSE:JPM), which has reported excellent results.
For Fifth Third, we are encouraged to see the aggressive credit management efforts and expect it to experience an improvement in credit quality in the upcoming quarters.Though challenging economic conditions along its footprint and the recent regulatory issues are expected to remain an overhang, going forward, we expect Fifth Third's diverse revenue stream, opportunistic expansions and cost containment measures to support its earnings.
Fifth Third shares are maintaining a Zacks #3 Rank, which translates into a short-term Hold recommendation.