The Department of Energy reported this morning that in the week ending January 14, 2011, U.S. crude oil inventories increased by 2.6 million barrels, gasoline inventories increased by 4.4 million barrels, distillate inventories increased by 1 million barrels, and total petroleum inventories increased by 2.4 million barrels.
If the lost production from the temporary disruption in Alaska is added back in, the crude build would have been 5.2 million barrels.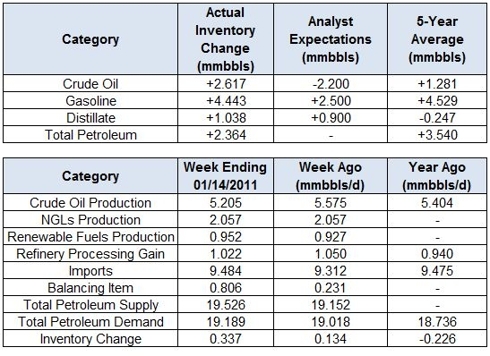 The overall build in U.S. petroleum inventories was slightly less than normal, leading to yet another decline in the surplus over the 5-year average. Stocks are now 42.4 million, or 4.1% above normal, down from 4.3% last week.
Most benchmark light, sweet crudes have rallied close to $100 as fundamentals remain supportive. H2 2010 demand growth was in excess of 3 million barrels per day, and OPEC spare capacity fell under 5mmbbl/d for the first time in two years, per the IEA. Nevertheless, a lot of bullishness has been built into prices at these levels; more clarity may be necessary before a sustainable move into the triple digits can be made. The outlook for non-OPEC supply and OECD demand bear especially close watching.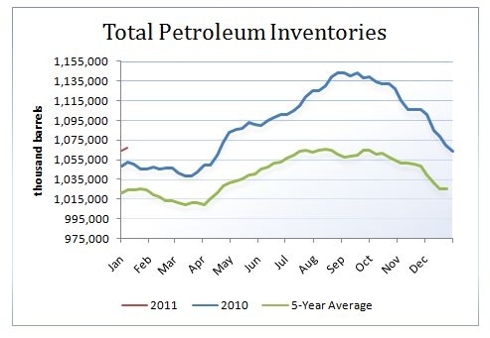 Crude oil inventories rose counter-seasonally despite lower U.S. production amid the temporary shutdown of the Trans-Alaska pipeline: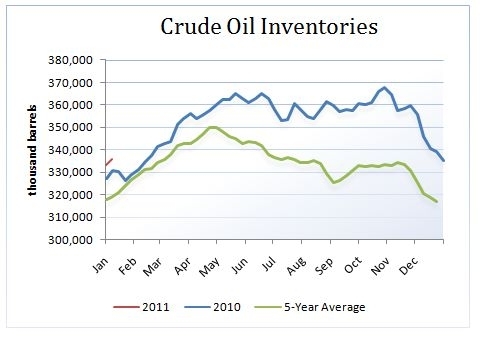 Product inventories increased sharply, but after this week's notable decline in refinery utilization, builds may slow in the coming weeks:
Demand
Demand was flat week-over-week. On a 4-week rolling basis, it was up 3.8% from a year ago, while gasoline demand was up 2% and distillate demand was up 1.8%:
Imports
Crude imports were little changed week-over-week. On a 4-week rolling basis, imports were up 0.3mmbbl/d year-over-year:
Refinery Activity
Refinery utilization fell from 86.4% to 83%, moving below the 5-year average. Gasoline production rose to 8.8mmbbl/d and distillate production fell to 4.4mmbbl/d:
Miscellaneous
U.S. crude oil production plunged 375Kbbl/d due to the shutdown of the Trans-Alaska pipeline. Production should start to rebound now that the line has been restarted.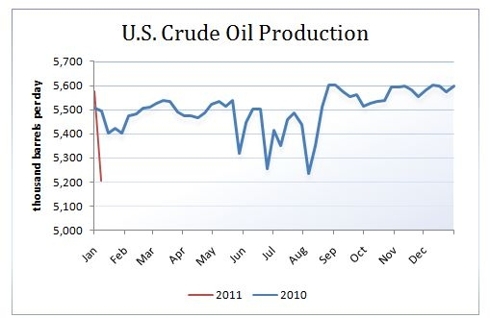 Inventories at the NYMEX delivery point in Cushing, Okla. fell 0.6 million barrels. Front-month calendar spreads widened slightly week-over-week from -0.97 to -1.03. WTI's discount to other benchmarks remains substantial.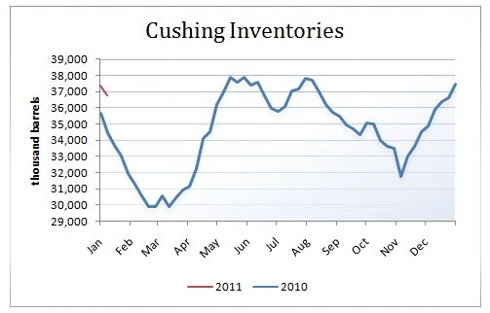 Disclosure: I have no positions in any stocks mentioned, and no plans to initiate any positions within the next 72 hours.