Progressive Corp.'s (NYSE:PGR) earnings per share for fourth quarter 2010 were 45 cents, up 9 cents from the Zacks Consensus Estimate of 36 cents. The result of the reported quarter was a penny lower from the prior-year quarter. Net income for the quarter was $299.2 million, down 2% from $305 million reported in fourth-quarter 2009.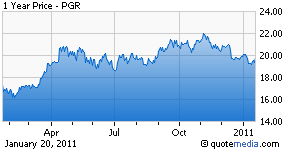 The company recorded net premiums of $3.3 billion during the fourth quarter of 2010, down 4% from $3.4 billion in the fourth quarter of 2009and 11.8% from$3.7 billion during third quarter 2010. Net premiums earned were $3.6 billion, down 3% from $3.7 billion in the year-ago period and up 0.7% from $3.6 billion in the prior quarter.
Net realized gains on securities were $77.9 million during fourth quarter 2010, a whopping increase of 70% from a gain of $45.8 million in the prior-year quarter and a considerable improvement from $26.9 million in third quarter 2010. The combined ratio -- the percentage of premiums paid out as claims and expenses -- deteriorated 160 basis point over the prior year quarter to 93.1% in the quarter under review.
Progressive reports its results every month. During December, policies in force remained healthy, with the Personal Auto segment increasing 8% year over year and a decline of 0.1% sequentially. Special Lines increased 5% year over year but declined 0.4% over the preceding month.
In Personal Auto, Direct Auto reported a double-digit growth of 13% year over year, but remained flat with the last month. Agency Auto was up 4% year over year but down 0.1% from the last month. However, Progressive's Commercial Auto segment continued to drag results, reporting declines of 0.5% year over year and 0.7% from the preceding month.
Total expenses for the reported month declined 15% to $1.04 billion from $1.22 billion in December 2009. The major components contributing to the decrease in total expenses were 17% year-over-year decrease in losses and loss adjustment expenses as well as policy acquisition costs. However, a 2% increase in other underwriting expenses was a partial offset.
Progressive reported book value per share of $9.13, up from $8.55 as of December 31, 2009, but down from $9.38 as of November 30, 2010.
Return on equity on a trailing 12-month basis was 17.1%, down from 21.4% in December 2009 and from 17.2% in November 2010. The debt-to-total-capital ratio was 24.5% as of December 2010, down from 27.5% as of December 2009 but up from 23.9% as of November 2010.
We maintain our Neutral recommendation on Progressive. The quantitative Zacks #4 Rank (short-term Sell rating) for the company indicates downward pressure on the shares over the near term.
Headquartered in Mayfield Village, Ohio, The Progressive Corporation is one of the largest auto insurers in the country. It is a leading independent agency writer of private passenger auto coverage, market leader for the motorcycle product and is one of the leading companies in the commercial auto insurance market. It competes with Allstate Corporation (NYSE:ALL).