Despite concerns such as the price of copper, Whirlpool (NYSE:WHR) is looking like a good value to me right now for some fundamental and technical reasons.
Whirlpool is the world's largest manufacturer of appliances, passing Electrolux (OTC:ELUXF) when it merged with Maytag in 2006. They ship to or manufacture in nearly every country in the world and their products include washers, driers, washing machines, refrigerators, ovens, water heaters and more.
Let me talk about why I think Whirlpool could have an upside surprise before I build the case for value. There are two reasons I say they could have an upside surprise: one statistical, one apocryphal. Take a look at this fairly obscure piece of information from the November durable goods orders.

Click to enlarge


Look at the circle. The new orders, which are closely related to the next month's shipments, has a huge spike of almost 13%. That would indicate that December should be a very good month in appliance sales. I also read in one of the credit card's holiday spending surveys that appliance spending was robust.
On an anecdotal level, I've also heard that people rushed to the various home improvement stores at the last minute to take advantage of the last days of the 30% tax credit for energy saving home improvements. It's no stretch to assume people would do so, there's nothing like a tax subsidy to spur buying, and people love to wait until the last minute for anything.
Is Whirlpool a good value? It's only 12X earnings, which is a very deep discount to the consumer discretionary sector at almost 30X earnings and the appliance and tools subsector of over 40X. Assuming 4Q, which reports at the end of January, isn't a total wash, they'll easily have double earnings since last year at estimated 9.80/share as opposed to 4.34. Morningstar unfortunately does not cover them, but S&P has them at 4 stars with a price target of $104 and using their slightly dubious fair value estimates, have a fair value of $140.
Also, Whirlpool has great emerging markets exposure, supplying to the entire world, but especially in Latin America. While housing may be lackluster here in North America, it isn't in Brazil, and Brazil recently reported a near full employment rate with only a 5.7% unemployment rate. Asia, while relatively small compared to Latin America, is showing great sales growth rates.
Looking forward, North American housing won't stay dead forever. I won't declare any kind of a housing bottom, but I do know that eventually unemployment will abate and housing will pick up. Whirlpool is a great and cheap way to play an eventual NA housing recovery.
As an aside, many of the people I advise are concerned with social responsibility. Whirlpool donates appliances to each Habitat for Humanity home, has a sustainability policy and is well known for workplace diversity, for instance, receiving a 100% rating on the Corporate Equality Index released by the lesbian, gay, bisexual, and transgender (LGBT) equal rights organization Human Rights Campaign.
Finally, what is an attractive technical entry point? Whirlpool broke a double bottom reversal pattern in December 2010, rose a bit, but has since retreated to the break out point, as is quite common (Former resistance becomes support).
Click to enlarge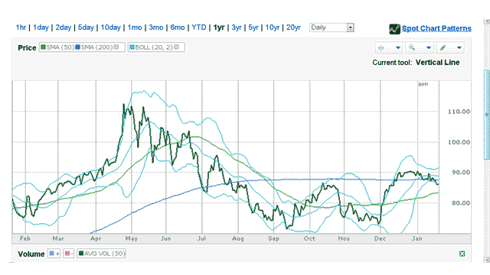 Note that it is now skirting that break out point, following the bottom of the Bollinger Band. To me this represents an attractive entry point, or if it shows support at its 50 day moving average at around $83. If the double bottom breakout holds, you should see a nice rise over the intermediate term.
Despite justifiable concerns over commodity input prices and U.S. housing on life support, Whirlpool shows real value potential with emerging market growth, greatly improving earnings and a possible upside surprise.
Disclosure: I am long WHR.
Additional disclosure: Just purchased in a small amount for the reasons mentioned in the article.