Analysis: Financials have started out the earnings season on a rough note for sure. Banks have struggled to live up to expectations, but expectations were higher this quarter. Capital One (NYSE:COF), on the other hand, has been dogged over the past several days due to financials and fears spread by American Express that are company specific. Estimates, additionally, for COF are significantly lower quarter-over-quarter despite significant rises in consumer spending and decreases in delinquencies. Further, the company has consistently beat earnings. The question is really not if COF can beat earnings, but it's rather can they beat them enough in order to take a somewhat overvalued stock even higher.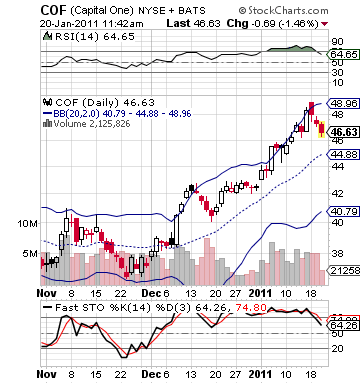 If you had looked at COF one week ago, it was on a tear, moving up and showing no signs of quitting. Its recent pullback, however, has actually created the buying opportunity moving forward. The company has nose-dived after hitting 49 with a slew of bad earnings from banks and a brief from American Express. Yet, the company has moved down for reasons it really should not have. The banks are truly unlike COF. While Capital One does operate like a bank and has some branches, it's made by its credit card business. What have people been doing in the last three months? Not taking loans ... but spending money. This is great news for credit card companies, and it will be reflected in COF's earnings. American Express laid some fears on the table, though, earlier this week by saying it may miss estimates, but this was due to a company specific movement of personnel to a different city that took a huge expense.
Capital One has seen delinquencies for its credit cards fall October - December while at the same time seeing nationwide consumer spending increase. Delinquencies and charge-offs in September were 4.53% and 8.38%. In December, these rates were 4.09% and 7.09%. These are significant declines that help the company increase margins, revenue and income. Further, the company makes money off of consumers spending money on Capital One credit cards that are Visa and Mastercard branded. Consumer spending rose 0.4% and 0.3% in October and November. December should be more of the same. Further bullish news is that holiday spending was done significantly online where payments tend to be credit cards.
One problem for credit card issuers is a new law that limits how much money companies can charge merchants for debit card purchases. Capital One does not operate a significant debit card industry, so this rule is not as affecting. What is shocking for COF is that despite its continual heavy beatings of earnings, EPS estimates are so low still. The high-end expects in the 1.60-range versus the 1.24 consensus.
Another earnings beat is right around the corner. The recent pullback is why we are buying COF, and why this stock will be able to push $50 when earnings are released this evening.
Get some while you can!
Entry: We are looking to get involved at 46.60 - 46.95.
Exit: We are looking to exit tomorrow morning after earnings or intraday if gains are more than 2%.
Stop Loss: 3% intraday.
Timeline: Overnight Trade.
Oxen Entry: 46.75.
Disclosure: I have no positions in any stocks mentioned, and no plans to initiate any positions within the next 72 hours.