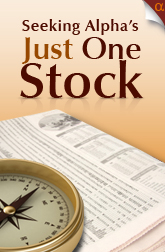 Several times a week, Seeking Alpha's Jason Aycock asks money managers about their single highest-conviction position - what they would own (or short) if they could choose just one stock or ETF.
---
Mark Boyar, of Boyar's Intrinsic Value Research LLC, has been a securities analyst since 1968. He has published Asset Analysis Focus, a monthly research report, since 1975. He launched the Boyar Value Fund (BOYAX) in 1998.
Could you tell us about yourself and your research process?
I have been publishing independent research since 1975 under the moniker Asset Analysis Focus (AAF). Our $25,000 per-year subscription-based publication is considered a must-read by many of the world's most highly recognized and regarded value investors.
Shortly after I began publishing AAF, I commenced managing money for family and friends utilizing the same methodology our research publication employs. In 1983, I established Boyar Asset Management Inc., a registered investment adviser, to provide asset management services to both individuals and institutions. In my opinion, what differentiates us from the vast majority of investment advisers is the depth and quality of the research that our analytical team employs when ferreting out portfolio selections.
Boyar Asset Management (BAM) will only invest in businesses that are selling well below our estimate of their intrinsic or private market value. To put it simply, we are in the business of purchasing a dollar for fifty cents. BAM evaluates a company and the assets it owns in the same manner a businessperson or a potential acquirer would evaluate them. We take a company's balance sheet and tear it apart, and reconstruct it in accordance with economic reality as opposed to generally accepted accounting principles (GAAP).
We believe that if we can purchase assets at significant discounts to their intrinsic values, over time, either the market will accurately reflect those values, or the assets of the corporation will be acquired by a third party. It is interesting to note that approximately 40 percent of all the companies that we have profiled in our research publication since 1975 have been acquired, merged or liquidated, the vast majority at significantly higher prices than when originally profiled.
That said, if you could hold only one stock position in your portfolio over a long period of time, what would it be?
It would be Madison Square Garden (NASDAQ:MSG).
How does your choice reflect your investment approach? Does the company's management play a role in your selection?
We look for businesses that are not widely followed on Wall Street, and try to determine what will make the common shares of those businesses ascend in value over a reasonable period of time. Sometimes management is important, in other instances it is less so.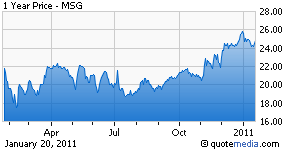 In order to better understand our thesis an investor must examine Cablevision (NYSE:CVC), which in our opinion is the "best in class" cable operator, and until recently owned 100 percent of Madison Square Garden. Wall Street has never given the Dolan family, Cablevision's controlling shareholders, the kind of respect they deserve. The"Dolan discount" has been ascribed to the company for as long as we have been following the stock, and yet through the years they have implemented a number of initiatives in an effort to unlock shareholder value:
In April 2006, they paid a special dividend of $10.00 per share.

Subsequently, the family attempted a leveraged buyout, but only if shareholders who did not own super voting shares approved the transaction. The $36 per share offer made in 2007 was defeated.

In a further effort to raise CVC's share price the company recently spun out to Cablevision's shareholders its 100 percent ownership of Madison Square Garden.

On November 17, 2010 CVC announced its plan to spin out its cable networks - Rainbow Media Holdings Limited - to shareholders as an independent publicly traded entity.

In addition, in recent years Cablevision enacted a dividend policy, as well as a share-repurchase program.
What catalysts, near-term or long-term, could move the stock significantly?
With the company's capital structure simplified, and Charles Dolan in his mid-80s, we would not be surprised to see Cablevision acquired in the not too distant future. The most likely candidate would be Time Warner Cable (TWC), whose business operations are in close proximity to Cablevision's.
Assuming this scenario plays out, the Dolan family would be flush with cash. With Charles' son Jim showing a greater affinity for the MSG sports and entertainment properties, we believe that there is a high degree of probability that the Dolan family could take MSG private at a significant premium to current market values.
Can you describe the company's competitive environment?
Widely heralded as the world's most famous arena, and now trading as an independent entity on the New York Stock Exchange, MSG however is much more than a venue to view sports and entertainment. It owns a number of other trophy properties including the New York Knickerbockers basketball team and the New York Rangers hockey team, the MSG cable network, a long-term lease on Radio City Music Hall, the Beacon Theatre and the Chicago Theatre. In addition, it owns the building and land that houses Madison Square Garden, as well as valuable transferable air rights associated with the property.
It should be noted that MSG's owned real estate on the west side of Manhattan sits in the middle of a collection of properties assembled by Vornado (NYSE:VNO), a major developer and owner of real estate in the northeast. The section of Manhattan where Madison Square Garden is situated is one of the last areas in midtown Manhattan that has not been gentrified.
Earlier this year, Vornado gained zoning approval to raze the 90-year-old Hotel Pennsylvania and build a skyscraper of up to 1,198 feet, making it potentially one of the tallest buildings in NYC. This site is directly across from Madison Square Garden. In all likelihood the zoning approval has significantly enhanced the value of MSG's air/development rights.
In our opinion, Madison Square Garden owns a collection of one-of-a-kind assets that would be virtually impossible to replicate. With only 20,000 seats available in a city of eight million people, almost every major event is a sellout. In addition, the company has great pricing power and has demonstrated this even during the most difficult economic times.
How does the stock's valuation compare to its competitors?
Major league sports teams should not be publicly traded vehicles; they almost always trade at substantial discounts to their private market value, and invariably go private. The last two major examples were the Cleveland Indians and Boston Celtics. At the present time there is really no competition - both the Knicks and the Rangers are the only game in town.
How do you value MSG? Are there any potential suitors besides the Dolans?
Our sum-of the parts valuation of MSG currently exceeds $46 per share. [MSG closed today at $24.87.] We believe our analysis could prove to be conservative. For example, we have valued the Knicks and Rangers at 75 percent of Forbes' 2009 estimate, and have ascribed no value to the company's air rights.
The Dolans are not the only ones that might be interested in acquiring this unique entity. MSG's current enterprise value of $1.5 billion is much smaller than the enterprise value of Cablevision (~$18.5 billion) just prior to the separation. As a result, the smaller MSG could make it easier for a nontraditional equity investor such as real estate developers (i.e. Vornado/Related Cos.) to acquire MSG and its air/development rights. While the Dolans' voting control might impede such a transaction, we believe shareholder pressure could force the Dolans' hand if such a bid was made public.
Absent a takeover, we still believe the improving fundamentals of MSG's various businesses, coupled with the mega-renovation of the Madison Square Garden facility, should help bolster cash flow in the coming years and close the huge gap between our estimate of the company's private market value and its current market price.
What could go wrong with you pick?
The New York real estate market could stay in the doldrums for a significant period of time. In addition, if the Knicks and Rangers perform badly this would have a negative impact on attendance and television revenue. But these potential negatives would in all likelihood remain in force for a period of time, and then would reverse themselves. Since we are patient long-term investors, this is not a significant worry.
Thanks, Mark, for sharing your choice with us.
Disclosures: Long MSG.
Read more Just One Stock interviews »
If you are a fund manager and interested in doing an interview with us on just one stock or ETF position you'd hold, please email us at Just One Stock.