Over the last 30 days, size has mattered. Large cap ETFs have been significantly outperforming small cap ETFs.
A similar event has taken place with respect to different investing styles - value and growth. Specifically, over the last month, value-oriented ETFs have picked up ground on growth-oriented ETFs.
The shifts may be subtle. In fact, these changes may not even last. Nevertheless, they are definitely worthy of discussion.
Large Beating Small … Value Beating Growth
Approx 1 Month %
iShares S&P 500 Value (NYSEARCA:IVE)
4.0%
iShares S&P 500 Mid-Cap Value (NYSEARCA:IJJ)
2.9%
SPDR S&P 500 Trust (NYSEARCA:SPY)
2.8%
iShares S&P 500 Growth (NYSEARCA:IJK)
1.7%
Vanguard Mid-Cap (NYSEARCA:VO)
1.6%
iShares Russell Mid-Cap Growth (NYSEARCA:IWP)
1.1%
iShares S&P 500 Small Value (NYSEARCA:IJS)
-0.2%
iShares Russell 2000 (NYSEARCA:IWM)
-0.3%
iShares S&P 500 Small Growth (NYSEARCA:IJT)
-1.2%
An optimist might see this as a positive development ... a sign of a maturing bull market. After all, the smallest, fastest, "emerging-ist" investments have been winning the risk rally for a period of nearly two full years. An organically evolving bull should transition from rapid growers to tried-and-true bargains, shouldn't it?
On the other hand, the pessimist might see the movements as the final gasps of an aged creature. Indeed, there have been indications of fatigue at the heart of the global industrial cycle, as emerging market stocks and materials stocks have struggled to keep up. Both Vanguard Emerging Markets (NYSEARCA:VWO) as well as iShares Global Materials (NYSEARCA:MXI) demonstrate the fight as they endeavor to stay above respective 50-day trendlines.
Click to enlarge charts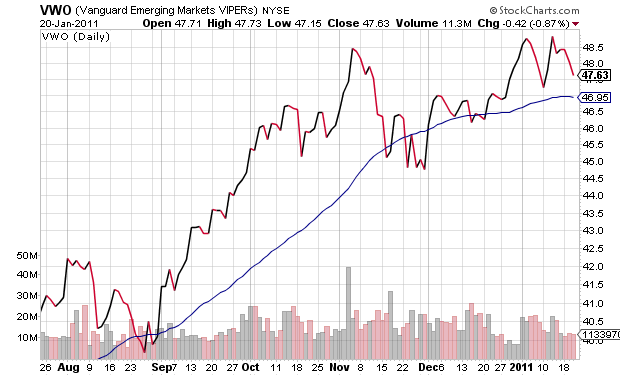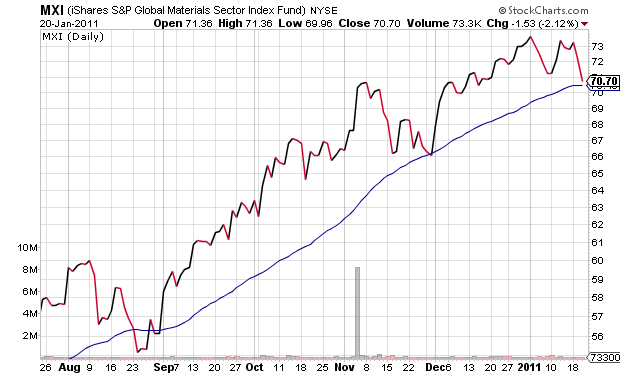 I'm not looking to be optimistic or pessimistic; rather, the rational mind understands that the same data may be interpreted to fit almost any paradigm. I simply want to be pragmatic.
So what does the pragmatist say? Fundamentally, the tailwinds are stronger than the headwinds, giving dip-buyers every reason to get more stock exposure. Yet short-selling complacency as shown by the CBOE Put/Call Ratio, the likely bottoming out of the CBOE Volatility Index (VIX) and the six months of unabated stock victories suggest a corrective consolidation of 5%-9%.
It may not happen immediately, however. Consider the $200M of block purchasing on the iShares S&P 100 (NYSEARCA:OEF) on Thursday, 1/20/11. The "buying on weakness" occurred on 7x the normal trading volume and provided a 10% assets-under-management boost to this mega-cap exchange-traded fund. From a practical point of view, it seems there's still plenty of institutional cash looking for an equity opportunity to call home.
Disclosure: Gary Gordon, MS, CFP is the president of Pacific Park Financial, Inc., a Registered Investment Adviser with the SEC. Gary Gordon, Pacific Park Financial, Inc, and/or its clients may hold positions in the ETFs, mutual funds, and/or any investment asset mentioned above. The commentary does not constitute individualized investment advice. The opinions offered herein are not personalized recommendations to buy, sell or hold securities. At times, issuers of exchange-traded products compensate Pacific Park Financial, Inc. or its subsidiaries for advertising at the ETF Expert web site. ETF Expert content is created independently of any advertising relationships.