As I peruse the many headlines that I read day in and day out, I am seeing more and more about companies raising their dividends. Early last year, I noted that good companies were starting to boost dividends, and now they continue but have even been joined by companies still laden with debt (like Carnival (NYSE:CCL)) yesterday, which announced a 150% hike that boosts the yield from less than 1% to over 2%).

In early October, I shared what might have been viewed as an outrageously bullish forecast but that now looks not just aggressive but attainable, suggesting we could see 1500 on the S&P 500 by the end of the year. In that article, I shared a rather simple argument focused on a slight PE expansion and moderate earnings growth teaming up to produce my expected outcome. Today, I would like to come at the same conclusion from a different but perhaps even more compelling angle: Dividend Yield.

The S&P 500 currently has a dividend yield of approximately 1.8%. While this isn't exactly an exciting return, we have to look at it in the context of several factors. First, we are coming out of a recession that was so harsh that many companies cut their dividends substantially. Payout ratios--now that earnings are returning to former levels or moving to new highs--are lower than normal, suggesting that even without higher earnings we could see higher dividends. Second, we are early in the economic cycle and earnings are indeed growing nicely. Third, balance sheets are generally better than they have been in many years, leaving companies with excess cash. Now, I think that much of that could go into share repurchases as I just suggested yesterday, but the point is there is plenty of dry powder to fund dividend growth.

Those four reasons are helpful, but here is the most important one: Interest rates are low. That 1.8% may be seen as skimpy, but compare it to what we get in the bank. Actually, a better comparison is 10-year Treasuries, and you can see that relationship over the past 15 years (click to enlarge):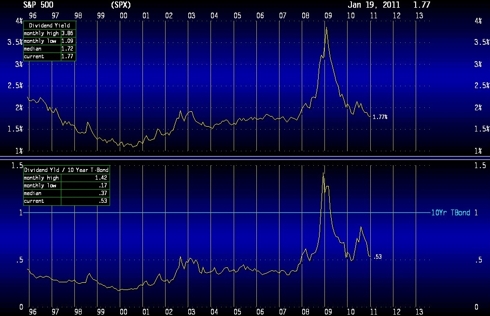 So, it turns out that the current yield is about the median for the past 15 years. Were it not for the surge in early 2009, which wasn't real as those dividends were sliced and not realized, the current level is really consistent with most of what we saw in the last decade but way above the levels of the late 90s when stocks were overvalued. The bottom panel compares the dividend yield to the yield on the 10yr Treasury. It turns out that the current 53% is on the generous side, with a 15-year median of about 37%.

So, as we think about the current numbers, which show that the dividend yield is fair to cheap currently in the context of absolute or relative comparisons, what can we project? Here are the key moving parts:
Future earnings
Payout ratios
10yr Treasury Yield
Dividend Yield
The first two get us the future dividend stream, while the last two address valuations. Earnings are headed higher, and payout ratios, as I will argue below, should increase. I think that the most likely projection of the 10yr is stable to moderately higher. The dividend yield is subject to debate, but I would argue that the ratio to the 10yr might come down somewhat, especially if investors project the likelihood that the rate of dividend growth may be increasing. Before diving in a bit deeper, let's look at the recent history of earnings and dividends for the S&P 500 (click to enlarge):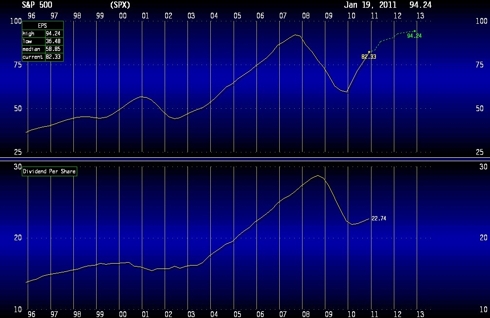 While this surprises some folks, earnings are projected to move to an all-time high in the next 12-24 months, as depicted in the top panel. Dividends, on the other hand, have only started to rebound. Notice, though, how closely they have tracked each other (not surprisingly). I expect the payout ratio, per se, to increase dramatically this year, perhaps 20%. Why?
Normal Growth will be Healthy
Lots of Resumptions (especially banks)
On the first point, it ties in to what I suggested earlier: Early in the cycle, strong balance sheets and catch-up from conservative practices in 2009 and 2010. What this means is that companies that are paying dividends already should be generous going forward. Perhaps a bigger point, though, is that many companies altogether eliminated dividends or cut them to .01. While the big banks stand out, there are many other companies too that should reinstate dividends. I didn't include a third category, but perhaps I should have cited new payers. Already, Cisco Systems (NASDAQ:CSCO) is on the record as indicating it will pay a dividend for the first time ever. Let's face it, investors have developed a stronger appreciation for dividends over the past few years, and companies seem to be responding. I consult for Management CV, and they went on the record this week as suggesting that Apple (NASDAQ:AAPL) will initiate a dividend soon.

While my mathematical argument is merely approximate, I hope that you can appreciate the directional nature. I am assuming 20% overall growth in the S&P 500 dividend to 27.50 a year from now. If we allow that the 10yr Treasury might rise to 4% and that the S&P 500 dividend yield moves to 40% of the Treasury yield, we get a forward yield on the S&P 500 of 1.6%. If I apply that to the 27.50 that I project (divide 27.50 by 0.016), we get an S&P 500 of 1718. Yowsa! All I am trying to do is justify 1500. Maybe I am too aggressive on dividends (let's go with 25) and on the ratio (drop it to 45%). We end up with a dividend yield of 1.8% (unchanged) and a projected S&P 500 of 1400.

Obviously, there are many permutations when we project the dividend, the 10yr yield and the ratio of dividend yield to Treasury yield, but it seems clear to me that dividend growth should be strong, most likely more-than-offsetting any rise in Treasury yields. Hopefully, this framework allows you to understand better my constructive outlook for stocks in 2011.

Disclosure: CSCO is in two model portfolios that I manage at Invest By Model.