One can learn a great deal from pension and university endowment funds: before the financial crisis, many were praised (and envied by individual investors) for their foray into hedge funds and private equity. In the aftermath of the crisis, many of them are now burdened with underfunded liabilities due to their low returns. One can learn a lesson or two from their asset allocation strategies.
In our previous SeekingAlpha article, we pointed out that a California public employee can achieve better returns in their defined contribution plans than Calpers (California Public Employees Retirement System), one of the largest pension plans in the nation. In this article, we take a closer look at the performances of both New York State and Local Retirement System (NYSLRS) and New York City Employees' Retirement System (NYCERS).
We obstained both NYSLRS 2010 annual report and NYCERS 2010 annual report from their respective websites. Here's what we found:
1. Asset Allocation
As with many public pension plans, both plans have policy allocation heavily allocated towards Domestic Equities. The following are the allocations of the two plans.
(NYSLRS Annual Report 2010, as of March 31, 2010. pg. 70)
Asset Type

Long-Term Policy Allocation

Allocation as of March 31, 2010

New Policy Allocation

Equity

Domestic Equity

35

%

38.9

%

30

%

International Equity

16

16.0

13

Alternatives

Private Equity

8

9.7

10

Real Estate

6

4.2

6

Absolute Return Strategies

5

2.9

4

Opportunistic Portfolio

0

0.0

4

Real Asset

0

0.0

3

Bonds, Cash & Mortgages

22.5

%

19.9

%

22

%

Inflation Indexed Bonds

7.5

%

8.4

%

8

%
(NYCERS Annual Report 2010, as of June 30, 2010, pg. 114)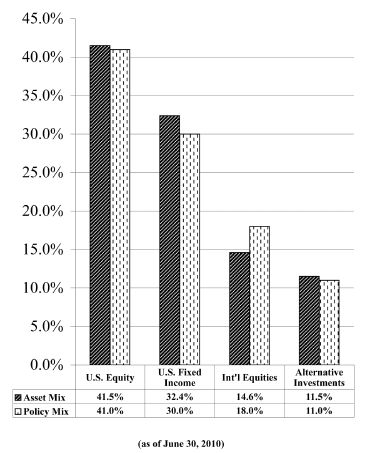 NYSLRS has about 30% allocated to fixed income. It has about 10% in private equity. Its alternative investment (including 6% in real estate) is about 20%. NYCERS has also about 30% in fixed income but with a much less significant 11% in alternative investments. Both plans are heavily allocated to domestic equity and under-diversified into other areas such as emerging market equities, real estates and commodities. They are simply too 'U.S.-centric' in their construction.
2. Annualized Returns

NYSLRS reported 3.75% 10 year annualized return for 10 years through March 31, 2010, while NYCERS reported 2.46% 10 year annualized return for 10 years through June 30, 2010. Both returns closely matched their policy benchmarks, indicating reasonable management and fees.
3. Comparison with New York State Deferred Compensation Plan
The employee self managed plan has 33 funds, providing exposures to major asset classes US Equity, Foreign Equity, Emerging Market Equity and Fixed Income. The list of asset classes covered are:
Diversified Emerging Mkts: EEM, GMM, PXH, DEM, SCHE
Foreign Large Blend: EFA, VEU, GWL, PFA
Intermediate Government: IEI, VGIT, ITE
Intermediate-term Bond: AGG, CIU, BIV, BND
Large Blend: IVV, IYY, IWV, VTI, VV, SPY, DLN, RSP, SCHX
Large Growth: IVW, IWZ, JKE, VUG, ELG, QQQQ, RPG, SCHG
Large Value: IVE, IWW, JKF, VTV, ELV, PWV, RPV, SCHV
Mid-cap Blend: IJH, IWR, JKG, VO, MDY, EMM, PJG, DON, EZM, MVV
Mid-cap Value: IJJ, IWS, JKI, VOE, EMV, PWP, RFV, UVU
Moderate Allocation: AOM
Short Government: SHY, SHV, VGSH, PLK, USY
Small Blend: IJR, IWM, JKJ, VB, DSC, PJM, DES, SAA, UWM, SCHA
Small Growth: IJT, IWO, JKK, VBK, DSG, PWT, RZG, UKK
Various Target Date Funds
We construct a portfolio that has 70% risk asset allocation and 30% fixed income allocation. This portfolio uses strategic asset allocation that is essentially re-balances monthly with a fund being held at least 90 days. The 70% risk asset is equally spread over the 3 risk assets (US Equity, Foreign Equity and Emerging Market Equity). Funds in an asset class (such as US Equity) are selected based on the best 1 year Sharpe at the time of re-balance, thus enabling style rotation such as from large growth to small blend.
The following table shows the recent performance
Annualized Return
We further calculate its annualized return from 3/31/2000 to 3/31/2010. It has annualized return 5.1%, compared with NYSLRS's 3.75%. For the 10 years ending on 6/30/2010, its annualized return is 5%, compared with NYCERS's 2.5%.
Key Takeaways
Many public pension plans such as Calpers and the two New York plans mentioned above are too heavily tilted to domestic equities and have little exposures to emerging market equities and commodities. This had a serious impact on their performance in the past 10 years.
Investors can do better in their self-managed retirement plans by adopting a well diversified and systematic re-balancing approach. The method of picking the best funds of styles and quality in an asset class can boost returns.
With the rapidly expanding emerging market economy (China, India, Brazil etc.), it is even more important to have a well diversified portfolio. Investors should take the lessons learned from those large pension funds and manage their portfolios accordingly.
Disclosure: I have no positions in any stocks mentioned, and no plans to initiate any positions within the next 72 hours.