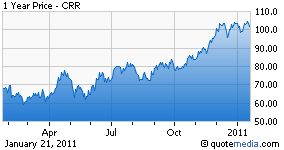 A few years ago I stumbled upon a little company Carbo Ceramics (NYSE:CRR). The more I read on the company, the more I was interested. It turns out this company is a pure play on the oil and gas industry specializing in shale.
Carbo Ceramics is the world leader in the sale of ceramic proppant. Ceramic Proppant is mixed into the drilling fluid and holds open fractures in shale. This allows the hydrocarbons to flow through the well. They also offer the industries most popular fracture simulation software. They consult on fracture design services. Also, they specialize in spill prevention and containment along with geotechnical monitoring. They sell products and services in 50 countries.
Carbo Ceramics tries to provide a one stop shop in shale drilling. Adding services over the years has helped to make it easier for oil exploration and production companies to get all the services needed to get their oil and natural gas out of the ground. Their fracture simulation software, FracproPT helps to maximize economics in shale drilling.
Carbo Ceramics sells ceramic proppant for frac conductivity. This increases well performance. StrataGen Engineering provides frac evaluation and optimization. It maximizes well and reservoir efficiency. Falcon Technologies specializes in spill prevention and containment. This protects the environment while reducing costs associated with polution and/or injuries. Applied Geomechanics offers geotechnical monitoring. They monitor a broad range of infastructure including but not limited to mines, bridges and midstream.
Carbo Ceramics has one main mission: to help oil and gas companies produce more oil and gas with emphasis on increased recovery. Their ceramic proppant consistently outperforms sand and resin coated sand. Oil and gas wells that use it have over 20% improvement in initial production rates and overall recovery. Ceramic proppant pays for itself as it increases overall well margins through increased production. Since 1979, ceramic proppant sales have a CAGR of 17.6%. On 4/29/08, I wrote an article on highlighting my bullish view on this company. Since then it is up 114.8%.
The reason for Carbo Ceramics' growth has more to do with how the oil and gas industry has changed do to technological advances. If the Bakken Shale is used as an example, there was ten years of failure as oil and gas exploration and production companies tried to crack into this resevoir. Most of this was met with failure. In 2007 things changed. Drillers were able to access the oil or gas through horizontal drilling. They were able to produce the reservior through conductivity of fracs, which in turn made the drilling economical.
In a Bakken study done by Carbo Ceramics, they found the well produced twice as much as another well using sand. These numbers had shown that the well that used proppant made $5 million more in revenue. Although this was a test run by Carbo Ceramics which could have bias, their sales do show that oil producers like their product.
In 2009, Falcon Technologies was acquired by Carbo Ceramics. This part of the business provides spill containment and prevention. Due to their new products, Falcon Technologies has a one year growth target of over 20%. Oil exploration and production companies are being vigilent in this area, due to the BP spill. Companies do not mind spending on these products as it can decrease costs associated with clean up and/or litigation. It also can help a company's image with those living near the area being drilled. The EPA did a study that had shown that oil spills on average were 1300 gallons, this size spill had a cost of $180000.
Carbo Ceramics has increased their dividend for ten consecutive years. They have a market cap of $2.35 billion. Their current PE is 33.34 and forward PE is 24.99. Profit margin is 15.89% and operating margin is 24.37. The year over year qrarterly revenue growth is 29.1% and year over year quarter earnings growth is 40.1%. Carbo Ceramics has 57.79 in cash and zero debt. 2009 was the first year the sale of proppant did not increase year over year. I looks like they are having a banner year.
In the first nine months of this year, they sold more proppant then the entire year of 2009. The rig count has helped revenues. As of December 2010, there were1709 active rigs. This is an increase of 516 rigs in the same week of last year. This company has good growth prospects going forward. Unless oil has a very large decrease with respect to price shale positions will be developed. This can only add more growth to Carbo Ceramics' balance sheet.
Disclosure: I have no positions in any stocks mentioned, but may initiate a long position in CRR over the next 72 hours.