GMX Resources (GMXR) Updates 2010 Production and Partially Updates 2010 Reserves, Plus a "New" Play
Production - Hockey Stick Underway

2010 volumes came in at 17.5 Bcfe (47.9 MMcfepd),


4Q was up 5.3 Bcfe (57.6 MMcepd)




Up 51% YOY and up 13% from 3Q10 levels due to an increased availability of frac crew availability which allowed them to complete a record 8 wells in the fourth quarter.
Reserve Upgrade (Sort Of)

Haynesville / Bossier proved reserves leap 81% from the 3Q10 interim reserve report to 208.2 Bcfe

While Haynesville /Bossier reserves will still be the second largest part of the GMXR portfolio following Cotton Vally reserves (we get an update there next week it seems), they took a major step up in importance with this report, growing 81% from the September 30 estimate levels.


Now, wait a minute. How does that happen you ask? With a simple flick of the pen, which in this case is mightier than the drillbit. Perfectly legitimate to do but in essence, they simply booked more proven undeveloped locations (PUDs) around those aforementioned recently completed wells.

In the Haynesville Bossier segment:


At 9/30/10, PUDs were 53% of total proved reserves

At 12/31/10, PUDs were 73% of total proved


Does this bother me? Not so much, it just means that they booked a lot of PUDs around their eight 4Q10 completions. Of course, they will have to spend more capital in the future developing all those PUDs but it's good to see DeGolyer signing off on the reserves that management has been pointing too.

Note: Back in that September interim reserve report (released in a Nov 8 press release), GMXR commented that they were internally seeing/estimating higher EUR's than their reserve firm, DeGolyer MacNaughton, who is a long standing and well respected reserve engineering firm. Apparently, they won them over on the bigger per well EURs attributable to longer laterals and revised/honed completion methodologies.


Note also that GMXR released longer production levels for its most recent long lateral Haynesville well that would seem to be supportive of higher per well reserves. So good on them.

Finally note that the company is pointing to lower completed well costs by $500,000 to plan in the Haynesville .... as pressure for services decreases there with a sliding rig count. So 2011's capex is going to go a bit further, perhaps 7 to 10% further if this trend continues.

Other Items From the Press Release ...
Look Ma, We Got Bakken

GMXR announces it has entered into an agreement with a private seller in the Williston to acquire acreage prospective for Bakken / Three Forks

2.7 mm shares (a 9% bump to last know outstanding count) + $1.8 mm in cash

At the current share prices that's about $16 mm of buying power.

No word on the actual amount of acreage

No word on where in the Williston this new acreage is

Deal set to close at the end of February

Hypothetical:

If they are taking a non-operated position its conceivable they could be adding acreage for around $2,000 per acre which would give them about 8,000 net acres

If they paid more than $5,000 per acre for consolidated non-operated acreage I'd be surprised at them but at $5K/ac they would garner roughly six sections.

I'd prefer to see them go non-operated simply due to the newness of the play for them ... participate but don't operate until you have a feel for the logistics of getting things done in the all too busy Williston Basin.

As such, I'd like to see them snag something close to the 8,000 acre position which would, necessarily, invite new investor interest to the name.
Nutshell
Ok, good for them on the reserves and end of year production growth. Kind of kid in candy store style reporting methodology here as normally you complete your entire reserve report and then tell everyone all the metrics from reserve growth (which again, was very nice for the part of the portfolio they did release) to finding and development costs and reserve replacement (can't talk about that yet as the rest of the reserve report won't be done until next week).
But aside from deviating from normal reporting convention, they should have a strong report in front of them when all t's are crossed and i's are dotted. I recently added shares in the name due to their high exposure to natural gas (prices will be higher someday down the road), the deep discount the name was trading at relative to proved reserves (that just got even deeper (again, see below) and their new found discipline to try and get their budget inside of their cash flow (they've been subleasing rigs and finally got everything in place to wait out the return of higher gas prices in a balance sheet stewardly manner.
I'm not exactly sure what to make of the Bakken entry as that seems more than a little late and "me tooish" but numbers will tell and we'll have those in hand around March 1. I'm likely to add a second position in GMXR down here as I look to average in to a long term hold.

I've included a before and after Total Enterprise and Operating Metrics snapshot which hails from the time I decided to get back into the name in late December 2010 and compares it to the new data.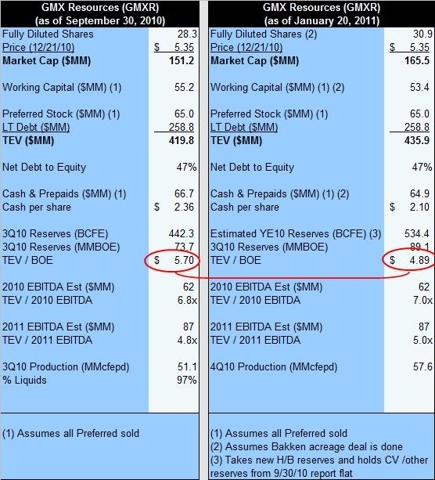 (Click to enlarge)
Disclosure: Author long GMXR and HK