By Chris McKhann
Brazilian mining company Vale drew a large volatility trade this morning with its shares just off two-year highs set earlier in the week.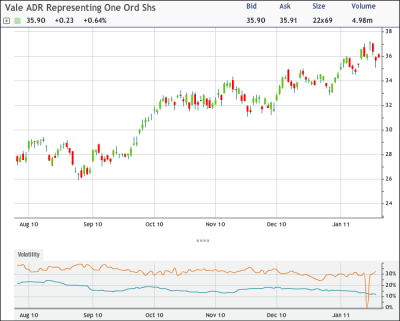 VALE is trading at $35.90, up 0.64 percent on the day. It hit $37.25 on Tuesday, which was the highest price since June 2008. Shares have gained 50 percent since July.
One trade in the June 30 puts makes up more than half of Vale's total option volume on the day. A block of 10,000 were bought for $0.95 as the trader paid the ask. The open interest was 70, so this was a new opening transaction.
In the seconds following the options print, a block of 190,800 shares were bought for $36.11. So this appears to be a delta-neutral strategy, as the delta of those puts is 0.19 (10,000 x 0.19 x 100 is equivalent to the long stock position). This position is long volatility and can profit if VALE rises or falls.

Disclosure: No position