By Patrick Crutcher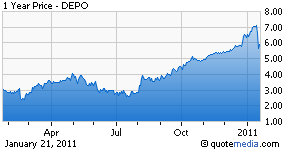 Investors of Depomed (NASDAQ:DEPO) were extremely surprised by the news that was released after-hours on Wednesday. Specifically, Depomed announced that Abbott Laboratories (NYSE:ABT), felt they were not obligated to launch and commercialize DM-1796; essentially, Abbott wants to walk away from it's sales and marketing obligation. This obviously puts Depomed's DM-1796 post-approval plans up in the air. As we told subscribers before the stock began to bounce back on Thursday morning, there are issues based on the announcement to clarify and certainly some positive notes to digest here.
First, let's be clear on one important point: Abbott is still obligated for potential approval milestone payments of $35 million and up to an additional $25 million(depending on the DM-1796 label). These payments are not something that is up for discussion. Depomed believes that the mandatory mediation with Abbott should be completed within 3-8 weeks. If Abbott were to leave, they have a number of interested partners to take their place. Abbott even obtained orphan drug status for DM-1796, which would give them 7-years of market exclusivity for the treatment of PHN (a bit of unexpected news, but positive nonetheless). Management also reiterated their belief that there was a high likelihood that the FDA will make their decision on time.
Depomed has historically done very well in these scenarios. In a recent note to investors, Scott Henry, an analyst of Roth Capital, had the following to say:
"Depomed's track record is impressive in lawsuits. Prior companies to be on the hook for material litigation payments toward DEPO include King (KG), Teva (NASDAQ:TEVA), Esprit, and Bristol Myers Squibb (NYSE:BMY). The legal team has historically left few outs within contracts in the past. Our guess is that ABT is claiming that 'reasonable efforts' to launch the product do not match prespecified launch promotion. Using a broad hedge claim to outweigh specific language would appear a hard bargaining position."
With that said, big pharmas may want to think twice before trying to bully Depomed; the team of lawyers at Depomed has done a good job of preventing partners from jumping ship.
In the conference call that followed the PR, Carl Pelzel, CEO of Depomed, outlined three potential outcomes that could come from mediation:
ABT agrees to their obligations and launches DM-1796 per their contract;
ABT retains DM-1796 right, but does not launch (assuming approval), DEPO would expect to get significant damages in arbitration;
ABT returns DM-1796 to DEPO without restrictions. There are 2 scenarios to consider for this option: either a) DEPO launches DM-1796 themselves with significant support/cash($85-135 million) from ABT or b) DEPO out-licenses the product to another partner.
Caris & Company analyst, James Molloy, sees "option 3(b) as most likely, since if ABT does not want to promote the drug they would simply return it rather than pay what could be an additional $100M-$200M for a drug they aren't promoting." He even goes on to say that, "We believe it's likely that additional partners emerge in short order to re-license the drug. DEPO has already had ex-U.S. rights discussions with a number of additional non-ABT partners, and when push comes to shove, it's likely that the opportunity to also get the U.S. rights makes DM-1796 that much more attractive to these partners."
As you can see there is significant interest in DM-1796, so it appears Depomed won't have a hard time finding a new partner.
Abbott already paid $10 million to Depomed for the NDA acceptance, filed and obtained orphan drug status, and worked with the FDA on getting DM-1796 approved. Now, with less than 2 weeks from the PDUFA date, they don't want to cooperate? Could it be that Abbott wants to re-negotiate the deal with Depomed? Quite possibly, but a lot can happen over the next few weeks as Depomed and Abbott try to come to an accord.
Following this news, both Roth Capital and Caris & Company maintained their price targets on Depomed, even despite the apparent setback, at $7 and $9 respectively.
That both the firms -- who have arguably the best track recordd in biotech -- believe that DM-1796 has very good approval chances represents a compelling product for interested parties if ABT walks.

Now, some food for thought: If Abbott didn't think DM-1796 would get approved, would they have gone through all this trouble? Probably not, since a rejection could have gotten them out of the deal. If you believe DM-1796 will be approved, then the current pullback offers a good buying opportunity.
More Info:
-Depomed and Abbott mediation news.
-Original deal with Solvay and Depomed.
Disclosure: Long DEPO