Parker-Hannifin Corporation (PH), the $13.8b market cap industrial machinery company based out of Cleveland, Ohio with roughly 40-45% of internationally-derived revenues, reported financial results for its quarter ended December 31 that were impressive by any measure -- except those used by many sell side analysts. Its $2.867b in revenue that beat consensus of $2.747b and the highest Street estimate of $2.828b, but EBIT of $325m fell short of consensus of $342m and the lowest Street estimate of $329m. This miss on margins was enough to send the stock down more than 6% in a single day. The market seems to be focusing on margin compression instead of ROIC expansion. Here are the key highlights from the December 2010 quarter that matter in our opinion:
Trailing 12-month ROIC came in at 16% for the quarter, a significant rise above the 13.1% experienced in the prior quarter and the 4.9% experienced in the year ago period.
Trailing 12-month economic profit was $481m by our measure, well above the $334m in the prior quarter and economic loss of $392m last year.
Trailing 12-month free cash flow was $1.011b by our measure, about $100m less than the prior and year ago quarters, but including higher estimated cash taxes paid, higher capital spending and an increase in working capital investment.
Total debt decreased to $1.843b from $2.137b in the prior quarter.
ROIC and cash flow are in our opinion likely to show continued, steady improvement in the quarters ahead.
PH stated that demand remained strong across many markets, order rates increased in all segments, and its aerospace segment saw demand levels recover.
"Based on the way these orders are coming through, I think this [rebound] is going to be sustainable," CEO Don Washkewicz told the Wall Street Journal following the report.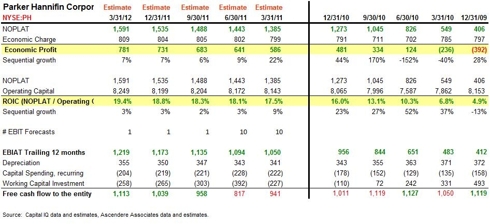 Click to enlarge
(Click to enlarge)

Disclosure: I am long PH.