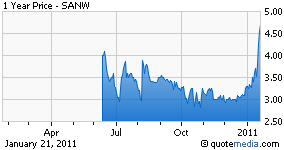 Agriculture did quite well in 2010 and analysts are predicting the trend to continue. Agriculture will be in the headlines again in 2011 for sure. Although there are the big cap plays that catch most of the attention such as Potash Corp (NYSE:POT) and The Mosaic Co (NYSE:MOS) there are other small cap companies that have a better growth story and more potential upside. In this particular case I am talking about a small cap seed stock: S&W Seed Co (NASDAQ:SANW).

S&W has a market cap of just over $20 million. They specialize in drought and salt resistant alfalfa seeds and they have large unprocessed reserves that could help boost earnings. However, the real growth driver and what really makes SANW an attractive stock is its recent five year contract deal with PureCIrcle in which S&W will have access to Stevia leaves. Stevia leaves are a natural, non-calorie sweetener that is a huge growth market right now.

S&W qualifies as a speculative play as business rebounded last year but the rebound has been slow and bumpy. For instance 1Q 2011 results were less than satisfactory. Revenues declined to $.679 million, which was 40% below year ago levels. However, alfalfa sales climbed 86%. Due to climate issues in California, seed harvest was late and operating revenue was down but will recover next quarter.

Now for more good news: S&W predicts alfalfa seed sales will rise spring 2011 due to a higher demand, which should help boost earnings and cash position. It should also be noted that there is no debt held. SANW boasts annual profitability on positive net free cash flow. Operating margins are up over 20% and, as mentioned earlier, Stevia is very inexpensive but could provide huge returns. The insider ownership is over 52% and smart money is beginning to show interest.

In terms of S&W Seed Co, the rewards outweigh the risks but the risks should be noted before you enter into this investment. Alfalfa is expected to rebound this year along with the economy and the contract with PureCircle should definitely boost earnings this year.

Zach's Research has given SANW an "outperform" rating with a rised target of $5.00 over the next 6 months.

S&W has its risks but overall they are a great alternative way to play agriculture.

Disclosure: I have no positions in any stocks mentioned, and no plans to initiate any positions within the next 72 hours.