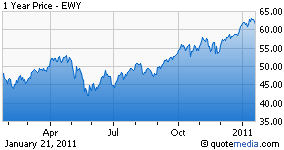 The KOSPI index in Seoul has been a rock-and-roll market for volatility traders everywhere, but now people are waiting for the music to go down a notch.
This is a market where buying and selling volatility has been dirt cheap and hedge funds have been actively playing for months. But now, the market is "leaking premium," which means traders are getting ready for the KOSPI to crack.
Inflation is okay for now, but complacency in the whole region may be high. The KOSPI fell 1.6% last night — it has not lost more than 1% in a single session since November 11.
The fact is that emerging markets have been grinding for the last two weeks or so. But while waiting for breakdowns in China, India and even Brazil has been somewhat fruitful, it has yet to be especially satisfying.
If the KOSPI moves sharply lower from here, it would send the other core emerging markets — most of the BRIC, with the notable exception of Russia — down with it.
And if that happens, not a great time to be in the Korea ETF (NYSEARCA:EWY).
Disclosure: No position