China's GDP growth rate in the 4th quarter in 2010 is 9.8%, which puts the 2010 annual GDP growth rate at 10.3%. The December China CPI is 4.6%, a little bit lower than November CPI. This news triggered a sell off in Asia markets since everybody is expected that the policy-makers in Beijing will take stronger measures to cool the overheating economy. Brazil on Wednesday just raised its official policy rate by 50 bps to 11.25% to cool inflation. The central bank of Poland also raised its official interest rate by 25 bps on Wednesday and stressed that there are more raises to come.
While emerging economies across the world are struggling to contain inflation and fighting to keep their economies from overheating, there are few exceptions. One of these exceptions is Mexico.
The December inflation rate in Mexico was 4.4%, though higher than in November, which is still below the long term average inflation rate since 2000 (5.12%). The core December inflation rate was even lower, 3.51%, which is the second lowest inflation rate since 2007 in Mexico.
In 2009, Mexico GDP decreased by 6.5% due to the recession. While Asian exporters and South American commodity exporters recovered quickly from the recession in the past two years, Mexico has lagged behind other emerging economies. But when overheating became a severe threat to many other emerging markets, Mexico stands out now with a lot of potential. The Mexico current account deficit has dropped by more than 60% so far in 2010, compared to 2009, even as Mexico Peso had appreciated by more than 20% since recession.
Among emerging economies exporting to the US (Mexico, China, ASEAN countries, and Latin America region), Mexico is the only economy whose export price index is still declining from the previous year. Compared to other exporters, Mexico manufacturing goods are more competitive than before. This cost advantage relative to other emerging economies could draw more investments to Mexico in 2011.
Chart 1: Import Price Indices Changes (% Year-Over-Year)
(Click to enlarge)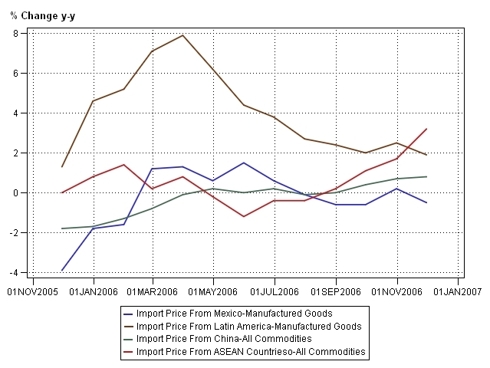 The most recent benchmark 28-day Cetes primary auction (on Tuesday) in Mexico produced the low yield at 4.13%, even lower than the official target rate 4.5%. This could imply that the liquidity is abundant in Mexico right now. The Mexico stock market had grown by about 17% in 2010. When most other emerging economies are going to experience a slower growth in 2011, with a strong commodity export sector and a relatively competitive manufacturing sector, the Mexico peso and Mexican assets still look more attractive.
Disclosure: No positions