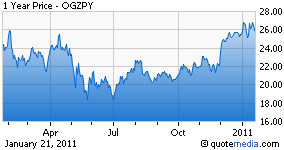 Gazprom (OTCPK:OGZPY) management was in New York a few weeks ago meeting with the depositary folks at Bank of New York and are clearly looking for ways to improve the appeal of the stock with U.S. traders.
Today, Gazprom decided to go ahead and reduce the number of Moscow shares in each ADR that trades in the U.S. market from 4 to 2.
This will effectively cut the ADR price to around $13 and, Gazprom management evidently hopes, make it more liquid in the U.S. market.
But with OGZPY already trading about 1 million ADRs a day, it may already be liquid enough.
The real issue should be investor transparency and corporate governance if management wants to appeal to the real big money: western institutional investors.
Compare OGZPY's performance to other emerging markets peers in the oil and gas space, and you will see that it is still lagging. Maybe this will be the year Gazprom returns to its glory days and becomes one of the world's top five companies in terms of market cap again.
Gas prices are already coming back around to lend a hand. . . .
Disclosure: No position