Every Wednesday the Energy Information Administration publishes This Week in Petroleum (TWIP). Jan 12, 2011, TWIP noted:
EIA expects a continued tightening of world oil markets over the next two years. World oil consumption grows by an average of 1.5 million barrels per day (bbl/d) each year while the growth in supply from non-Organization of the Petroleum Exporting Countries (non-OPEC) countries averages less than 0.1 million bbl/d. Consequently, EIA expects the market will rely on both inventories and significant increases in production of crude oil and non-crude liquids by OPEC to meet world demand growth.
Note that there is: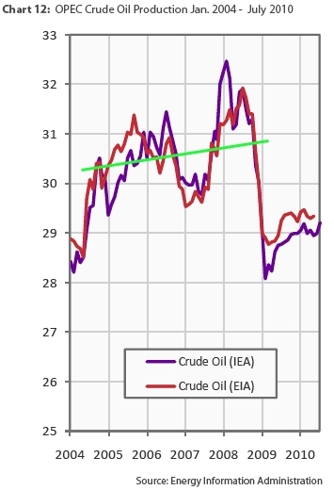 Click to enlarge
No commitments from OPEC to increase production.
(Click to enlarge)
Little evidence OPEC can sustain increased production of more than 1.2 million bbl/d. Production increases were only 0.6 million bbl/d between 2005 and 2008 as oil prices increased from $40 to $140 a barrel. The IEA has published reports that existing oil fields are depleting at 6.8% per year.

There is significant evidence of an oil supply shortfall of at least 1.8 million bbl/d over the next 2 years. Normally this would signal a reason to buy futures. But foreclosures and the collapse of the banking system indicate that oil supply constrains can vent in ways other than price.
The EIA is competent at gathering data and completely incompetent at interpreting that data. Here is graph from the Dallas Fed and ASPO on EIA and IEA repeated forecasting errors. Underestimates of price and over estimates of supply repeat year after year.
(Click to enlarge)

Click to enlarge
Railroads seem the best investment. Food will have to move. Oil supply shortfalls will result in chronic supply outages. The privately held Personal Rapid Transit (PRT) companies will likely boom and become public companies. The size of the PRT market is about $11 trillion, 1.4 million miles of rail to displace 70% of oil-powered urban transport. By comparison are about 213,000 miles of railroads and 5 million miles of roads. PRT companies JPods, UltraPRT, VectusPRT, Taxi2000, Mister, To Get There and others.
UltraPRT is building at Heathrow Airport and Masdar. To Get There is building in Masdar and ports. VectusPRT is building in Sweden and Korea. JPods has agreements to build in China and tentative approvals in several US locations. The PRT network in Morgantown, WV, has delivered 110 million oil-free, injury-free passenger miles since being built as a solution to the 1973 Oil Embargo. PRT network require about 1/8th the energy per vehicle mile of cars, buses and passenger trains.
The barrier to opening this market has been government central planning of transportation. Highways/oil were the preferred solution. Thousands of miles of railroads were lost, PRT stiffled. This is similar to communications infrastructures before 1984. The fundamental technologies of the Internet and cell phone existed but only commercialize after central planning shifted to free markets governed by performance standards. It appears likely several governments will soon make this shift.
Disclosure: I have no positions in any stocks mentioned, and no plans to initiate any positions within the next 72 hours.
Additional disclosure: Author is founder of and shareholder in JPods, Inc. a PRT company.