Do not be fooled by the performance of the Dow and S&P 500 – market internals have been very weak over the last three days.
While as of writing the S&P 500 (IVV) is down roughly 0.7%, and the Dow (DIA) is up roughly 0.1% over the last three days, higher beta small-cap stock indices have collapsed. The Russell 2000 (IWM) is down 3.8% over the same period. Even worse? The Russell 2000 Growth, which is more heavily weighted in Consumer Discretionary and Technology names, is down 4.4%. Again, this over the period of literally just three days.
Let's look at the price ratio of the Russell 2000 Growth (IWO) to the S&P 500. As a reminder, a rising price ratio means the numerator/IWO is outperforming (up more/down less) the denominator/IVV.
[Click to enlarge]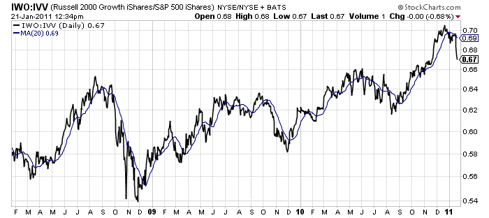 Notice the stunning sharp sell-off and weakness of IWO to IVV. Granted, small-cap stocks have done phenomenally well since 2009, and while it can be argued they should underperform, it's important to keep in mind that there are far more small-cap stocks than large-cap stocks – its the Russell 2000, and the S&P 500. This means that the overall market's breath is weak, and potentially has further to run on the downside. It is very important to pay attention to this, as it may indicate that beneath the large-cap indices, a correction is occurring.
Disclosure: The author, Pension Partners, LLC, and/or its clients may hold positions in securities mentioned in this article at time of writing.