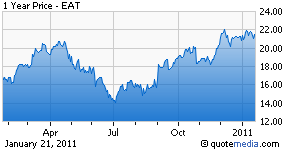 Brinker International Inc. (NYSE:EAT) , the owner of Chili's Grill & Bar and Maggiano's Little Italy, is slated to release its second quarter 2011 results on Tuesday, January 25, before the market opens. The current Zacks Consensus Estimate for the second quarter is 31 cents per share, representing an annualized growth of 8.10%. The Zacks Consensus Sales estimate is $673.0 million.
With respect to earnings surprises, over the trailing four quarters, Brinker has outperformed the Zacks Consensus Estimate for two quarters and missed the same in two quarters. Brinker has oscillated greatly, from approximately negative 9.8% to positive 40.0%.
The average earnings surprise was a positive 14.4%. This implies that the company has beaten the Zacks Consensus Estimate by the same magnitude over the last four quarters.
Previous Quarter Recap
The Dallas-based restaurant posted first quarter 2011 adjusted earnings per share of 21 cents, surpassing the Zacks Consensus Estimate of 15 cents and 12 cents in the prior- year quarter. The upside in earnings was driven by reduced expenses and a lower tax rate.
During the quarter, total revenue dropped 6.0% year over year to $654.9 million and missed the Zacks Consensus Estimate of $657 million. The year-over-year decline in revenues was due to sluggish comparable same-store sales.
Comparable-restaurant sales at company-owned restaurants declined 4.2% year over year during the quarter. By restaurant concepts, comparable-restaurant sales fell 5.0% at Chili's Grill & Bar, but rose 1.4% at Maggiano's. Chili's Grill & Bar restaurant experienced an 8.1% drop in traffic, whereas at Maggiano's, restaurant traffic rose by 3.2%.
The comparable-restaurants sales at franchised domestic restaurants plunged 5.8%, while it inched up 0.4% at international franchised restaurants.
Outlook
Brinker reaffirmed its adjusted earnings guidance range of $1.30 to $1.42 for fiscal 2011. The company continues to expect full-year revenues to decrease between 2% and 4% from the last year's revenues of $2.86 billion. The company projects comparable-restaurant sales to be in a range of flat to negative 2%.
The company plans to open 45 to 53 franchise restaurants in 2011, down from its previous projection of 55 to 63 restaurants. Brinker expects to open 10 to 13 franchise restaurants under Chili's brand and 35 to 40 internationally.
Estimates Revisions Trend
Estimates have not moved up significantly in the last 30 days, implying that the analysts are maintaining their view on the stock. The current Zacks Consensus Estimate is $1.39 for 2011 (reflecting a year-over-year growth of 17.72%) and $1.63 for 2012 (reflecting a year-over-year growth of 17.65%). The Zacks Consensus Sales Estimate for 2011 and 2012 is $2.75 billion and $2.79 billion respectively.
Agreement of Estimate Revisions
In the last 30 days, out of 20 analysts covering the stock, 1 analyst slashed his/her second quarter 2011 estimates and 1 analyst raised his/her estimates, thus providing no clear directional movement. For 2011, 2 out of 21 analysts reduced their estimates, and 1 analyst increased his/her estimates.
Additionally, 2 out of the 19 analysts covering the stock have cut their estimates for fiscal 2012. None of the analysts raised their estimates 2012.
In the last 7 days, 1 analyst has decreased the estimates for the second quarter and 2 analysts have lowered their estimates for fiscal years 2011 and 2012. None of the analysts have made any upward revisions. This implies that the analysts are slightly skeptical regarding the upside in the estimates.
Analysts have decreased the estimates, given that the company has registered sagging comparable restaurant sales for several quarters and expect the same to be in a range of flat to negative 2% in 2011. Moreover, analysts expect the drop in comparable- restaurant sales to be higher in the second quarter due to adverse winter in December, preventing the customers from dining outside, an unfavorable Christmas calendar shift and difficult promotional comparisons year-over-year.
However, some of the analysts have raised the estimates as consumer demand is improving; resulting in higher traffic. The top-line is expected to gain traction in the second half of 2011.The company is making efforts to expand its margins through disciplined cost management. The company is also expected to benefit from capacity contraction and the consequent lower unit capital expenditure.
Magnitude of Estimate Revisions
There has been no change, in the last 60 days, in the earnings estimate of 31 cents for the second quarter of 2011. Therefore, the analysts expect the company to report in line. In the last 60 days, estimates for 2011 have jumped by a penny to $1.39 and for 2012 remained unchanged at $1.63. But in the last 7 days, estimate for fiscal 2012 has decreased by 1 cent.
Our Take
We expect Brinker's second quarter results to be in line with estimates as the economy is improving, but tough weather conditions and food cost inflation continue to weigh on profitability.
We believe Brinker remains one of the strongest long-term players in the casual dining segment. Brinker's major brand Chili's has a certain degree of pricing flexibility, given its lowest per person average check and one of the highest average unit volumes in the industry, demonstrating a strong consumer appeal and a well-received value proposition.
Additionally, the company is repositioning its Chili's brand to offset its declining sales momentum and record more sustainable and stable growth. In order to drive traffic, the company has revamped Chili's menu and also plans to include the 2-course for $20 in the menu permanently. Moreover, Brinker will focus on more product-based promotions in future rather than discounting.
Furthermore, to hedge itself against the economic downturn, the company resorted to measures such as the closure of underperforming stores, divesture of divisions, changing over to franchised operation, focusing on international expansion to move away from over-supplied domestic market and adhering to a cost-control mode for quite some time.
Brinker remains focused on achieving profit improvements through major cost-saving initiatives at Chili's in fiscal 2011, which include successful implementation of team service and labor cost savings during the first quarter, a new POS system and retrofitted kitchens.
Although traffic has somewhat improved, we believe the concerns about its growth and consumer spending are not over and will likely stunt Brinker's revenue growth and comparable store-sales in the near term. Moreover, we remain cautious on the stock as the company faces increased competition from other casual dining operators.
Accordingly, we keep our conservative view on Brinker's shares and have a Zacks #3 Rank (short-term Hold recommendation). Our long-term recommendation for the stock also remains middle-of-the-road at Neutral.
One of the competitors of Brinker's, McDonald's Corporation (NYSE:MCD), is slated to release its fourth quarter results on January 24, 2010 before the opening bell, while another rival, Yum Brands Inc. (NYSE:YUM), will announce fourth quarter results on February 2 after the market closes.
Disclosure: No position