Only 126 companies have reported their quarterly numbers so far this earnings season, and we'll see 152 companies report next Thursday alone. For the entire week, 379 companies are set to report their Q4 numbers.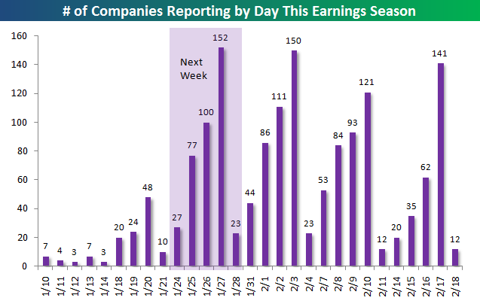 Below is a table highlighting the 40 biggest US companies set to report next week. For each stock, we also provide its average absolute change on all prior report days going back to 2001 (using data from our Interactive Earnings Report Database). This reading shows which companies have historically been the most volatile on their past report days.
On Monday, investors will be focused on McDonald's (NYSE:MCD) and Halliburton (NYSE:HAL) in the morning, followed by Amex (NYSE:AXP), Amgen (NASDAQ:AMGN), Texas Instruments (NYSE:TXN), and VMware (NYSE:VMW) after the close. Johnson & Johnson (NYSE:JNJ), Verizon (NYSE:VZ), and 3M (NYSE:MMM) are the biggest names set to report on Tuesday. On Wednesday, big Industrial companies Boeing (NYSE:BA) and United Technologies (NYSE:UTX) will report in the morning, while Qualcomm (NASDAQ:QCOM) is set for Wednesday evening. AT&T (NYSE:T), Ford (NYSE:F), Caterpillar (NYSE:CAT), Altria (NYSE:MO), and Procter & Gamble (NYSE:PG) are all set to report Thursday morning, while Microsoft (NASDAQ:MSFT) and Amazon.com (NASDAQ:AMZN) will release numbers after the close. Finally, Chevron (NYSE:CVX) and Honeywell (NYSE:HON) are the biggest companies set to report next Friday morning.
Of the stocks shown, Amazon.com (AMZN) has historically been the most volatile on its earnings report days with an average 1-day change of +/-10.61%. VMware (VMW) and Nokia (NYSE:NOK) rank second and third in terms of volatility. Unsurprisingly, Chevron (CVX), Altria (MO), Southern Co (NYSE:SO), Johnson & Johnson (JNJ), Verizon (VZ), and McDonald's (MCD) are the least volatile.