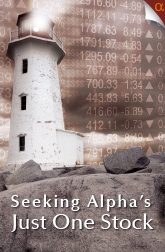 Several times a week, Seeking Alpha's Jason Aycock asks money managers about their single highest-conviction position - what they would own (or short) if they could choose just one stock or ETF.
---
Christopher Begg, CFA, is the chief investment officer and CEO of East Coast Asset Management Inc., an investment management firm headquartered in Essex, Mass. Previously, he worked as a portfolio manager and research analyst at Moody Aldrich Partners.
If you could only hold one stock position in your portfolio (long or short), what would it be?
The most compelling investment in our portfolio today is Waste Management (NYSE:WM). We believe the opportunities to compound capital with a healthy margin of safety in the waste industry (primarily U.S.), and specifically WM, are extremely compelling. We believe our capital compounds at 15%-plus from today's price, with a free call option that I will explain.
Waste Management Inc. provides waste management services including collection, transfer, recycling, resource recovery and disposal services, and operates waste-to-energy facilities. The company serves municipal, commercial, industrial, and residential customers throughout North America.
Before we talk about the merits - how did your investment process source WM?
Our process categorizes three types of investments we make: compounders, industry transformations and workouts. We categorize the opportunity in Waste Management as an industry transformation. Previous investment examples in that category: demutualization of credit card processing (Visa (NYSE:V) and MasterCard (NYSE:MA)), Canadian rails (Canadian National (NYSE:CNI) and Canadian Pacific (NYSE:CP)), U.S. rails (Burlington Northern, CSX, and Norfolk Southern (NYSE:NSC)), and U.S. floor covering (Shaw (NYSE:BRK.A) and Mohawk (NYSE:MHK)).
Within our industry transformation category, we maintain a number of sources that look for such things such as capacity exiting an industry, oligopolistic competitive environments, structural mispricing existing from a demutualization, and pricing power dynamics.
Industry transformations are a great source of mispricings, as market participants have a difficult time seeing change. Investors tend to extrapolate the past. Industry transformations create real change for the companies that evolved through natural selection, and thus the remaining players are motivated and are incentivized to act rationally. The main driver you will see in successful transformations is the benefits of pricing developing, and scale advantages being fully realized. This will drive significant margin expansion and create a "hockey stick" effect to return on invested capital (ROIC). Investors and analysts looking in a rearview mirror, biased by years of how the industry has operated, tend to not see the turning point.
Can you walk us through WM as an industry transformation?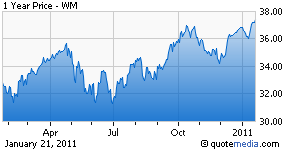 The waste industry in the U.S. is at an inflection point, post a decade-long period of consolidation. Two players, Waste Management and Republic Services (NYSE:RSG), now control close to 40% of the industry. The remaining share is contained by municipalities and regional operators.
Municipalities continue to outsource this to the private sector due to cost constraints and their inefficiency in sorting waste to extract value from material. This also has a secondary environmental benefit of reducing waste to a limited supply of landfills.
Regional operators also suffer from the same lack of expertise and continue to exit through Darwinist evolution and acquisition. The remaining oligopolistic structure of this industry will enjoy margin improvements driven by measured and meaningful price increases and cost containment (scale benefits). I don't qualify this as a great business in a great industry but certainly it is a good business in an industry that will look a lot better than it has in the past. Returns on invested capital are attractive.
Beyond a consolidated industry structure, can you elaborate on WM's competitive advantage?
WM is a castle with a moat that gets wider and wider. We see very little technological obsolescence risk in the waste industry beyond efficiency improvements. The moat gets wider because extracting value from waste becomes more complex and requires scale (recycling/advanced sorting equipment, waste-to-energy, landfill-gas-to-energy or fuel to power WM curbside/commercial vehicles, etc.). "Not-in-my-backyard" advantages.
What are the key data points you are following on this investment?
Pricing most importantly will be critical to our internal rate-of-return outcome. I believe WM has an opportunity to extract 3% incremental price increases over their own variable unit cost inflation over the next five years compounded.
If I assume zero percent volume improvement, that would equate to a 17% growth in owner earnings over the next five years compounded. If I assume 2% incremental price increases (net of unit cost) and no volume growth, that would equate to a 15% compounded growth of owner earnings.
You're expecting no gains on the volume side in waste product?
Volume is a shin-high bouncing ball. While volumes have been improving from 2009 lows, we see volumes improving moderately over time. I do not expect construction volumes to come back anytime soon, but volumes should serve as a tailwind for earnings going forward, and not a headwind from these levels.
Is the current management team capable of stewarding this business and its opportunity?
I have a positive impression of the ethics and integrity of the current management team. I am particularly impressed with the CEO, Dave Steiner. I believe they continue to position this company for the long term at the expense of short-term profit guidance. They are committed to pricing excellence and being a leader in making real progress at addressing climate change, which will be a value-added endeavor for shareholders, customers, and the global community.
Does the business generate free cash flow?
Yes, free cash flow is approximately $1.3 billion. They have a history of distributing the lion's share of free cash as both dividends and share buybacks.
Talk to us a bit about the dividend; it looks to be a good yielder?
This is definitely a free cash flow story to shareholders. We expect healthy incremental returns on our invested capital through dividends and share buybacks. Management raised the dividend to $0.34 on December 16, from $0.31. This equates to an indicated dividend yield of 3.66% (using today's price of $37.15). They have been growing the dividend at a 10% compounded rate over three years.
How do you value the opportunity?
The equity market cap is $17.3 billion. They have long-term borrowings of $7.7 billion. WM currently trades at a 7.5% free cash flow yield. My range of free cash flow growth rates - from bear case to bull case - range from 8% to 20%. My conservative base case assumption equates to a 15% IRR from today's price, with a healthy margin of safety.
Shareholders love income, but the solid free cash flow raises the question: Are there not compelling alternative investments for the cash, in this industry? And both of these waste giants have billions in debt (debt/equity of 147 for WM, 89 for Republic).
Post-consolidation, WM and RSG do have debt, but manageable debt. Thus the $1.3 billion could be used to make more acquisitions, pay dividends or buy back stock. They are not doing a lot of acquisition, so they are paying back some debt, but using most of the free cash to repurchase shares and pay a very strong dividend.
The market share growth will be more from municipalities exiting the industry due to economic budget concerns and efficiency issues than by further acquisition, we feel. Some regionals will continue to be consolidated, but they will be tactical.
You mentioned earlier some "optionality" in this idea. What are you referring to?
Climate change has taken a back seat to the economic crisis we are currently dealing with. WM and RSG will be on the forefront of dealing with climate change as landfills emit the most harmful of greenhouse gases as methane. I wrote an article on this called "The Fourth R": recover. The Obama administration ran a campaign where we would have seen real incentives for change - that was put on hold as the credit bubble imploded.
We need to deal with emissions, and the waste industry - through recovery procedures and recycling - will be able to make huge strides at this. The investments WM has made in "waste-to-energy" are impressive, here in the U.S. and with a recent investment in China. We are paying very little for this call option. We can own this opportunity directly through Covanta (NYSE:CVA), but we love this asset within WM.
What do you think about the effect on WM of a real nationwide wave of municipal budget cuts? That has the prospect of seriously altering the landscape for industries going through transformation in the public/private space.
As I discussed, municipals cannot continue to run waste service efficiently and cannot extract value from waste as efficiently as the larger players in this industry. The state governments will be exiting the waste industry completely over time and the business will go to bid. We believe WM will see the lion's share of these contracts due to their scale and all-in advantages. They may not see the same price increases in some municipalities that they see in other residential and commercial contracts, but they will be able to drive price effectively.
Can you elaborate a bit on the other examples of successful transformation?
The demutualization of the credit card processors was a text book mispriced transformation, as the processors were run by the member banks and then were given capitalist incentives to run as businesses - pricing excellence and margin expansion ensued. This was a very profitable investment for us and has matured into a compounder.
An example of a transformation in the middle innings today which we are exposed to is the U.S. rails. The best description of this that I can share with you is Charlie Munger's quote at the Wesco 2007 meeting, which sums up the railroad transformation and his and Warren Buffett's view of it perfectly:
"Railroads - now that's an example of changing our minds. Warren and I have hated railroads our entire life. They're capital-intensive, heavily unionized, with some make-work rules, heavily regulated, and long competed with a comparative disadvantage vs. the trucking industry, which has a very efficient method of propulsion (diesel engines) and uses free public roads. Railroads have long been a terrible business and have been lousy for investors. We did finally change our minds and invested. We threw out our paradigms, but did it too late. We should have done it two years ago, but we were too stupid to do it at the most ideal time.
"There's a German saying: Man is too soon old and too late smart. We were too late smart. We finally realized that railroads now have a huge competitive advantage, with double-stacked railcars, guided by computers, moving more and more production from China, etc. They have a big advantage over truckers in huge classes of business. Bill Gates figured this out years before us - he invested in a Canadian railroad and made 800%. Maybe Gates should manage Berkshire's money. [Laughter] This is a good example of how hard it is to change one's mind and change entrenched thinking, but at last we did change. The world changed and, way too slowly, we recognized this."
Let me guess, Gates is involved in the waste transformation too?
They absolutely are. We think highly of the team at Cascade headed up by Michael Larson allocating capital for Bill Gates and the Gates Foundation. It is interesting to see what very intelligent capital allocators do with very long-term capital, with no incentive to allocate capital to meet quarterly performance bogies. Cascade Investments owns 15% of RSG - Larson is on the board - and the Gates Foundation over 4% of WM.
Thank you for sharing this choice with our readers. Any final comments?
You are welcome. While we feel inclined to talk about this idea that we are meaningfully invested in with like-minded value investors, we encourage interested parties to do the necessary work. Industry transformation can take years to work out or not work out.
The good news for shares we are purchasing today is that the stock price has yet to enjoy the realization of what the future holds for the oligopolistic players that have emerged in this industry. I hope your readers will understand that we are still active in these positions and we will be hesitant to share additional detail on our models of WM and RSG besides the basic concepts highlighted.
Disclosure: Long WM.
Read more Just One Stock interviews »
If you are a fund manager and interested in doing an interview with us on just one stock or ETF position you'd hold, please email us at Just One Stock.