Vilazodone, Clinical Data's (NASDAQ:CLDA) drug for the treatment of depression, was approved by the Food and Drug Administration on Friday. Shares rose 14.7% in after hours trading, hampered only by a trading halt.
But in contrast to the vast majority of emerging biotechnology companies that rise in anticipation of a potential FDA approval of their prospective drug, Clinical Data did not. Investors valued the company 20% lower by Friday's close than in the beginning of December. Shares also ended down since trading began this year.
According to the National Institute of Mental Health, 6.7% of U.S. Adults suffer from depression every year. And, according to the same source, that number is on the decline.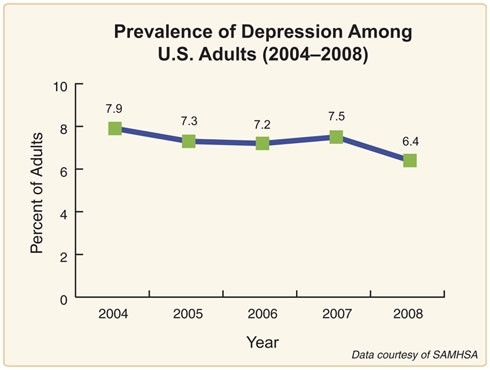 Now FDA-approved for treatment of clinical depression, Vilazodone enters a mature and perhaps declining U.S. market, as the data (above) suggests. So do the bears, who were short 21.7% of the float as of December 31st, 2010, have it right? Not so fast.
Vilazodone is not nearly as exciting as some cancer drugs years away from a FDA appraisal yet already drawing heaps of optimistic investors. Nor is it a breakthrough compound that addressed an unaddressed medical need. But at its core, fundamental characteristics, Vilazodone has the potential to become a successful product. Clinical Data's Chief Executive, Drew Fromkin, believes Vilazodone can be north of a $1 billion drug. Anti-depressants on the market have been noted to lead to sexual problems in both men and women whereas Vilazodone does not (pdf).
The most common adverse events associated with vilazodone in clinical trials were diarrhea, nausea, and insomnia.
These side-effects are typically short lived. The sexual difficulties experienced by users of existing anti-depressants aren't. By eliminating a key compromise in the use of anti-depressant medication, Vilazodone may actually win market share and cater to the 48.3% that currently evade treatment for the disorder.
Click to enlarge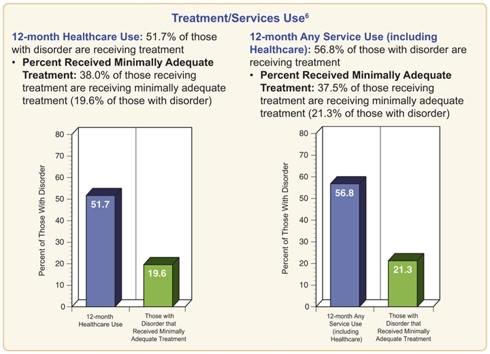 In the past 52 weeks Clinical Data has seen its shares trade as low as $10.87 and as high as $22.39. While the stock trends somewhere midway between its high and low price, short sellers should remain fairly confident in their investments. However, should something like a FDA approval of Vilazodone lead to increased interest among lurking investors, shorts may get squeezed. Yahoo! Finance shows that Clinical Data has approximately 18.7M shares floating. The company is also 34.1% owned by institutional investors. Ultimately, there are only so many shares for every eager long and edgy short, alike.
Disclosure: I have no positions in any stocks mentioned, and no plans to initiate any positions within the next 72 hours.