Some choice comments on gold from the former Federal Reserve Chairman previously made on Fox Business News:
We have at this particular stage a fiat money which is essentially money printed by a government and it's usually a central bank which is authorized to do so. Some mechanism has got to be in place that restricts the amount of money which is produced, either a gold standard or a currency board, because unless you do that all of history suggest that inflation will take hold with very deleterious effects on economic activity. There are numbers of us, myself included, who strongly believe that we did very well in the 1870 to 1914 period with an international gold standard.
During the interview, Greenspan also wondered aloud whether we really need a central bank.
Contrary to what the occasionally conspiratorial and always hyperbolic 'Tyler Durden(s)' of ZeroHedge would have you believe, these quotes (while perhaps deserving of a muted 'wow') aren't nearly as big of a surprise as World Bank President Bob Zoellick's recent call for a return to the Gold Standard.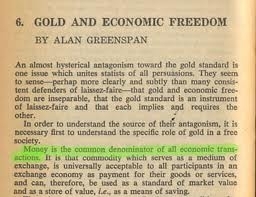 Throughout his career, Greenspan hasn't exactly been shy about making his feelings known. Further, Greenspan is a highly paid private consultant right now without any official government responsibilities or gag orders. He (and his clients) are no doubt aware that his words still carry significant weight in the marketplace, and he can say whatever he likes and even talk his own book.
Having said that, as a close student of Greenspan's philosophy and personality I can say with a high degree of certainty that he very much cares about his place in history, particularly at this stage in his career.
In other words, the likelihood that the former Chairman is going on television and talking up gold the past few years just to earn a few bucks from hedge funds is low, in my opinion. And with outgoing Fed Governor Thomas Hoenig also recently weighing in on the yellow metal's merits one can't help notice the growing chorus for a reconsideration of the gold standard.
Gold's Near and Longer-Term Prospects
From an investment perspective, gold has recently traded down approximately $100 from its recent $1400+ all time high as many periphery country central banks have begun to increase interest rates. Inflation in the U.S., U.K. and EU is starting to creep up, prompting speculation that rates will have to rise in core countries as well. Rising interest rates make owning gold less attractive because people can earn more on their cash deposits.
Further putting pressure on gold is the prospect of a more hand-tied Federal Reserve, which will now be supervised by 'End the Fed' author and Congressman Ron Paul. The timing of QE2 may in part been due to Chairman Bernanke wanting to open up new monetary options before new Sheriff Paul rode into the monetary committee's chairmanship.
What's the bottom line for gold investors? In the near-to-intermediate term I wouldn't be surprised to see gold trade down further, perhaps as low as $1250/oz, maybe even around $1000/oz. If you're a short-term speculator you could be in for a wild ride.
Longer-term, Professor Barry Eichengreen recently spoke about timing the inevitable decline of the U.S. dollar. As the changes described by Professor Eichengreen unfold in the coming years the value of the U.S. dollar will continue to come under increasing pressure.
In other words, the trend is clear. As the dollar inevitably gives way to sharing the reserve currency stage there is likely to be an increased demand, particularly on the part of sovereigns with large dollar denominated reserve holdings such as China and major oil producing nations, for reserve alternatives.
The euro right now is a dicey proposition. The renminbi is not freely convertible. Greenspan's comments point the way to today's one true reserve currency alternative.